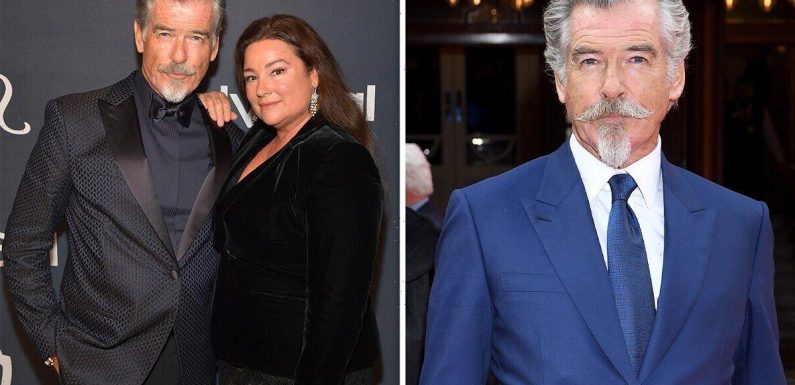 The King's Daughter: Pierce Brosnan stars in trailer
We use your sign-up to provide content in ways you've consented to and to improve our understanding of you. This may include adverts from us and 3rd parties based on our understanding. You can unsubscribe at any time. More info
James Bond actor Pierce Brosnan, 69, has spoken about the tragic death of his late wife Cassandra Harris. The star also recently defended his current wife Keely Smith, who was subject to fat-shaming.
In a recent interview, Irish American actor Pierce opened up about his painting career.
He revealed that his decision to pick up a brush had been sparked after his late wife Cassandra was sadly diagnosed with ovarian cancer.
Speaking about how his first real gallery show is scheduled for spring 2023, the star opened up about how his art coincided with Cassandra's illness.
The actor spoke about one canvas that he created a year after Cassandra got sick.
READ MORE: Phil and Holly were 'heckled' by mourners as they 'skipped' queue
"My late wife was in her second year of ovarian cancer…" he remembered.
"Carrying the weight and pain and the fear of that illness, I took out the paints.
"And started painting. With my fingers. With my hands, actually."
During the interview with British GQ Pierce also gushed about his two model/musician sons Dylan, 25, and Paris, 21.
The proud father described how he and Paris would sometimes visit the painting studio in their garage to paint together.
He said: "He just devours these canvases. It just fills me with the greatest pride, fatherly pride, to be painting alongside him, just to be quiet in the garage or wherever we've painted. It's a really beautiful experience."
Pierce has two sons – Sean, 38, and Christopher, 49 – from his first marriage to Cassandra.
The pair married in December 1980 and had one son together, Sean, who was born in 1983.
Kirstie Allsopp warns 'don't be fooled' on Phil and Holly queue row [NEWS]
Helen Skelton's says Strictly was chance 'to see me smiling' again [NEWS]
'The real royal family!' Noel Gallagher swipes at the monarchy [INSIGHT]
Pierce also adopted Chris and his sister Charlotte – Cassandra's children – following the death of their father Dermot in 1986.
Like her mother Cassandra, Charlotte also tragically died of ovarian cancer back in 2013.
Pierce shares his youngest children Paris and Dylan with his wife Keely, whom he has been married to since 2001.
He recently had to defend Keely on social media after revealing friends had offered her weight loss surgery.
The star wrote at the time: "Friends offered her surgery to reduce her weight. But I strongly love every curve of her body."
He went on: "She is the most beautiful woman in my eyes. And also because she had our five children.
"In the past, I truly loved her for her person, not only for her beauty, and now I'm loving her even more that she is my children's mother.
"And I am very proud of her, and I always seek to be worthy of her love," he finished.
The October issue of British GQ is available via digital download and on newsstands on 27th September.
Source: Read Full Article