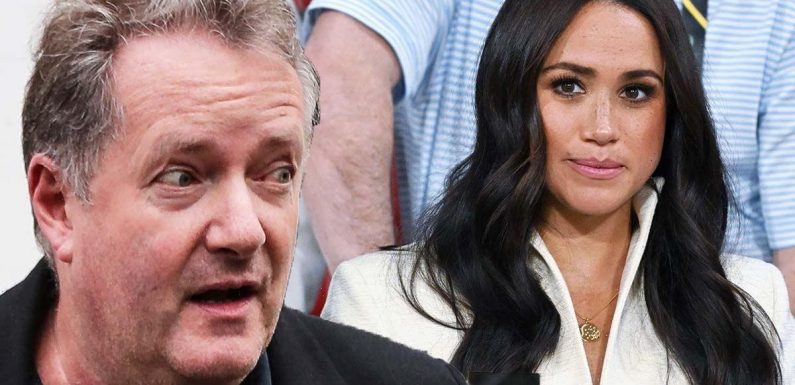 Piers Morgan reacts to Netflix cancelling Meghan's series
We use your sign-up to provide content in ways you've consented to and to improve our understanding of you. This may include adverts from us and 3rd parties based on our understanding. You can unsubscribe at any time. More info
Piers Morgan, 57, has once again blasted Meghan Markle following claims she "hated every second" of touring Australia when she first joined the Royal Family. The Duchess of Sussex joined Prince Harry back in 2018 during his tour of Australia – which saw them visit Sydney, Melbourne, Dubbo and Queensland's Fraser Island.
However, former Vanity Fair editor Tina Brown has now claimed that Meghan did not understand the "purpose" of the trip in her new royal biography, The Palace Papers.
According to the Daily Mail, Tina wrote: "So, Meghan must have been thrilled with it all … right?
"No. She apparently hated every second of it."
The author went on: "She didn't understand why things were set up in that way.
"Instead of being excited when thousands of people showed up at the Opera House, it was very much like, 'What's the purpose? I don't understand this.'"
Reacting to the reports, Piers took to his Twitter account earlier today to blast the Duchess' purported stance on the royal duty.
In view of his 7.9 million followers, Piers wrote: "Of course.. because it involved duty not lining her pockets with cash, and was designed to promote the institution she ruthlessly exploits but constantly trashes."
Piers' stance sparked debate among other Twitter users, who replied to his tweet voicing their opinions.
Homieyido said: "Why do u critique her all the time.?
"She can make money you know? Guessing you get paid handsomely for anything you do!" (sic)
TheKamranZamani penned: "Tbh, I don't think Kate enjoyed her tour recently…
"Of course not, it's hardly surprising! These rituals are soooo old.
"They've run their course, they are done with.
"Those who give it don't want it and those who receive it don't want it either. Silly formalities."
LukeWarmwater01 wrote: "Not a fan Piers? You should mention it now and again."
The tweet marks the second time this week that the broadcaster hit out at Prince Harry's wife.
Yesterday he addressed reports that an animated series created by Meghan was axed by streaming service Netflix.
The former Good Morning Britain presenter retweeted an article that read: "EXCLU! #MeghanMarkle series cut by @netflix as unroyal reality kicks in for stock sagging streamer."
Piers added: "Oh no! I do hope nobody rang the boss of Netflix to demand they fire her…"
Source: Read Full Article