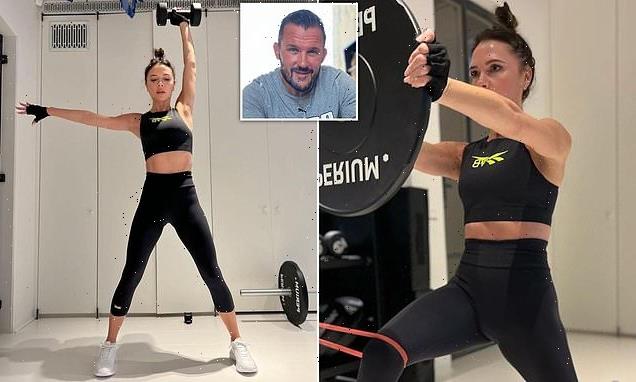 Posh and pecs! Victoria Beckham swaps her trainer-to-the-stars for East End judo champ and hits the weights as she switches up her fitness regime
Posh Spice had previously relied on globally renowned trainer Tracy Anderson
She is now taking classes from a British judo champion from east London
Victoria Beckham is now focusing on free weights and resistance training 
For more than a decade, Victoria Beckham has credited the globally renowned 'trainer to the stars' Tracy Anderson for her lean figure.
But The Mail on Sunday can reveal that she has swapped the fitness guru for a beefy British judo champion from London's East End, Bobby Rich, who visits her at home every day to put her through her paces.
Mrs Beckham has also stopped her daily 6km runs in favour of lifting free weights and resistance training – the sort of exercise she has previously avoided over fears she would end up too muscular.
Every weekday morning, Mr Rich arrives at the Beckhams' £25 million mansion in Holland Park, West London, and puts the former Spice Girl through a gruelling workout in their state-of-the-art gym. 
Sometimes husband David also takes part, if he's not working aboard.
Victoria Beckham has also stopped her daily 6km runs in favour of lifting free weights and resistance training
The former Spice Girl trains five days a week with Bobby Rich, a judo champion from the East End
Bobby Rich said that even when Mrs Beckham is out of the country they still train online
Mr Rich concentrates on the health of joints, which is especially important now Mrs Beckham is in her late 40s.
Last week, a day before she turned 49, Mrs Beckham posted pictures of her impressive physique while working out her triceps on a bench. She has also recently shown herself lifting heavy weights.
Mr Rich said of Mrs Beckham's regime: 'She is with me in the gym five days a week – and even if she's travelling, there are no excuses as we move to online sessions. She is putting the work in. 
'I treat the year as a season and work through different training blocks, identifying peaks and recovery phases to get the most out of the incredible efforts Victoria puts into each session, mentally and physically.'
He added that the workout consists of using her own body weight, resistance bands and ankle weights.
Mrs Beckham had previously relied on trainer Tracy Anderson (pictured)
Sometimes husband David Beckham (left) joins in with the training sessions too
A friend of Mrs Beckham said: 'As well as her gym work, Victoria eats impeccably.
'She looks after herself so well and that's important to her, particularly as she is about to turn 50. She is loving working with Bobby, and sometimes David.'
Mr Rich, 42, has previously trained the likes of director Guy Ritchie, boxer David Haye and singer Ellie Goulding.
American reality star Kim Kardashian has also recently started weight training, following a shift in women's fitness trends towards building strength.
Read more on MailPlus here. 
Source: Read Full Article