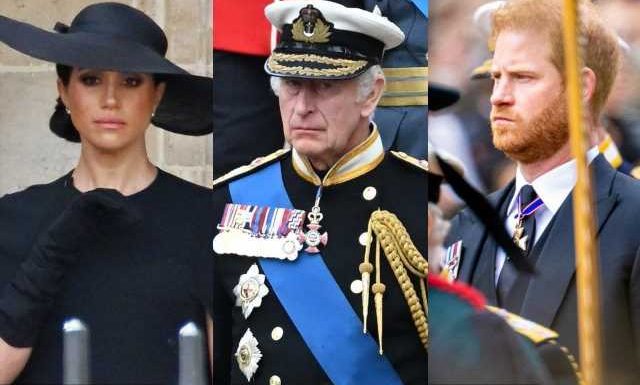 Prior to this, it was reported that the Duke of Sussex declined his father's invite to dinner after the new monarch banned his wife from joining him in Scotland.
AceShowbiz -Prince Harry didn't snub King Charles III despite reports. Debunking rumors that the Duke of Sussex purposedly missed his father's dinner invitation when he landed in Scotland, a new report claimed that it was just a matter of timing.
According to Page Six, Charles had already left for his private residence when Harry arrived at Barmoral Castle shortly after Buckingham Palace confirmed Queen Elizabeth II's passing on September 8. A palace source further detailed that Charles and Prince William had already departed for the monarch's home on the estate, not at Balmoral dinner.
Prior to this, it was reported that Harry declined his father's invite to dinner after the new monarch banned his wife Meghan Markle from coming to Scotland. The Sun claimed that Harry wanted the Duchess of Sussex to join his family members to see his grandmother on her final moments, but Charles told Harry that the former "Suits" actress' presence was "inappropriate."
Harry was said to be angry over the ban, prompting him to miss his first flight. Instead, he ate with the Duke of York and the Earl and Countess of Wessex before leaving early the next morning.
"Harry was so busy trying to get Meghan to Balmoral and rowing with his family that he missed the flight. Charles has an open invitation for Harry to dine with him whenever he is in the country. But Harry was so furious that he refused to eat with his father and brother," the outlet stated. "It was a massive snub. And he got out of Balmoral at the earliest opportunity to catch the first commercial flight back to London."
While the British royal family are mourning the death of Queen Elizabeth II, reports about behind-the-scenes drama keep making headlines. Prior to this, it was said that Harry and Meghan got their invite to a pre-funeral reception, which was hosted by King Charles III and Queen Consort Camilla, revoked.
It was unknown why the Sussexes were ever invited to the grand event, which would also be attended by world leaders and foreign royals, in the first place. Royal aides insisted that they were not expected to attend. Sources claimed that the pair, who share son Archie and daughter Lilibet together, "appeared" to be "baffled" by the mistake.
Harry was also initially not allowed to wear his military uniform during ceremonial events for Queen Elizabeth II since he's no longer a working royal family member. He eventually was granted special permission to wear his military uniform by his father King Charles III. The prince, however, was allegedly "humiliated" that he wasn't given the late queen's royal cypher, her initials "ER."
Source: Read Full Article