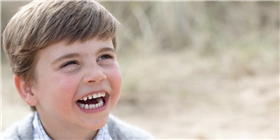 Need some no-drama royal news in your weekend? Prince Louis is here for you, frolicking on a beach and generally being the absolute most adorable in his official fourth birthday portraits.
The youngest member of the Cambridge fam is official four today (so take a moment to send some big HBD vibes his way) and Prince William and Kate Middleton "have planned a weekend of exciting outdoor activities for" to celebrate, a royal source told Us Weekly.
"He's having a little birthday party on Saturday to mark the milestone," the anonymous birthday whisperer added. "Louis is so excited to be turning 4 years old!"
Will and Kate (/their dedicated palace PR team) kicked off the social celebration of Louis' big day on Friday, sharing some brand-spanking-new, never-before-seen-by-mere-commoners photos of the royal kiddo in honor of his latest trip around the sun.
As usual, Kate snapped the pics herself (complete with a 📷 credit in the captions, ofc), and the photos were clearly shot on-location on a beach during what was surely a great family day out for the Cambridges. Louis was styled for maximum cuteness in the pics, wearing a a pair of teal shorts (because royal boys don't wear long pants until they're around eight years old) and a gray sweater emblazoned with red, teal, yellow, and navy blue stars over a white-and-blue checkered collared shirt.
Source: Read Full Article