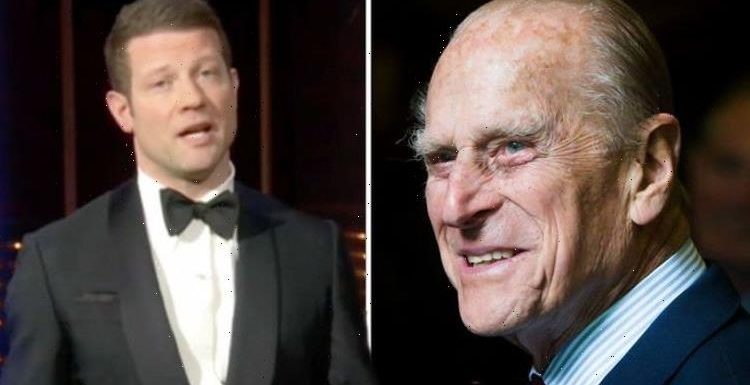 Prince Philip: Dermot O'Leary leads tribute on behalf of BAFTA
When you subscribe we will use the information you provide to send you these newsletters. Sometimes they'll include recommendations for other related newsletters or services we offer. Our Privacy Notice explains more about how we use your data, and your rights. You can unsubscribe at any time.
Prince Philip was the first ever president of the organisation and held the position from 1959 to 1965. Ahead of the ceremony kicking off this evening, BAFTAs 2021 hosts Dermot O'Leary, 47, and Edith Bowman, 47, paid a special tribute to the late royal.
We are extremely saddened by the passing of His Royal Highness the Duke of Edinburgh on Friday

Dermot O'Leary
The presenter told viewers: "We are extremely saddened by the passing of His Royal Highness the Duke of Edinburgh on Friday.
"The Duke was BAFTAs first ever president over 60 years ago, and he was the first Royal patron, a line that goes all the way to BAFTAs current president, his grandson, the Duke of Cambridge."
Edith added: "It was Prince Philip and Her Majesty the Queen's support throughout these years that in many ways has allowed BAFTA, a leading charity in the arts, to continue in difficult times and still be here today in 2021.
"The Duke of Edinburgh occupies a special place in BAFTAs history, and our thoughts are with the Royal Family."
The late royal was also featured in a montage of tributes to those who have passed over the past year.
Prince William was due to make an appearance at the ceremony, but Kensington Palace confirmed he would no longer be attending last night.
The Duke of Cambridge was set to deliver a speech celebrating the film industry over the past year during the global pandemic.
BAFTA said in a statement: "Our thoughts are with the royal family, to whom we offer our deepest sympathy at this time."
Radio One presenter Clara Amfo read out a similar statement in tribute to the Prince last night.
News of Prince Philip's death was confirmed by Buckingham Palace on Friday.
The father-of-four will have a Ceremonial Royal Funeral at St. George's Chapel in Windsor on April 17.
It is reported that the Prince requested to have a funeral with "minimal fuss".
DON'T MISS…
Tom Jones shares health update: 'That's all the medication I take' [HEALTH UPDATE]
Fern Britton issues warning after family enter dangerous open water [WARNING]
Jeremy Clarkson blasts Meghan Markle as he 'sidesteps' cancel culture [OPINION]
The ceremony will be attended by his close loved ones including his grandsons Prince William and Harry.
The latter's pregnant wife Meghan Markle will not be attending following medical advice.
Tonight, the Duke of Sussex was spotted arriving at London's Heathrow alone this evening.
Prince Charles paid tribute to his father in a personal message yesterday.
He said: "As you can imagine, my family and I miss my father enormously.
"He was a much loved and appreciated figure and apart from anything else, I can imagine, he would be so deeply touched by the number of other people here and elsewhere around the world.
"And, the Commonwealth, who also I think, share our loss and our sorrow."
EE BAFTA Film Awards 2021 was aired on BBC One and is available to watch on iPlayer.
Source: Read Full Article