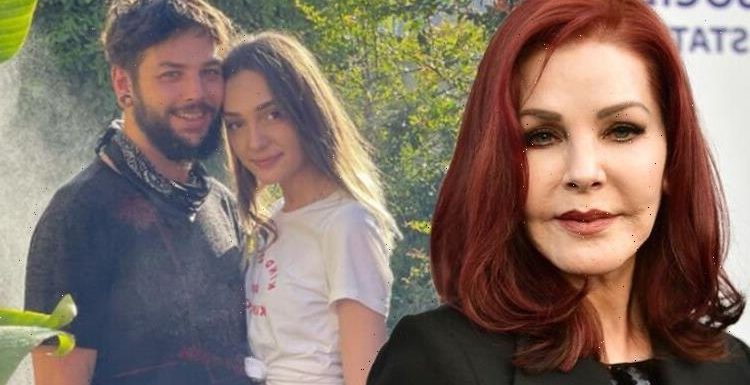 Elvis Presley: Priscilla discusses her affair in 1985
We use your sign-up to provide content in ways you've consented to and to improve our understanding of you. This may include adverts from us and 3rd parties based on our understanding. You can unsubscribe at any time. More info
Priscilla Presley's, 76, son Navarone Garibaldi, 34, has wed his girlfriend of four years Elisa Achilli in an intimate Switzerland ceremony. Navarone is Prisicalla's second child from her relationship with Brazilian screenwriter Marco Antonio Garcia.
I couldn't be happier!

Priscilla Presley
Navarone became engaged to Elisa in December 2020, with their intimate wedding looking picturesque.
They exchanged vows in the stunning grounds of Schloss Hunigen Hotel in Emmental Valley, Switzerland.
Navarone wore a blue suit, while Elisa stunned in a large white gown and trail.
Speaking to the People about their relationship, Navarone said: "I never thought I would find a counterpart that is so understanding and supportive.
View this post on Instagram

A post shared by Priscilla Presley (@priscillapresley)
"She makes everything we do effortless, and I can't imagine life without her."
Elisa said: "Navarone is truly the most genuine, sweet and sensitive man I have ever known and I'm so lucky that after four years of long-distance, we can start our life together as husband and wife."
Priscilla "couldn't be happier" for her son, gushing over the couple to the People.
She said: "They've been together for four years and we all have been waiting patiently for this day."
Alongside wedding snaps, she penned on Instagram: "Navarone and Elisa are MARRIED!!!
"The wedding was at the beautiful Schloss Hunigen Hotel in Switzerland. I couldn't be happier!"
Priscilla was with Navarone's father, Marco for 22 years from 1984 until their split in early 2006.
Marco had written for the TV series Dallas, which Priscilla had starred in and directed The Power Rangers.
The pair met after being introduced by a mutual friend in 1984 when he had written a script he hoped she would produce.
At the beginning of their romance, Priscilla ensured her partner signed a promissory agreement that if they should break up, he would not write a book about her.
The family wedding comes a year after Priscilla and her family were left "devastated" by the death of her grandson Benjamin Keough.
The son of Lisa Marie Presley took his own life in the form of a self-inflicted gunshot wound in July 2020.
Speaking about that time, Priscilla said: "These are some of the darkest days of my family's life.
"The shock of losing Ben has been devastating.
"Trying to put all the pieces together of all the possible whys has penetrated my soul.
"Each day I wake up I pray it will get better."
Source: Read Full Article