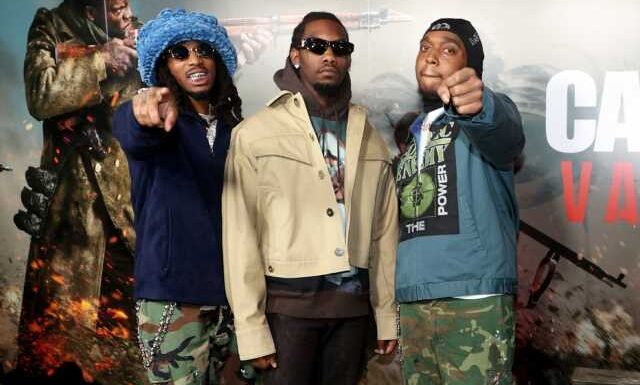 The Open It Up' rapper, who reportedly fought with his Migos bandmate backstage at the 2023 Grammy Awards, seemingly diss the latter with the caption of his recent Instagram post.
AceShowbiz -The tension between Quavo and Offset is yet to be over. The "Open It Up" rapper seemingly threw shade at his Migos bandmate over the latter's new tattoo that he dedicated to Takeoff.
On Thursday, April 20, the 32-year-old shared some photos of himself standing on top of a plane. In the accompaniment of the post, he wrote, "Rocket Power It's In You, Not On You!"
The caption prompted fans to speculate that it was a diss to Offset. "Offset tattoo diss," one person commented, while another replied, "Disappointing and unnecessary caption unc." A third noted, "I hope this isn't a subliminal message.
"Set loves Take so it's in him AND on him," a different person chimed in. "You said you would ask yourself, 'What would Take do?' Do you think he would be out here beefing with Set?"
Offset debuted his tribute tattoo to Takeoff just a few days prior. Taking to Instagram, he shared topless photos of himself that showed a huge image of the late rapper dressed in several gold chains.
The tattoo showed Takeoff being surrounded by a black-and-white galaxy print. In the caption, the husband of Cardi B wrote, "Love you 4L & after."
Migos had been rumored to have disbanded prior to Takeoff's tragic passing. Quavo and Takeoff even released their collaborative album "Only Built for Infinity Links" on October 7, 2022, less than a month before Takeoff was fatally shot in Texas.
Offset and Quavo reportedly fought backstage at the 2023 Grammy Awards in February after the latter prevented his former bandmate from joining him onstage for the In Memoriam segment, during which Quavo paid tribute to their late bandmate Takeoff. The two were alleged to have gotten into a physical altercation that resulted in the two of them being pulled apart from one another.
You can share this post!
Source: Read Full Article