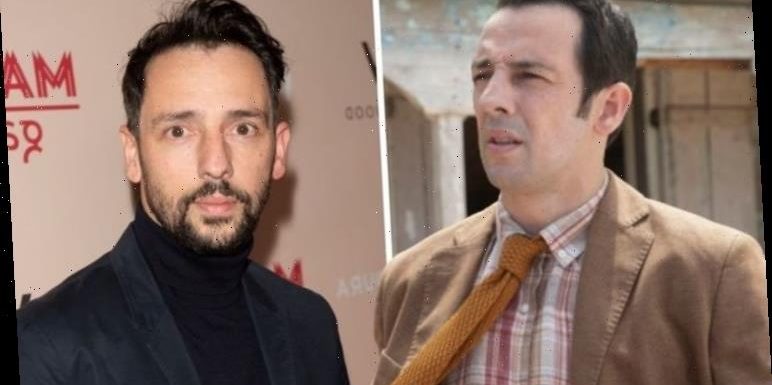 Death in Paradise: Ralf Little says Ben Miller return was 'special'
When you subscribe we will use the information you provide to send you these newsletters.Sometimes they'll include recommendations for other related newsletters or services we offer.Our Privacy Notice explains more about how we use your data, and your rights.You can unsubscribe at any time.
Ralf Little, 41, has become known for his role as DI Neville Parker on Death In Paradise having joined the show in season nine. As the tenth series of the show comes to an end, Ralf has since revealed the cast also filmed an alternative ending.
He explained: "I'll tell you something interesting we actually shot two endings.
"We shot one, that's left as it is, and we shot another ending, and I'm not going to tell you what the other ending looked like, because I'm not going to give you any clues!"
The actor went on to talk of how the producers of the show debated over the two endings although thought the one used in the finale was "more interesting".
While chatting to HELLO! in a Q&A alongside his co-stars Tobi Bakare, Joséphine Jobert and Tahj Miles, he added: "But there was some debate about whether the ending was going to be left as it was, on a cliffhanger, or to try and resolve in whatever direction… I'm not going to give you any clues!
"But in the end, obviously we decided that the cliffhanger was more interesting and I think it was probably right. Everyone is going to be asking!"
Josephine Jobert, who plays DS Florence Cassell, went on to talk of how fans of the show are going to be "furious" amid the revelation.
Death in Paradise first hit our screens in 2011 and two decades on continues to be a hit.
Amid its 20 year anniversary, producers have since confirmed the series will continue for another two series.
At the time, Executive Producer of the series Tim Key said: "We are hugely proud of series ten and delighted we'll be heading back to Saint Marie to continue the story.
"Our amazing cast and crew have delivered against the odds this year and we can't wait to get going again
"We've got huge plans for the future, with lots of surprises to come."
Ahead of the shows final many of the cast took to social media.
DON'T MISS…
Dan Walker 'caught off guard' after coming to aid of an alcoholic [INSIGHT]
A Place In The Sun presenters: Where are the former stars now? [EXPLAINER]
Michelle Pfeiffer admits producers found it 'too complicated' to hire [INSIGHT]
Earlier today, Josephine Jobert, who plays DS Florence Cassell on the series, took to Instagram as she referred to the end of the latest season as the "saddest news".
In a post to her 80,000 followers on her Instagram stories, Josephine said: "First of all, saddest news of the day, week, month, year, life… tonight is the final of Death In Paradise."
Ralf also took to Twitter as he counted down to 9pm with his 259,000 followers.
He wrote: "Klaxon! 15 mins til the series finale of @deathinparadise tonight! Xxx."
Fans of the show have since replied to the show and the shows ending as they expressed their excitement for the show to continue.
One wrote: "Loved it, brilliant series and what an ending…you little tease! Thanks to everyone involved."
Another added: "Can't believe it's over already but please for next series put the old theme tune back with the faster pace. I can't do my bed dancing to the new one."
"Crikey, you have left us hanging. Oooh the suspense! Another excellent series and just a brilliant cast," said a third.
Death In Paradise is available to watch on BBC iPlayer.
Source: Read Full Article