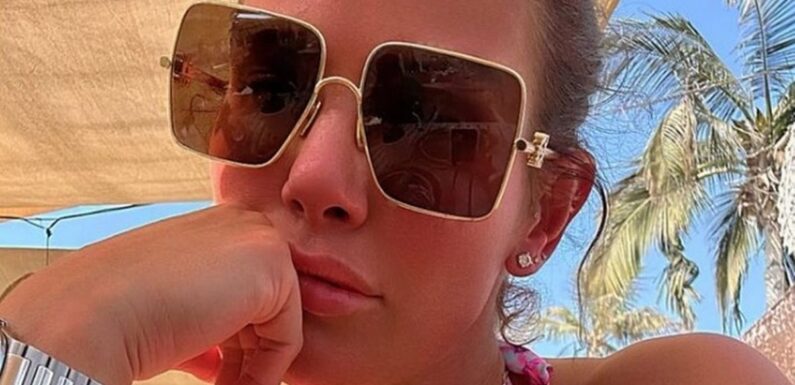 Rebekah Vardy has been spotted soaking up the sun in Dubai as she continues to enjoy a family holiday alongside her footballer husband Jamie and their children.
Mum-of-five Rebekah jetted off for a relaxing break following the release of Coleen Rooney'sDisney+ documentary, The Real Wagatha Story.
In a series of stunning Instagram pics, the 41-year-old sported a bright pink strapless bikini and showed off her toned and tanned figure.
She paired her outfit with multiple bracelets and a phone charm, while wearing her brunette locks swept back in a bun.
The star has three children with Jamie – Sofia, six, four year old Finlay and two year old Olivia – and is also mum to two other kids from a previous relationship, Megan, 17, and 11 year old Taylor.
In another holiday snap, Rebekah posed for a family photo at the hotel where they were staying, while wearing a pink and while flowing maxi dress and sporting minimal make-up.
She captioned the post with "they had the best time."
The fun-filled getaway comes after the release of former friend Coleen's documentary that focuses on the 37 year old attempting to put a stop to her private Instagram posts being leaked to the press.
In an exclusive interview with OK!, Coleen said that reliving some of her most painful moments – including the death of her little sister Rosie and the dramatic court battle with Rebekah – was far from easy.
But it was also a cathartic process that has finally enabled her to find closure in what was an emotional and difficult time for her family.
"It was hard," Coleen said. "The interviews got emotional and it brought up memories. It was a really difficult time that I went through and my family went through it with me as well. During the [court] case, even though I was physically there looking after my children, mentally I just wasn't there."
However, the mum-of-four who is married to Wayne Rooney said she hopes that once the hype around the documentary dies down, she can look forward to a fresh start in the new year.
"A massive cloud had been lifted," said Coleen, who is mum to Kai, 13, Klay, 10, Kit, seven, and Cass, five. "Reflecting back when we were filming did bring up those difficult times, but now it's all over, so we can celebrate."
She continued: "Maybe once this year has ended, that will draw a line under it, once it's [the documentary] out and people have seen it. I think into the new year – that will be a good time to say bye to it."
Source: Read Full Article