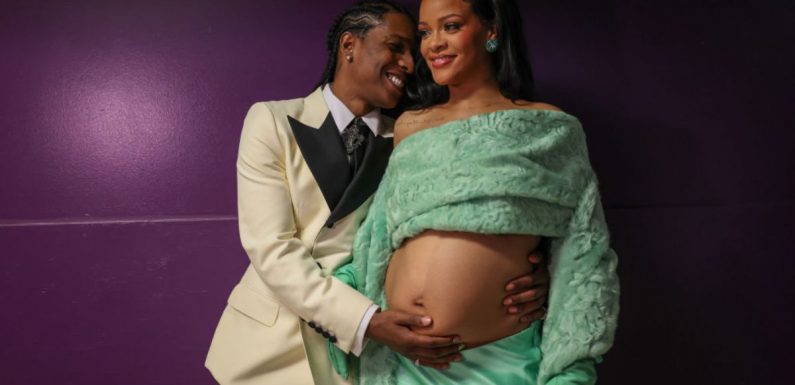 Rihanna announced at the Superbowl back in February she and rapper A$AP Rocky were expecting their second child together hot on the heels of the baby boy she gave birth to just eleven months ago.
Unfortunately, she has now pulled out of Glastonbury Festival as it is believed she will be giving birth when it's due to take place.
The news comes as fans have blasted the annual event for being too "stale" and for lacking female representation among its headlining acts.
"Arctic Monkeys and Guns N Roses headlining #Glastonbury alongside Elton John. All three closing acts are made up of white men," one Twitter user complained.
Meanwhile, Summertime Sadness star Lana Del Rey hinted she might pull out altogether over the lack of publicity for her show in a stormy message on Instagram.
READ NOW: James Corden 'dug grave' thinking he was 'untouchable' says colleague
She wrote: "Well, I'm actually headlining the 2nd stage. But since there was no consideration for announcing that, we'll see."
Emily Eavis, who co-organises the festival with her father Michael, vowed changes were coming in the future, and suggested the 2024 edition could see two female headliners.
So far, however, there have been just four females in the top spot in the past 12 years.
She blamed a "pipeline problem" in the industry for the current imbalance, telling the Guardian: "I can shout as loud as I like but we need to get everyone on board."
Meanwhile, BBC Radio 1Xtra's new host, Joelah Noble, exclusively spoke to Express.co.uk about the thorny topic, exclaiming: "In this day and age, [a lack of diversity is] a big mistake to make.

DON'T MISS…
Paul Newman felt 'guilty as hell' over affair with Joanne Woodward  [INSIGHT]
Gethin Jones 'never used dating app' as he opens up on single life [REVELATIONS]
Paul O'Grady's tearful words prior to his death amid health struggles [LATEST]
"It should be obvious that women should be part of the headlining acts, for sure."
The award-winning R&B radio host added: "Balance is really important and that [line-up] obviously doesn't reflect that. There are so many females that could grace that stage and do a great headlining job."
Asked who her top pick would be, Joelah didn't hesitate before nominating Beyonce, who headlined in 2011, but is currently busy preparing for a hugely oversubscribed Renaissance tour across the UK and Europe.
Her show hits London at the end of May, and it has been reported demand for tickets initially exceeded 800 percent of availability, making it one of the hottest shows in town.
Meanwhile, Rihanna will be preparing for more sleepless nights as she awaits baby number two, after admitting that raising her young son left her feeling like "a zombie" due to the exhaustion.
She told British Vogue she's been testing the boundaries when it comes to baby clothes, preferring unconventional outfits in shades of "hot pink" and "floral" patterns for her son in a bid to add "fluidity" to his wardrobe.
Source: Read Full Article