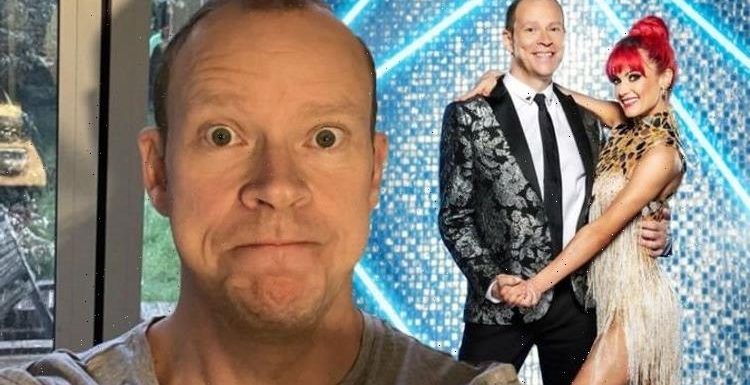 Joe Sugg tells Robert Webb to eat if he's hungry in Strictly training
We use your sign-up to provide content in ways you've consented to and to improve our understanding of you. This may include adverts from us and 3rd parties based on our understanding. You can unsubscribe at any time. More info
Robert Webb, 48, has spoken out about an awkward run-in he had with a member of the Strictly Come Dancing crew behind-the-scenes. The comedian was the second celebrity to be announced for this year's line-up.
I'm one of the… celebrities.

Robert Webb
The comedian is no stranger to the limelight, having starred in the hit Channel 4 sitcom Peep Show from 2003 to 2015.
However, in an interview with this week's Radio Times, Robert mentioned that some Strictly crew members did not know who he was.
When he was first dropped off at the BBC's Elstree Studios, he was taken to the wrong area.
As soon as Robert arrived, he asked where Strictly Come Dancing was taking place.
To which a member of the crew replied: "What department are you? Are you lighting? Are you wardrobe?"
Robert said: "It was literally the first time I've ever said this sentence: 'I'm one of the… celebrities'.
"They were like, 'Oh, sorry, love.'
"So, you know, there's no chance of me getting too carried away."
It was announced on Saturday that Robert's dance partner is Dianne Buswell.
Her time on Strictly started in 2017, with her first celebrity partner being Reverend Richard Coles.
They were voted out in week three, with Dianne's luck changing when she was partnered with Joe Sugg.
The pair managed to get to the grand final, but just missed out on the Glitterball Trophy to Stacey Dooley and Kevin Clifton.
Joe, who got into a relationship with Dianne after Strictly, issued Robert a warning of what to expect from the dancer.
The social media star said on Strictly's BBC Sounds: "Now I've danced with Dianne before, back in 2018, so if I had to give you a piece of advice it would be, if you're hungry, eat.
"Because she is like a machine. She will just go and go and go."
Robert is no stranger to the dancefloor, having won Let's Dance for Comic Relief in 2009.
Source: Read Full Article