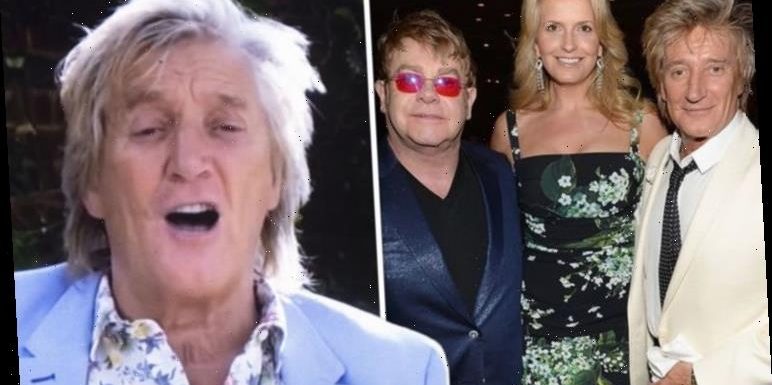 Elton John pokes fun at Rod Stewart over Christmas album
Sir Rod Stewart, 76, and Sir Elton John, 73, have clashed several times over the years. However, the Do Ya Think I'm Sexy? hitmaker has now revealed their most recent bust-up was their "worst row" to date.
Sir Rod and Sir Elton had a falling out in 2018 after the former branded the latter's farewell tour "money-grabbing".
Following the swipe, the Tiny Dancer singer hit back at Rod in his 2020 autobiography, saying he had a "f***ing cheek" to lecture him when Stewart had "spent the last decade crooning his way through the Great American Songbook and Have Yourself A Merry Little Christmas".
Fortunately, Sir Rod has given an update on his feud with Sir Elton, declaring they are "friends again now".
The performer said in a new interview on The Harry Redknapp Show podcast: "We've just made up.
READ MORE… Rod Stewart details chat with Queen after 'getting p****d' at palace
We will use your email address only for sending you newsletters. Please see our Privacy Notice for details of your data protection rights.
"We're friends again now me and Elton, we had the worst row like a married couple that went on forever.
"But he's just said, 'I've forgiven Rod and everything, I'm going to send him a Christmas card,' so we're mates again and I do love him."
Harry Redknapp's co-host Dodge then quizzed the star on why the pair had a row in the first place.
Sir Rod then spilled: "Well we've always been fierce enemies, as you know, through the years but it's always been at a playful level.
"But I was a bit spiteful when he announced his tour.
"I was on an American TV show, in which they ply you with lots of drinks before the show, and I said, 'I just see it as money-grabbing, he's retired a couple of times before, three years to retire'.
"And I got spiteful and I regret it, I really do regret it.
"But anyway, we're all good mates now," the star insisted.
DON'T MISS:
Joan Collins calls police as she wakes to find maskless men on balcony [COMMENT]
Naga Munchetty 'put in place' by co-star after she brands him 'fussy' [OPINION]
Monty Don 'very moved' after Gardeners' World guests' tribute to dog [VIDEO]
Praising Sir Rod for his attitude, former Tottenham manager Harry said: "It takes a big man to say that Rod anyway."
The dad-of-eight agreed and replied: "That's exactly what I say to my kids, Harry.
"I say, 'A man apologises, go and apologise to your mother'."
It comes after Sir Elton claimed that if he now saw Sir Rod in the street he would "give him a hug" back in November.
He also explained that there has always been a historic "rivalry" between himself and Rod.
"Rod and I have always had this kind of rivalry but it's always been very friendly and funny and I love him to death," Elton said during an interview with Howard Stern on US radio station Sirius FM.
"If I saw him in the street I'd give him the biggest hug.
"There's no point in carrying on vendettas. Life's too short."
Source: Read Full Article