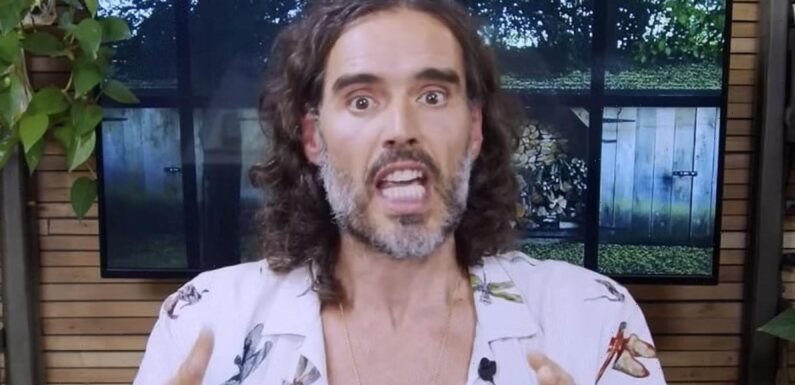 Russell Brand is seen stroking The View host Sherri Shepherd's bare leg, offering to break her 'celibacy', and telling Joy Behar he'd 'strip her of her tights' in VERY lewd 2009 interview – 14 years before he was accused of rape and assault
Russell, 48, has been accused of sexual assault and rape
Comedian appeared on The View in 2009 and flirted with host Sherri Shepherd
Forgetting Sarah Marshall star joked the panel had left him feeling 'aroused'
READ MORE: Met cops probe sex assault claim against Russell Brand
Russell Brand joked that he would 'strip' The View host Joy Behar of her tights and offered to break Sherri Shepherd's celibacy during a 2009 interview on the daytime talk show – which has now resurfaced in the wake of the shock rape and assault allegations being levied against the comedian. 
The incredibly risque interview, which took place over 14 years ago, was littered with sexual innuendos, with Russell joking that the panelists, including Whoopi Goldberg, Barbara Walters, and Meghan McCain, had left him feeling 'aroused'.
He also stroked Sherri's bare leg after telling her she looked 'nice', promised to 'take care' of her and boasted she would 'forget her own name' because he's very 'confident' in the bedroom department.
Russell, now 48 and married to Laura Gallacher, was this week landed in the middle of a high-profile sex scandal after a Dispatches exposé uncovered allegations of misconduct, rape and sexual assault – all of which he denies.
Russell Brand seemingly offered to spend the night with Sherri Shepherd during a 2009 appearance on The View
The long-haired star stroked Sherri's bare leg as co-host Barbara Walters looked on
Also present for the interview was Whoopi Goldberg, Meghan McCain and Joy Behar
The sex talk began when Joy referenced Russell's controversial title of 'Shagger of the Year', asking him: 'Are you proud of that?'
'One of my greatest accolades, Joy, is my "Shagger of the Year" awards,' he replied, before admitting it was 'awkward' discussing the title with his mother Barbara.
When he confirmed he had been off drugs and alcohol for six and a half years, Meghan asked him: 'You said clean of drugs and alcohol, but what about sex addiction?' Joy teased: 'Yeah! What about that, Shagger of the year?!'
'Now listen, you'll have me stripped of my title and I'll have you stripped of your tights!' he replied as the studio audience laughed.
He then interrupted Sherri as she tried to question him on his 'sex and shagging,' with the comedian stroking her leg and declaring: 'You look nice… I like these sort of gladiator high heel shoes you're wearing and I like your legs.'
He then asked: 'Now I understand you've been celibate for a while, when you gonna give that up?' 
Whoopi chimed in: 'Yeah Sherri, when you gonna give up? He is an eligible man, right here…'
An embarrassed looking Sherri replied: 'Don't start nothing you can't finish Russell!' To which he responded: 'I assure you this is an area in which I'm confident, I am not bluffing. I will take care of you, I will make you see multi-colored, I'll make you forget your own name, it'll be wonderful!'
'No wonder he's Shagger of the Year!' Joy blurted out, as Barbara told Sherri: 'Looks to me like you're looking forward to it, that's all I'm saying!' 
Russell, who was previously married to Katy Perry, then joked: 'She seems quite keen I think, Barbara,' before he turned to Sherri and said: 'You've got all dressed up, you've got me worked up, now come on!'
Joy, pictured this month, joked about Russell being named 'Shagger of the Year'
The comedian has denied the allegations of rape and sexual assault made by four women
Russell pictured with his pop star ex-wife Katy Perry in Los Angeles in December 2011
Sherri seemed flustered by his comments and attempted to continue the conversation by referencing his movies Forgetting Sarah Marshall and Get Him to the Greek.
Referring to a scene in the latter, which sees Russell's character Aldous Snow make an appearance on The View, he said: 'You were kind enough to contribute and do a scene for that movie. Well, it was very, very enjoyable. 
'You're an incredibly professional group of women and I feel a combination of relaxed and aroused in your company,' he joked, as everyone burst out laughing again.
Moments later, Barbara suggested that Russell should get help for his sex addiction, before joking: 'It seems to serve you very well… whatever gets you through the night, as they say!'
Russell turned his attention back to Sherri and replied: 'Well, Sherri tonight!' as he placed his arm against hers on the back of the sofa. 
Sherri started giggling uncontrollably as Sister Act star Whoopi grilled him on his sexual escapades and asked: 'Since you're making time with Sherri, have you ever had a sister?'
'Yeah! Loads!' he replied. 'I live in London, our country's different, we're all at it! Loads and loads, since I was proper young, like 16!'
Sherri wrapped up the interview by telling him: 'Russell, thank you so much for coming. We love having you here, you have to come back.'
One woman has claimed she was in an 'emotionally abusive and controlling relationship' with the star when he was 31 and she was 16
Russell and his wife Laura Gallacher, pictured here in November 2017, share two children
'You know we can meet outside the confines of this show!' he told her and leaned in again, but Sherri just laughed off the comment.
The British comic was on the show to promote his second hosting stint at the 2009 MTV VMAs. 
Another recently resurfaced clip from Jimmy Fallon's Tonight Show has also been circulating and shows Russell suggestively bouncing Katharine McPhee on his lap.
The clips come just days after Russell was accused of rape and sexual assault by four different women.
The allegations were laid bare in a joint investigation between The Sunday Times and Channel 4's Dispatches, which revealed a litany of accusations against the comedian-turned-wellness influencer.
The Metropolitan Police said it will speak to the media outlets in the wake of the accusations to probe Russell's alleged treatment of women, but added that at this time the force has 'not received any reports in relation' to the claims of sexual assault detailed in the article or documentary.
Russell strenuously denied the allegations in a YouTube video posted the day before the Dispatches special aired, in which he described the claims as 'serious' and 'disturbing'.
The comedian, actor and internet personality told his 6.5 million subscribers late on Friday night that there had been 'very, very serious criminal allegations' made against him which he 'absolutely refutes'.
Russell said he had received two 'extremely disturbing letters' from a 'mainstream media TV company' and a newspaper.
The father-of-two said the letters listed 'a litany of extremely egregious and aggressive attacks, which are untrue'.
Russell was pictured leaving the Troubadour Wembley Park theatre on Saturday after performing a sold-out show
Posting the video on X, where he has 11 million followers, he said: 'These allegations pertain to the time when I was working in the mainstream, when I was in the newspapers all the time, when I was in the movies. And as I've written about extensively in my books, I was very, very promiscuous.
'During that time of promiscuity the relationships I had were absolutely always consensual. I was always transparent about that then and I am being transparent about it now as well.
'And to see that transparency metastasized into something criminal that I absolutely deny makes me question is there another agenda at play,' he added.
On Saturday evening, Russell performed at a sold-out stand-up show at the Troubadour Wembley Park Theatre in northwest London as part of his Bipolarisation tour.  
Russell had been set to perform in Windsor, Plymouth and Wolverhampton, however his promoters have now confirmed these shows will not go ahead.
A statement from the show's promoters said: 'We are postponing these few remaining addiction charity fundraiser shows, we don't like doing it – but we know you'll understand.
'Theatre Royal Windsor will be offering ticket refunds in line with our Terms & Conditions of sale.'
Source: Read Full Article