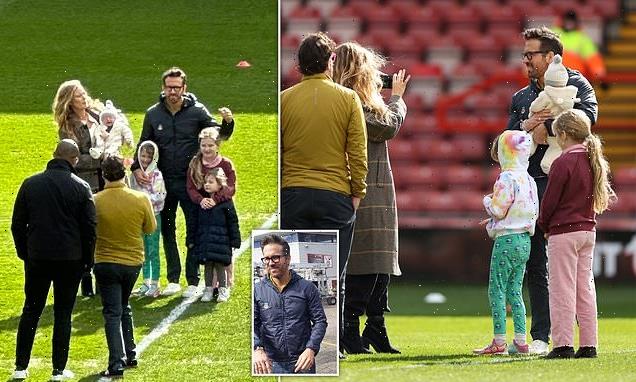 Welcome to Wrexham, kid! Hollywood stars Ryan Reynolds and Blake Lively pose for snaps with newborn baby and their three daughters as they cheer on Welsh football club owned by the actor
Ryan Reynolds and Blake Lively today posed for heartwarming family photos on the pitch at Wrexham – including a young baby believed to be their fourth child.
The Hollywood A-list couple announced in February that they were now proud parents again, without revealing either the name or the gender of the latest arrival.
So their fans were delighted to see the family scene at the ground where Reynolds' team Wrexham were playing York in the Vanarama National League.
Actress Blake, 35, was all smiles for the pictures with  her 46-year-old husband as he held the little one, alongside their first three children James, eight, Betty, six, and Inez, three.
Ryan held the baby gently in his arms, before all five posed for a picture.
The children proved to be Ryan's lucky charm as his side went on to defeat rivals York City 3-0, securing a vital three points to remain at the top of the table. 
Ryan Reynolds and Blake Lively pictured today with a newborn baby and their three daughters on Wrexham's turf
The actress, 35, was pictured with the club's co-owner, 46, and James, eight, Betty, six, and Inez, three, at the Racecourse ground. In Ryan's arms is a baby who is believed to be their fourth child
Ryan took the baby on a walk on Wrexham's pitch ahead of kick off earlier today
Ryan Reynolds pictured earlier today outside the Racecourse ground ahead of the match
In February the pair could be seen with Ryan's mother, Tammy, while showing fans that Blake no longer had a baby bump.
Ryan humorously revealed following the birth that his home had become a 'zoo' during CNBC's Power Lunch.
The actor further expressed said 'we're very excited' during the virtual interview.
'It's a zoo over here. This is my office here. To be honest, I'll probably spend the rest of my life in here,' he jokingly admitted.
'Look, we wouldn't do this four times if we didn't love it. Everybody's doing great. Everybody's actually doing fantastic. If we hadn't figured it out by now, I think we'd be in deep, deep trouble.'
When asked whether their fourth child was a boy or a girl, The Adam Project actor chose to not disclose the answer, and instead said: 'I ain't telling. This ain't a birth announcement.'
He continued: 'We didn't make a birth announcement, we just posted a photo and the media sort of did what it does after that.'
In August last year Ryan revealed his wife was not particularly happy when he told her the he had bought the Welsh team with It's Always Sunny in Philadelphia actor Rob McElhenney.
In an interview on Jimmy Kimmel Live!, he said: 'I remember seeing Blake, saying, "I have bad news and I have really bad news. I slipped into someone's DMs again. The really bad news is that I might have bought half of a fifth tier national football league in Wales."'
However Blake has been snapped cheering on Ryan's club. In May last year the couple watched Wrexham take on Bromley during the Buildbase FA Trophy Final at Wembley Stadium in London. 
It is not confirmed if Blake has previously attended a match at the club's stomping ground in the centre of Wrexham, North Wales. 
Blake revealed on Instagram that she had welcomed her fourth child with Ryan as she posed with the actor and his mother no longer having a baby bump 
Blake and Ryan watched Wrexham take on Bromley at Wembley Stadium in London in May last year
Pictured are Ryan Reynolds, Blake Lively and their children on Wrexham's grounds today
Also pictured arriving ahead of the match was club co-owner Rob McElhenney.
The pair bought the club back in 2020. Since then they have put Wrexham and its once struggling club firmly back in the spotlight. 
They reached the Wembley final in 2022 and narrowly missed out promotion after finishing second in the National League. 
Wrexham played York City today in a battle to secure their promotion back to football league, with the Welsh side currently sitting at the top of the table on 94 points, three ahead of Notts County in second. 
The club's duo are also striving to give women's football a boost and recently announced they will attend Wrexham ladies team's match against local rivals Connah's Quay Nomads tomorrow.
The famous owners will joined by more than 7,000 fans attending the match after a record number of tickets were sold.
McElhenney tweeted: 'We've sold 7,309 tix for the @WrexhamAFCWomen on Sunday.
'This shatters the record but I'd like to OBLITERATE IT INTO THE DUST OF HISTORY. I will be there and knowing how this town shows up for each other, I trust that you will too. LETS GO!!!!'
Reynolds wrote: 'Let's fill The Racecourse Ground and celebrate @WrexhamAFCWomen on their historic run. I can't wait to see them in full flight.'
McElhenney and Reynolds are bankrolling the women's football team at Wrexham to become semi-professional after buying the club.
Pictured is Rob McElhenney arriving ahead of today's match against York City
Owners Ryan Reynolds and Rob McElhenney celebrate Wrexham scoring the opening goal
Pictured are Ryan and Rob ahead of today's match
And they helped achieve the record crowd by selling tickets at just £1 each. The current record crowd in Wales is 5,175 for Cardiff City Women.
The pair who bought the Welsh club two years ago are expected to feature the rise in the women's team in their second series of their Welcome to Wrexham TV series.
They are expected to also discuss their battle to turn around the fortunes of the Welsh club.
A spokesperson for Wrexham AFC said: 'The decision to allow the players to become semi-professional, is to provide them the best chance of being successful and help the Club achieve its objective of becoming the best women's team in Wales, in the shortest period, practically possible.'
Ryan pictured earlier today posing for photos with fans at the match
Rob pictured with young fans asking for autographs ahead of today's match
Source: Read Full Article