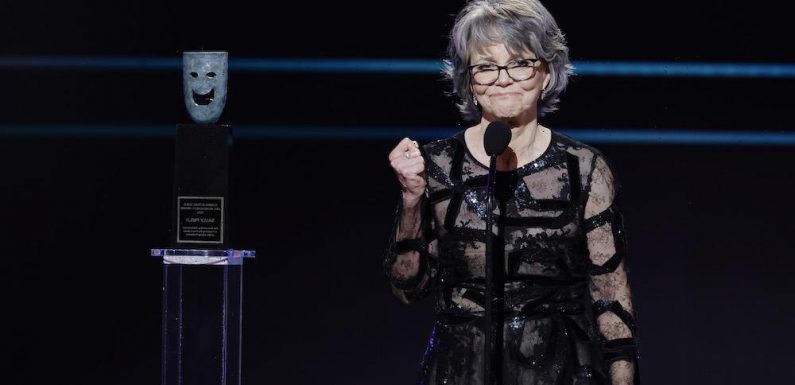 Accepting the SAG Life Achievement Award during Sunday night's SAG Awards, Sally Field reminisced on her decades-long career and her rise from the star of a situational comedy in the 1960s to a decorated veteran actor.
Field accepted the award from Andrew Garfield, who acted alongside her in The Amazing Spider-Man and its sequel. Garfield called her a "pioneer" of the entertainment industry who "has devoted her life off screen to righteous advocacy."
RELATED: SAG Awards – Deadline's Complete Coverage
"Sally is the epitome of acting greatness — inspired, unafraid of going deep and raw and overflowing with empathy," he said.
Related Story
The SAG Awards Photos: Live From The Red Carpet & Gala Ceremony
When she took the stage, Field spoke of being a part of projects that "were so good that my hands shook the first time I read them," explaining that "they opened and revealed parts of myself I would not have known otherwise."
"I've flown on wires and surfed in the ocean, rode on horses, in wagons, trains and fast cars. I had multiple personalities. I worked in a textile mill, picked cotton. I've been Mrs. Doubtfire's employer, Forrest Gump's mother, Lincoln's wife and Spider-Man's aunt. I've done scenes wearing 50 pounds of period dresses. I've been fully clothed, semi clothed and totally naked," she said, calling out Jeff Bridges by jokingly adding: "Huh, Jeff? Don't you know?"
She also remembered her very first acting role in the 1965 ABC series Gidget, which led allowed her to join the Screen Actors Guild and eventually led to her lifetime of acting.
"In the fall of 1964, I was standing in front of a camera on a freezing cold beach in Malibu and I said my first lines of dialogue as a professional actor," she said. "I was 17, fresh out of high school. I didn't have an agent, and I was working under what's called the Taft Hartley Law. A few months later, this show was picked up and all of a sudden I was the star of a television series, and I became a member of the Screen Actors Guild. I remember so clearly, putting that little paper card in my wallet, quietly thrilled to call myself an actor. I first found this stage when I was 12 years old in the seventh grade. And after that, I never left the drama department."
She continued, "It was the one place I could be really me, more than any other place when I got off stage. I felt shy and careful and hidden. I would think and rethink everything before I could say or do anything. But on stage, I never knew what I would say or do. I would surprise myself. I wasn't looking for the applause or attention, even though that's nice sometimes. Anyway, it's never been about a need to hide myself behind the characters of other people. Acting, to me, has always been about finding those few precious moments when I feel totally, utterly, sometimes dangerously alive. So the task has always been to find a way to get to that — to get to the work, to claw my way to it if necessary. Struggling to climb my way out of the box of situation comedy in the '60s and '70s took a fierceness I didn't know I had. But honestly, I was a little white girl with a pug nose born in Pasadena, California. And when I look around this room tonight, I know my fight, as hard as it was, was lightweight compared to some of yours."
While her journey, as well as the journeys of the other actors she spoke to, might not have been easy, Field proclaimed "easy is overrated."
Must Read Stories
'Everything Everywhere' Takes Best Picture; Winners + Tom Cruise Speech
'Quantumania' Worst Drop For MCU Title; 'Cocaine Bear' Gets Higher, Baby; 'Jesus' 3rd
Producers On WGA & DGA Talks: "Not Rushing To Shoot Because Of Strike"
Woody Harrelson's Chaotic Monologue; Donald Trump Vs. Ohio Train Wreck; 'Whale' Spoof
Read More About:
Source: Read Full Article