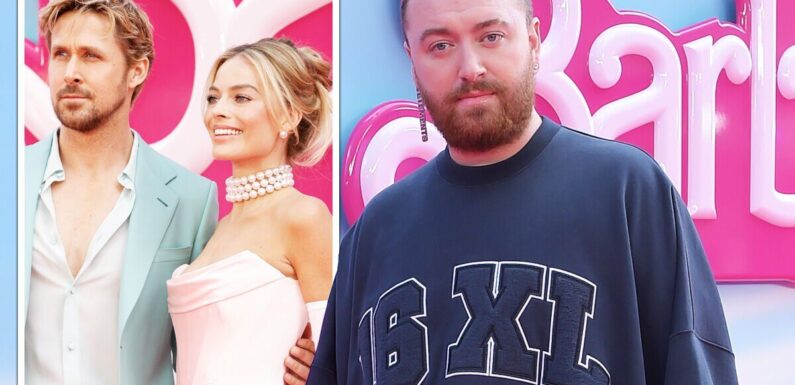 Barbie: Official trailer
Sam Smith opted for a baggy, casual look for the London premiere of the highly anticipated Barbie movie.
The cast, including Australian lead Margot Robbie, walked a special pink carpet for the event and showed off some stunning looks.
Robbie took inspiration from the Enchanted Evening Barbie doll from 1960 in an elegant pink corset gown with a ruffled collar.
Her co-star Ryan Gosling, who portrays Barbie's boyfriend Ken, wore a pastel blue suit, while the supporting cast looked just as stylish.
However, the Stay With Me singer stood out with long sleeves and jeans down to the fuschia floor.
READ MORE Just Stop Oil's most bizarre protest as they invade Barbie section of Hamleys
They went for an oversized look for the occasion and looked comfy in a long, navy sweatshirt and extremely baggy blue jeans.
Smith paired the look with a long earring on one ear and a sensible stud on the other.
They'll be releasing their new single Man I Am on July 21, which features in the film's soundtrack.
Don't miss…
Always Sunny's Rob McElhenney spills on motivation for weight transformation[INSIGHT]
Harrison Ford's 'awards-worthy' performances snubbed by Emmys and fans furious[BACKLASH]
The Crown scores major Emmy noms – but none for Harry and Meghan[LATEST]
We use your sign-up to provide content in ways you've consented to and to improve our understanding of you. This may include adverts from us and 3rd parties based on our understanding. You can unsubscribe at any time. More info
The tracklist also features songs from major artists like Nicki Minaj, Billie Eilish and Dua Lipa.
"I cannot begin to express how incredibly excited I am to be a part of the soundtrack to this already iconic film," they wrote on social media.
"I was invited by the incredible [Mark Ronson] and Greta Gerwig to write a song from the perspective of Ken for one of the scenes and we honestly had so much fun with this.
"I cannot wait for you to hear what we've created together. Barbie Land here we come!!!!"
Barbie's male lead Gosling recently showed off his musical chops with a sneak peek at his number from the film, Just Ken.
The film has scored rave reviews so far, with some even calling the La La Land star's latest performance "Oscar-worthy".
Barbie releases in cinemas on Friday, July 21.
Source: Read Full Article