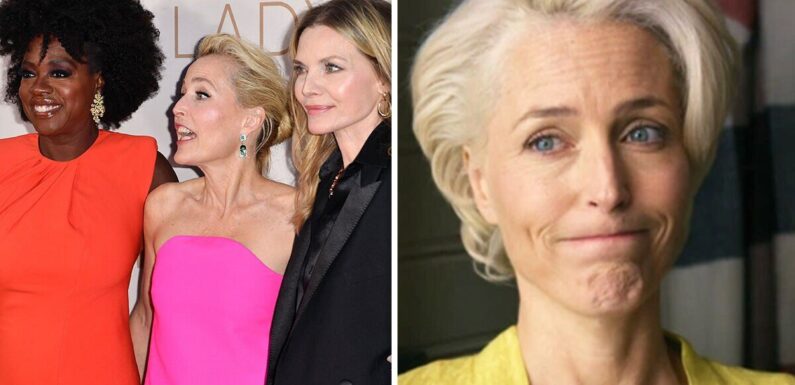 Sex Education: Trailer for final season of hit show
Gillian Anderson leads a stellar British cast in Netflix's Sex Education, but her real-life accent, which tends to "switch" between American and English, has frequently left fans confused.
The Dr. Jean Milburn star previously baffled viewers when she gave her acceptance speech at the Golden Globes in an American accent.
The confusion was sparked when the film and TV star, 55, won the Best Supporting Actress in a Television Series award in 2021 for her performance as Margaret Thatcher in The Crown.
Gillian, who has spoken in an English accent for most of her TV appearances in recent years, including in Sex Education, is in fact bidialectal.
This means the Hollywood star has the ability to use two dialects of the same language, in her case a London accent and an American one.
Read More: General Hospital actor and Meghan Markle's Suits co-star Billy Miller dies at 43
The X-Files actress was born in Chicago, Illinois but was raised between Puerto Rico and London.
She then made the move back to the US at the age of 11, while also continuing to spend some of her time in the UK, making her familiar with using both accents.
Following nine seasons as Dana Scully on The X-Files, Gillian moved permanently back to London, where she found success starring in British TV series including The Fall and Sex Education.
Gillian previously opened up about her changing accent in 2020, explaining in an interview with Scott Lawrence on YouTube: "It goes back and forth because I grew up in both places, so it depends on who I'm talking to.
Don't miss…
Les Dennis feared 'bumping into' ex Amanda Holden while walking past Heart FM[COMMENT]
Strictly faces chaos as Shirley Ballas struck down with illness just before show[HEALTH UPDATE]
Inside Strictly week one – Pros snubbed, fans distracted and Les Dennis concerns[LATEST]
We use your sign-up to provide content in ways you've consented to and to improve our understanding of you. This may include adverts from us and 3rd parties based on our understanding. You can unsubscribe at any time. More info
"So usually when I'm talking to Brits, it slides into British, and vice versa for American."
The star admitted she often can't help switching between her two accents, as it depends on who she is spending time with.
However, she also confessed she has to be "careful" with her accent when she's around a British person and an American person at the same time.
The actress revealed to NPR's Terry Gross: "I have to be careful if there are two — if there's an American and a Brit that I'm doing an interview with because I end up sounding somewhere in between, in the middle.
"Because my ears are picking up on different things."
Sex Education season 4 arrives on Netflix on September 21. Seasons 1-3 are also streaming now.
Source: Read Full Article