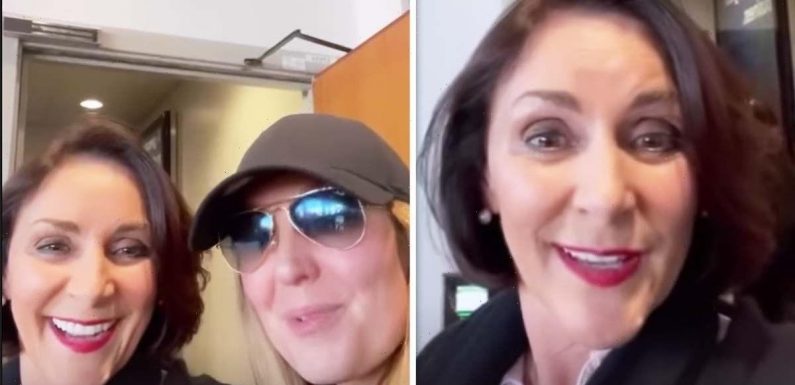 We use your sign-up to provide content in ways you've consented to and to improve our understanding of you. This may include adverts from us and 3rd parties based on our understanding. You can unsubscribe at any time. More info
Shirley Ballas, 62, admitted she "enjoyed" being led into a private room at London City Airport and "searched". The Strictly Come Dancing judge took to social media yesterday to share the anecdote with her fans as she continues to travel around the UK for the live tour.
Filming herself for her Instagram Story, Shirley boasted a wide grin as she recounted the moment she was searched.
Shirley explained: "So, I've just been searched at London City Airport.
"And yes, I got taken into a private room and searched.
"So that was rather interesting, I have to say…"
Strictly pro dancer Amy Dowden could be heard in the background saying: "But you enjoyed it, you said," which Shirley reacted to with a cheeky smirk.
Amy then appeared in the frame, chiming in: "But enjoyed it more than she should have done."
Shirley recently addressed whether or not she'd consider joining the judging panel on the American competition, Dancing with the Stars.
Appearing on Loose Women last month, Shirley gave fans the low-down on the ongoing live tour of the hit BBC dance show.
However, with her son Mark being a professional dancer on the USA version of the show, the TV star touched on whether she would consider going stateside to join him.
Mark returned to Dancing with the Stars for its latest season after a five-year break and took home the trophy with Charli D'Amelio.
Shirley gushed over how proud she was as she told Denise Welch, Kaye Adams and Judi Love how hard he trained to get back into shape.
After not seeing him for a long time, the dancing judge took a trip to America to spend some time with him before he decided to make his TV return.
Recalling the story, she said: "He got offered the job on Dancing with the Stars, he hadn't done it in five years. He told me, 'No mum I'm not'. So I flew back to England, ready for our launch show.
"I was just about to go on our launch show and he said, 'Could you fly back tomorrow mum, I've decided to do it'."
Shirley then flew back out there and stayed for two weeks to help him get ready for the show.
Before departing from Strictly, Shirley's former co-star Bruno Tonioli divided his time judging both the UK and USA dance shows.
With Len Goodman recently announcing his departure from the stateside dance competition, there's potentially another spot open for someone else on the judging panel.
Loose Women's Linda Robson asked Shirley if she'd ever consider joining the cast herself.
She replied: "Well, I think at the moment they're going to keep it to three judges but you know.
"The bonus of being over there would mean I get to see my son every week."
Source: Read Full Article