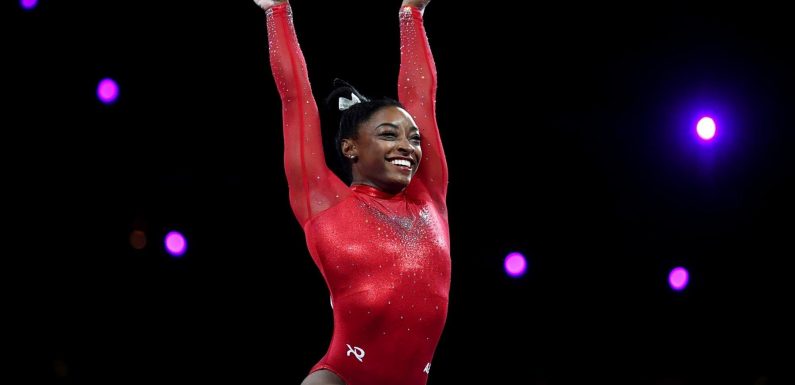 Simone Biles makes even the most difficult moves look effortless. And she's one jump, skip, and a hop away from making history (again) on the Olympic stage.
On Thursday, the U.S. Olympic gymnastics team attended practice — or "podium training" as Biles referred to it on Instagram — where Biles nailed her historic Yurchenko Double Pike Vault. The jaw-dropping moment was posted to Twitter by @NBCOlympics
In the video, the four-time Olympic gold medalist approaches the vault with so much speed and momentum that the gymnast gets enough air to perform not one but two pike back flips in the air before sticking it.
The Yurchenko vault, which includes a roundoff onto the springboard before a back handspring is executed onto the vault, was named for Russian gymnast Natalia Yurchenko, who first performed the skill in the 1980s. Biles has already made history once competing the move into a double pike backflip in May at the U.S. Classic in Indianapolis. She is the first woman to ever land the insanely difficult move during competition.
On Friday morning, Biles shared her excitement for the Opening Ceremony by posting some cute shots with her teammates to Instagram. "LET THE GAMES BEGIN ✨," she captioned the post.
Biles previously told InStyle what she was looking forward to the most about the Olympics, and she's just excited to be there.
"I think I can speak for myself and other athletes: we're all ready to show what we've been working on for so long and get out there and represent our countries," she said. "I'm super excited about it. I know it'll be different, not like the Olympics we've ever had before, but I also think that's what makes it special too."
Source: Read Full Article