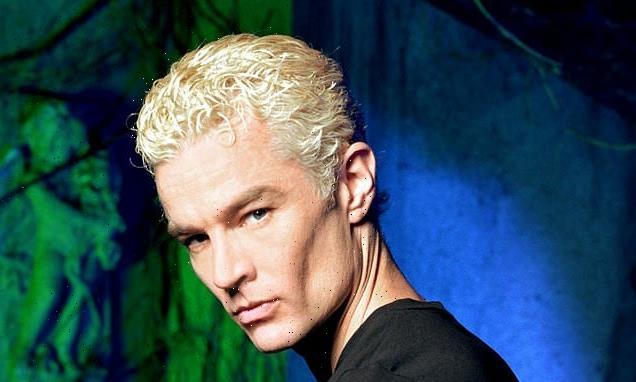 Spike from Buffy doesn't look like this any more! Nineties cult hero James Marsters is unrecognisable as he resurfaces for radio appearance
He is best known as the spunky bad boy vampire of the Nineties TV classic, Buffy The Vampire Slayer.
But James Marsters is almost unrecognisable today from the iconic character he played in the hit series. 
 The California-born actor, 60, grew a cult following with his role as Spike, an English 'punk vampire' in the hugely popular show, co-starring blonde bombshell Sarah Michelle Gellar.
James had a chance to revisit his days as a cult hero during an interview on Thursday's episode of KIIS FM's Kyle and Jackie O Show.
The former teen heartthrob was taking part in the show's 'Remember Me' segment, where hosts Kyle Sandilands and Jackie O Henderson try to guess the identity of a celebrity caller.
Spike from Buffy doesn't look like this any more! Nineties cult hero James Marsters  is unrecognisable these days as he resurfaced for a radio appearance on The Kyle and Jackie O Show on Thursday 
 60-year-old Marsters pictured on the red carpet in Los Angeles in May
At first Kyle and Jackie both struggled with trying to name James, until the star began to speak in a thick 'London' accent fans would remember from the beloved Buffy TV show.
'Now you should get it,' James said in his Spike voice, adding: 'It might be a little easier now that I'm talking like the guy that I played  on television, right?'
James finally revealed who he was after Kyle recalled he was a fan of both Buffy and its spin-off Angel. 
'I was on both of them,' an excited James told his hosts.
Since starring in Buffy, James has appeared as Captain John Hart on the Doctor Who spin-off Torchwood.
The popular role was specifically written for him by showrunner Russell T Davies.
Host Kyle Sandilands struggled to identify James since he had changed so much from his 90s heyday as the spunky vampire in the cult TV show
Pictured: James and co-star Sarah Michelle-Gellar in a scene from Buffy
He also starred on the crime drama Hawaii Five-0, playing mastermind Victor Hesse and in the HBO series The Devil You Know, which focuses on the Salem witch trials. 
James hit the red carpet in Los Angeles this week to re-unite with his Buffy co-star Sarah Michelle Gellar at the launch of her new seres Wolf Pack.
Buffy the Vampire Slayer was a comedy-drama supernatural TV show that debuted in 1997.
The show starred Sarah Michelle-Gellar as a teen age vampire killer.
All the episodes of Buffy the Vampire Slayer are now available to stream on Disney+
Source: Read Full Article