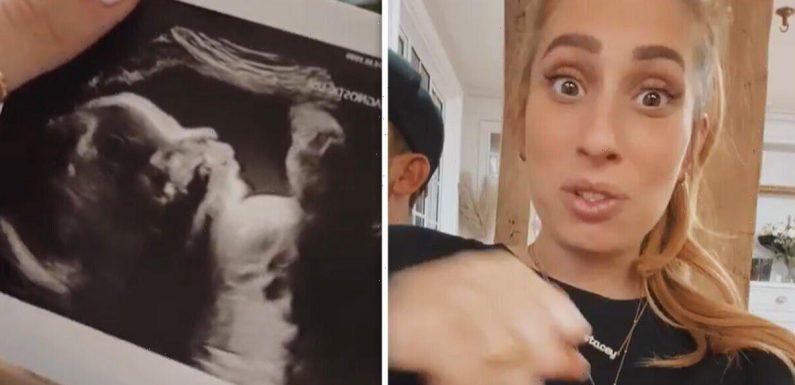 Stacey Solomon shares pictures of her baby after latest scan
We use your sign-up to provide content in ways you've consented to and to improve our understanding of you. This may include adverts from us and 3rd parties based on our understanding. You can unsubscribe at any time. More info
Stacey Solomon, 33, and Joe Swash, 40, may have hinted at their baby's gender as they unveiled their scan for the first time and got into a comical "argument" about who the baby most resembles. In a clip shared to her Instagram Story, Stacey said: "Me and Joe are sitting here having a full-blown discussion about whose lips the baby has got.
"Yesterday we went for a scan and the sonographer lady was so incredible she got the most amazing picture of its mouth and nose."
Stacey then said: "Joe thinks it's got his mouth," before appearing to add: "And I think he's got my mouth. He's got my lips."
Joe then came into view and pouted at the camera before Stacey told him to "relax" his mouth and quipped he "looked like a carp".
Stacey then shared the sweet scan pictures with her followers.
One image featured a close-up of the baby's lips and nose while another showed the side of the little one's head.
In the caption, Stacey said she thought the picture looked "so different" from the scans she had with her other four children.
She wrote: "How incredible. That beautiful face…we can't wait to see you baby.
"This little one looks so different from all of my other scans. But whose lips are those?"
View this post on Instagram

A post shared by Stacey Solomon (@staceysolomon)
The new arrival will be Stacey's fifth child. She already shares Rose, one, and Rex, three, with husband Joe.
The Loose Women panellist also has Leighton, 10, and Zachary, 14, from previous relationships.
Stacey stunned fans when she announced her surprise pregnancy last week.
The star shocked fans even more when she revealed that she was already eight months along and will be welcoming her new arrival in the next few weeks.
DON'T MISS
Ola Jordan slips back into Strictly catsuit amid 3.5 stone weight loss[LATEST]
Liz Hurley, 57, risks wardrobe malfunction in plunging black gown[PICTURES]
Jeremy Clarkson says Kaleb Cooper exited farm over his 'stupid idea'[INSIGHT]
During an Instagram Q&A earlier this week, Stacey admitted she is completely "unorganised" and "hasn't had time" to prepare.
When asked whether the couple had started decorating a room for their unborn baby, Stacey replied: "Noooo. I wish I had. We just haven't had the time.
"But I know really baby will be in with us for the first year (or 15 if they're anything like the others).
"So, I need to just not put too much pressure on myself to get things all together and sorted before baby comes."
She also cleared up "confusion" surrounding her pregnancy when another fan questioned: "I'm so confused how you didn't know for eight months?! Your bump isn't exactly small?!"
Stacey then clarified: "We didn't just find out at eight months [for god's sake].
"We found out, then wanted that first few months you usually would wait to have it to ourselves, and now here we are."
Nonetheless, she did say that she found out "past the point" that people would usually reveal the news to others.
Source: Read Full Article