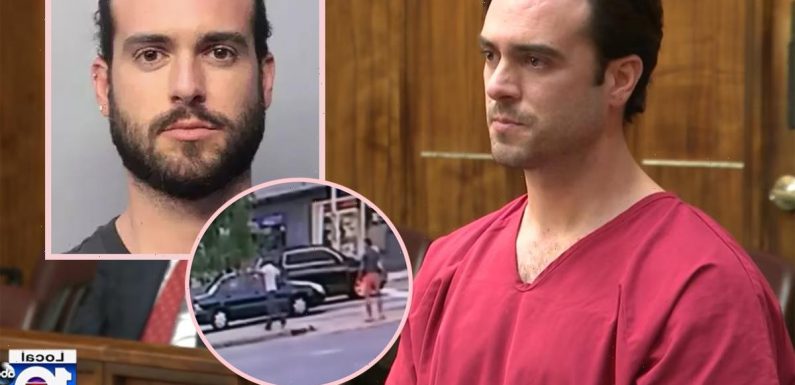 Telenovela star Pablo Lyle's fate has been revealed.
As we've previously reported, the Mi Adorable Maldición actor was arrested in 2019 after punching 63-year-old Juan Ricardo Hernández in the head during a traffic-related argument. The horrible incident was caught on video surveillance – showing Lyle getting out of the passenger side of a red car before running up to Hernández and hitting him. See (below):
The victim ended up suffering from a brain injury after the altercation. According to his family, per People, he suffered from internal hemorrhaging that left him unconscious. While Lyle was initially charged with battery, the charges were later upgraded to manslaughter when Hernández was disconnected from life-support and died. He was eventually found guilty by a jury on October 4, 2022. And while Lyle faced a sentence between 9.25 and 15 years in prison for the manslaughter conviction, it looks like the judge has shown him some leniency.
Related: NJ Man Pleads Guilty To Hiring Hitman To Kile 14-Year-Old He Sent NSFW Photos
According to NBC Miami, the actor appeared in court on Friday to see what punishment Judge Marisa Tinkler Mendez handed down to him. And how many years did he get? The judge sentenced him to only five years in prison. He will also have to attend anger management classes, complete 500 hours of community service, and serve eight years of probation. Wow. His attorney, Phil Reizenstein, told People on Friday evening of the sentence:
"The conviction is unfair and we hope it will be reversed on appeal but the sentence was fair."
As for why the judge showed leniency, NBC Miami reported that Tinkler Mendez said Lyle showed remorse for his actions, adding:
"Nobody here is going to be satisfied, nobody here is going to forget the pain that's been caused."
During the court hearing, the Yankee star insisted he never meant to kill Hernández, saying:
"I truly thought I was protecting my family."
He went on to apologize to the victim's loved ones, expressing how his death still "haunts" him to this day:
"I can only imagine the pain of losing a loved one, someone that important, especially in a situation like this. I think about it every day. I pray that this day will bring you closure and that whatever happens today you can leave this courtroom with grace in your hearts. That Mr. Hernandez lost his life because of something I did, something that walks with me, it haunts me when I go to bed and it's still there when I wake up. I never wanted any of this to happen, I never in my wildest dreams could have imagined something like this could have happened, that life could be lost and so many others affected so drastically in just a matter of seconds and just one punch."
What do YOU think, Perezcious readers? Was the judge too lenient with Lyle's sentencing? Sound OFF in the comments below!
Source: Read Full Article