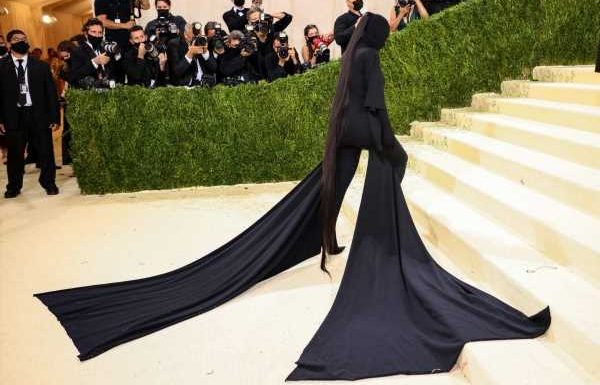 The Met Gala is fashion's biggest night and often sees attendees taking big swings with their looks. Kim Kardashian West has turned out some iconic looks over the years, from a shimmering robotic dress to her famous wet look. Her outfit for this year's theme, based on the exhibit "In America: A Lexicon of Fashion," left many fans scratching their heads. Here are some of the best reactions to the surprising bodysuit look. 
Kim Kardashian West wore head-to-toe black at the Met Gala
On Sept. 13, 2021, Kardashian West arrived at the Metropolitan Museum of Art wearing a Balenciaga black minidress and a cape with a train. Underneath, she wore a long sleeve bodysuit that covered every inch of her skin, including her head.
According to Elle, Kardashian West shed the minidress and face mask for Justin Bieber's afterparty. Instead, she wore the skin-tight bodysuit with a long skirt and mask-like sunglasses. Though her face was still partially covered, it was much clearer that it was Kardashian West wearing the outfit. The anonymous black mask from earlier in the evening kept onlookers wondering who was walking the red carpet. 
Fans had a lot to say about Kim Kardashian West's look
As with everything Kardashian West does, her red carpet appearance garnered a lot of attention. And fans were quick to share their thoughts on the look.
"Kim K showing up in my Sims backyard after I took the ladder out of the pool," one fan tweeted in reference to Grim Reaper-esque look.
"Kim Kardashian serving American Horror Story realness," another wrote.
The most common comparison was to the dementors from the Harry Potter series.
"Kim k really showed up at the met gala looking like she's ready to suck the soul out of the prisoner of azkaban," a fan joked.
"Kim K and Kanye need to get away from us with this. No m'am, Expecto Patronun, b—-," another said.
One fan moved away from the comparisons altogether and asked one of the night's biggest questions: "Why did kim k get her makeup done?"
Some speculate the look hints she's getting back with Kanye West
Beyond the jokes about her ghoulish appearance, many fans wondered if the outfit hinted that Kardashian West was back with West. Initially, many people thought the masked person alongside the KUWTK star was her former husband. Though Us Weekly confirmed that she attended with Balenciaga creative director Demna Gvasalia, rumors still swirled. 
Kardashian West filed for divorce earlier this year, but she has maintained a friendly relationship with her estranged husband. Many believe that her edgy Met Gala look was a nod to West.
Reportedly, a source told ET, "Even though Kanye is not attending tonight, his presence will be felt on the carpet. It was him who introduced Kim to Demna and was instrumental in the newly formed relationship between her and Balenciaga."
This revelation has further fueled rumors of a possible reconciliation between the reality star and her former husband. 
Source: Read Full Article