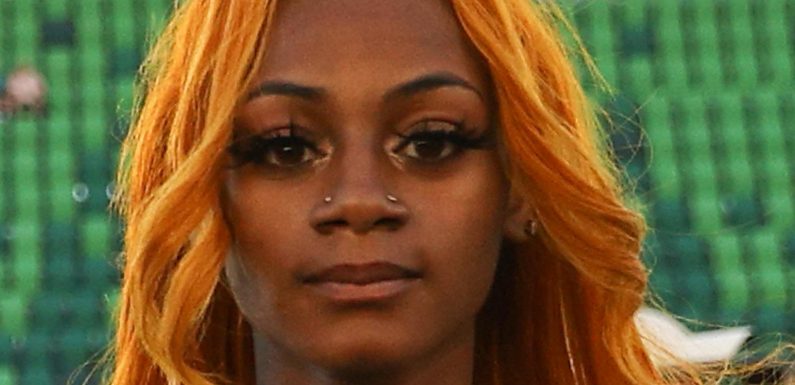 Track and field sprinter Sha'Carri Richardson stole the hearts of many with her inspiring story and remarkable determination. The athlete ran a winning 10.86 seconds in the women's 100-meter dash in the 2020 U.S. Olympic trials on June 19, putting her on an exclusive list of American champions alongside some of the greatest runners of all time. Richardson's win also guaranteed her a roster spot for the USA Track and Field team for the 2021 Tokyo Olympics.
Richardson became an overnight sensation after her post-run interview alongside her grandmother and other family members, in which she revealed her biological mother died before the trials. "I'm still here. Last week, finding out my biological mother passed away and still choosing to pursue my dreams, still coming out here, still here to make the family that I do still have on this earth proud," the Louisiana State University student told NBC (via ESPN).
Unfortunately, Richardson's road to the 2021 Tokyo Olympics was cut short after she tested positive for marijuana use. Richardson accepted a one-month ban, retroactive to June 28, according to the U.S. Anti-Doping Agency. Her suspension was slated to end Aug. 5, but she was officially left off of the USATF roster in early July. Still, Richardson has the support of millions and a number of sponsorships, including Beats By Dre and Nike. It's not just her incredible talent and accountability that has our attention; the athlete's bold look is just as eye-catching. Read on to find out the real inspiration behind Sha'Carri Richardson's bold look.
Sha'Carri Richardson's look is inspired by this record-breaking track star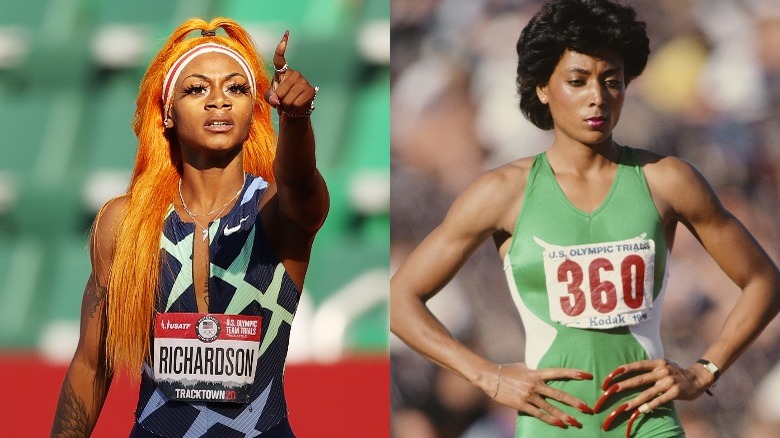 Sha'Carri Richardson is undoubtedly a standout star on the field, and it isn't just because she runs at lightning speed. Her fans can't seem to stop gushing over her appearance and her redefinition of professionalism. Richardson is best known for sporting bright-colored hair and long nails, which the public has invited comparisons to the late record-breaking track and field star, Florence Griffith Joyner. Joyner, popularly known as "Flo-Jo," was also highly regarded for her signature nails.
According to Richardson, her appearance is mainly inspired by her grandmother. However, she later discovered that Joyner's love for manicured nails matches her own. "Flo-Jo came to the track and knew she was going to dominate," Richardson told Associated Press. "The way she did that was graceful. I always liked that. If the amazing Flo-Jo had long nails, there was no excuse why I couldn't have long nails."
Aside from Joyner's trailblazing style skills, the Dallas native cites both the former and Olympic champion Wilma Rudolph as her athletic inspirations. "Those two were the mix of the athlete I wanted to be," she continued. "An athlete that shows I know where I came from and been through things, but I'm not going to allow that to define me, and to always present myself in a way that is dominant — but that is also appealing." Richardson isn't the only track star rocking a captivating look; Jamaican athlete Shelly-Ann Fraser-Pryce is making a splash in the 2021 Tokyo Olympics, rocking colorful hairstyles of her own during the competition.
Source: Read Full Article