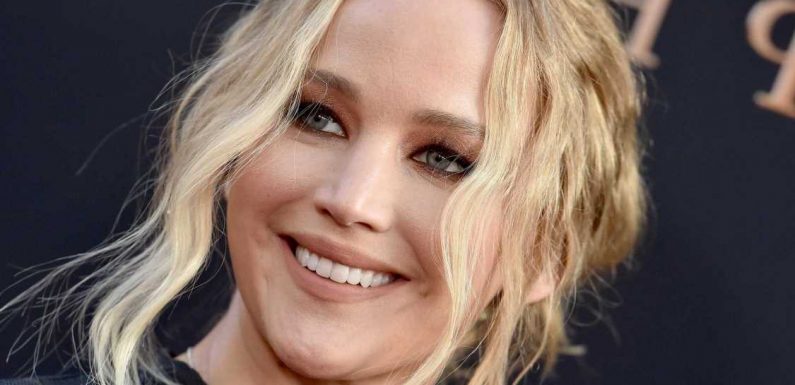 Jennifer Lawrence on her break from the spotlight and why her baby's privacy is so important
After stepping away from the spotlight for two years, Jennifer Lawrence is back, starring opposite Leonardo DiCaprio in Netflix's new, dark comedy, "Don't Look Up." As she tells Vanity Fair in its December 2021 cover story, her break came at a time when she felt the "quality" of her work had dwindled and she worried she was taking projects on for the wrong reasons. "I just think everybody had gotten sick of me. I'd gotten sick of me," says the star, 31. "I think that I was people-pleasing for the majority of my life. Working made me feel like nobody could be mad at me … And then I felt like I reached a point where people were not pleased just by my existence. So that kind of shook me out of thinking that work or your career can bring any kind of peace to your soul." She adds, "The attention on me was so high and extreme that, in a bizarre way, the set had become a great escape. Everybody treats you normally. … But you get burnt out. Eventually, I had to ask myself, Am I saying yes because I want to go to work the next day? Or am I doing this because I want to make this movie?" In addition to promoting "Don't Look Up," Jen and her husband, Cooke Maroney, are preparing to welcome their first child together. And while Jen's "grateful and excited" about becoming a mom, she wants to keep her little one out of the public eye. "… Every instinct in my body wants to protect their privacy for the rest of their lives, as much as I can," she explains. "I don't want anyone to feel welcome into their existence. And I feel like that just starts with not including them in this part of my work."
RELATED: Celebs who had babies in 2021
Adele breaks down in tears during surprise reunion with former teacher
As praise continues to pour in for Adele's new album, "30," the singer had an emotional and unexpected reunion with her most inspiring teacher from childhood. While taping ITV's "An Audience with Adele" in London this month, Adele answered questions from the audience during one segment. When actress Emma Thompson asked Adele if there was someone who had "supported her, inspired her or protected her from life's trials and tribulations," in the past, according to Yahoo. "I had a teacher at (south London high school) Chestnut Grove, who taught me English. That was Ms. McDonald," Adele replied. "She got me really into English literature. Like, I've always been obsessed with English, and obviously, now, I write lyrics." The singer went on to say Ms. McDonald was "so b****** cool" and "so engaging," telling the crowd, "She really made us care, and we knew that she cared about us." That's when Emma revealed Ms. McDonald was there that night. The teacher was soon ushered onstage, where she and a teary-eyed Adele hugged, cried and exchanged phone numbers before the Grammy winner waved hello to Ms. McDonald's children, who were also in the audience. "You really did change my life," Adele said before returning to the performance.
RELATED: How Adele's ex-husband really feels about her divorce-inspired album
Kevin Spacey ordered to pay $31M in 'House of Cards' arbitration case
Kevin Spacey has been ordered to fork over $31,000 to the production company behind "House of Cards" after losing an arbitration case related to his alleged sexual misconduct. TMZ reports the actor had been fighting back at MRC's that the scandals he was embroiled in while starring in the hit Netflix show amounted to a breach of his contract, costing the companies major losses. An arbitrator determined in 2020 that the actor's purported misconduct did cost the companies money, but he appealed — andlost again. Most of the $31 million will go towards compensatory damages, according to The Wall Street Journal, with the rest slated to cover legal fees. Kevin left "House of Cards" in 2017 after his contract was terminated over sexual assault claims claims from at least 20 men. The alleged incidents dated back as far as the 1990s.
Khloe Kardashian slammed for responding to Kyle Rittenhouse verdict
Khloe Kardashian sparked a wave of backlash over the weekend for tweeting what appeared to be a response to Kyle Rittenhouse's not guilty verdict after failing to post about the deadly chaos at Travis Scott's Astroworld Festival. "Speechless and disgusted!!" Khloe wrote on Twitter on Nov. 20, amid outrage over a jury's decision not to hold Kyle, a white teen, responsible for shooting and killing two Black men and injuring a third during last summer's protests in Kenosha, Wisconsin. "What are u referring to? The innocent lives that were lost at Travis's concert, or….????" asked one angry Twitter user. "About Astroworld?" another replied. "So are we!" Travis — who shares daughter Stormi with Khloe's sister, Kylie Jenner, and has a second child on the way with the cosmetics mogul — is reportedly facing multiple lawsuits after a crowd surge at his Astroworld performance left 10 dead and hundreds injured on Nov. 5. Unlike Kylie, Khloe didn't attend the festival. But her failure to make a personal statement about the tragedy rattled critics even more when she seemingly commented on the verdict. "Astroworld?" a third person wrote in response to her tweet. "Self created drama? A trial you didn't watch? So many options."
RELATED: Lady Gaga, Megyn Kelly, more stars react to Kyle Rittenhouse 'not guilty' verdict
Freida Pinto welcomes a baby boy with husband Cory Tran
"Slumdog Millionaire" star Freida Pinto is a mom! The actress, 37, revealed she and her husband, Cory Tran, 34, recently welcomed their first child together in an Instagram birthday tribute to Cory on Nov. 21."Happy Birthday Dada Cory! I celebrate you my husband, friend and partner in life. To see you become not just a Dad but Super-Dad makes me so emotional and fills me with joy," Freida captioned a pair of photos featuring the couple's new son, Rumi-Ray, with his mom and dad. "It also gives this sleep deprived Mama a break and you have no idea how much I appreciate that! I am so grateful and in love with how we do life together. Love you madly. Rumi-Ray you are one lucky boy!" Sharing the same photos on his own account, Cory praised Freida for giving birth to their little boy. "You are such a warrior," he wrote. The happy news comes just weeks after Freida told Kelly Clarkson on her show that she and Cory had eloped.
Source: Read Full Article