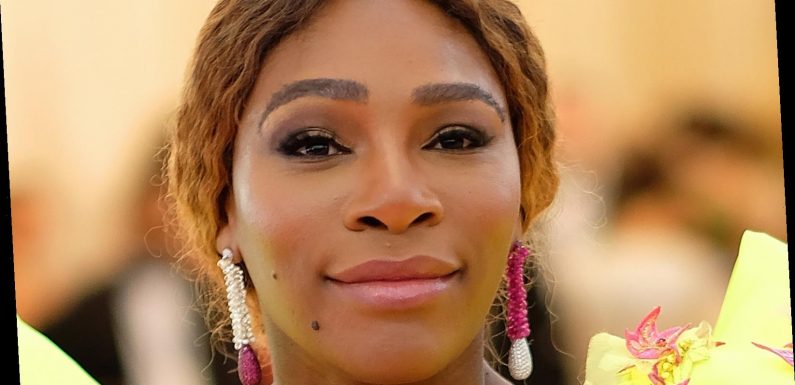 Winning 24 Grand Slams and countless matches throughout her career, Serena Williams has no shortage of rivals on the WTA tour, including Naomi Osaka, who's been dubbed the "best player in women's tennis" of this generation, per USA Today. Their rivalry on court, though, is only outshined by their friendship off the court, as the two tennis players have made their appreciation for each other known through post-match interviews and press conferences. The exchanges marked a turning point in their friendship, as they weren't always that close.
Although Osaka grew up idolizing Williams, she was thrust into the spotlight in 2018's dramatic U.S. Open finals when she beat her idol. The match was controversial because Williams sparred with the umpire and received three on court violations, which cost her the game and caused the audience to turn on the umpire during Osaka's trophy ceremony (via The New York Times). Osaka did not celebrate her first Grand Slam win, but instead cried on stage after receiving the U.S. Open trophy and said that she was sorry and knew the crowd wanted Williams to win, according to ESPN. Williams later told Harper's Bazaar she sent Osaka a letter of apology in the days after the match. Since patching things up, the two have created a bond that tennis fans can't get enough of on and off the court.
Naomi Osaka has fun on court with Serena Williams
Known for her painfully shy yet goofy demeanor, Naomi Osaka has become a fan favorite on tour and with reporters. The world's highest-paid female athlete ever, according to Forbes, often memes herself and pays respect to Serena Williams on social media. In January 2021, Osaka shared some photos with Williams from their exhibition match ahead of the Australian Open on Instagram (via Yahoo Sports!). "Yesterday with the queen," Osaka captioned the post along with a crown and red heart emoji. The post also featured the first photo Osaka ever took with Williams, years ago. In response, Williams left a comment saying the exhibition was "such a fun time!!"
Despite winning over Osaka in the exhibition match, Williams lost to her again in the Australian Open semi-finals, which ended her quest to get a record 25th Grand Slam and sparked rumors of retirement. "If I ever say farewell, I wouldn't tell anyone," Williams said in the press conference after her loss. Osaka, though, does not want Williams to retire anytime soon.
"For me, I want to play her forever," Osaka said in her post-match press conference. "That's the little kid in me." Osaka also added that it's "always an honor" to play Williams because it pushes her to play her best tennis (via The Guardian).
For Osaka and tennis fans' sake, let's hope Williams will continue to break records and give us more insight into their friendship.
Source: Read Full Article