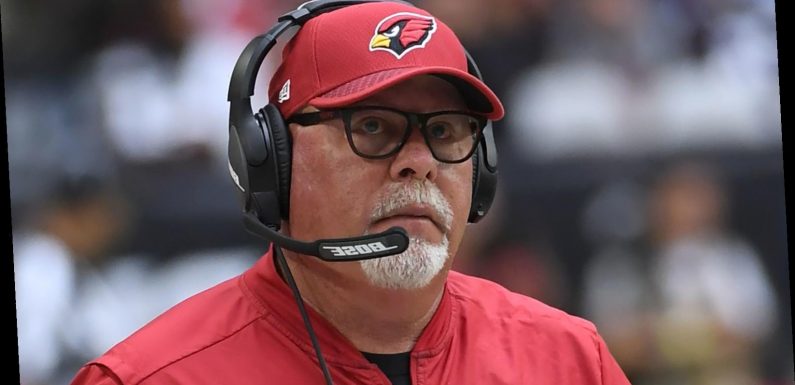 As January 2021 comes to a close, Tampa Bay Buccaneers and Kansas City Chiefs are preparing to play against each other in Super Bowl LV. This is the Chiefs' second year in a row fighting for the coveted Lombardi trophy and the team's fourth try in its franchise history, per CBS. The upcoming game marks the second Super Bowl appearance ever for The Bucs.
As the Chiefs look to hold their title as Super Bowl champions for the second year in a row, many are excited to see if Tom Brady can lead his team to its second Super Bowl victory and his seventh career win. Meanwhile, Buccaneers' head coach, Bruce Arians, is hoping to see his dreams turn into reality. When the Bucs hired Tom Brady, praised as one of the best quarterbacks in NFL history, Arians was blunt about his goal to win a championship with the help of the NFL star. "He is a proven winner who will provide the leadership, accountability and work ethic necessary to lead us to our goal of winning another championship," he said in a statement, per NBC Sports.
Arians, who will be 68 years old at the time of Super Bowl LV, said that one trophy won't be enough for him, though. "I'm going for two. There's no doubt," he told 95.3 WDAE on Jan. 27, 2021, per ESPN. With a long career behind him with no signs of slowing down, let's take a look at the untold truth of Bruce Arians.
Bruce Arians has been coaching in the NFL since 1989
Bruce Arians' whole life has been centered around football. He attended college at Virginia Tech where he played the game and held the record for most rushing touchdowns in one season by a quarterback in Virginia Tech's history until 2016 when Jeron Evans took the lead, per the Bucs' official website. His coaching career began immediately after graduating when he accepted a graduate assistant role coaching his alma mater's team in 1975.
Arians' NFL career began in 1989 as the running backs coach for the Kansas City Chiefs, per Head Coach Ranking. He then held various coach and coordinator positions for NFL teams like the New Orleans Saints, the Indianapolis Colts, the Cleveland Browns, and the Pittsburgh Steelers. He headed the Arizona Cardinals starting in 2013 and completely turned the team around, per ESPN. During his four years coaching the Cardinals, he became known as a coach who was "harsh when needed and fatherly" when appropriate, according to ESPN. The publication also noted his stand-out personality, which was full of talking, laughing, and cursing.
Arians retired from the Cardinals after the 2017 season following a cancer diagnosis and related health concerns, per The Tampa Bay Times. However, he found himself with better health and a coaching deal in front of him, and rejoined the NFL as the head coach of the Tampa Bay Buccaneers in 2019.
Bruce Arians won't let his health concerns stop him
Bruce Arians retired from the Arizona Cardinals due to his renal cell carcinoma diagnosis in 2018 (per USA Today), but that wasn't the first time he had a major health scare. Arians had been treated for cancer twice before: Once in 2007 for prostate cancer and once in 2013 when he had to get cancerous cells removed from his nose, per Bleacher Report.
With Super Bowl LV being in a closed stadium, Arians told The Tampa Bay Times in January 2020 that he is a bit concerned about coronavirus, considering he has a higher risk factor due to his previous bouts with cancer. However, he won't let health concerns stop him from potentially clutching a Super Bowl win. "I got to be real careful," he said. "I'll probably double with a mask and a (face) shield. You know, because I already had my scare out there (in Arizona) once a couple of years ago." He went on to explain how adaptive and disciplined his team is.
Just like he is focusing on his goal to make it to the Super Bowl, he is also sticking to his safety precautions to assure he stays healthy and in coaching shape. "For me personally, I've got a plan and I just have to be smart enough to stay with it," he confirmed.
Source: Read Full Article