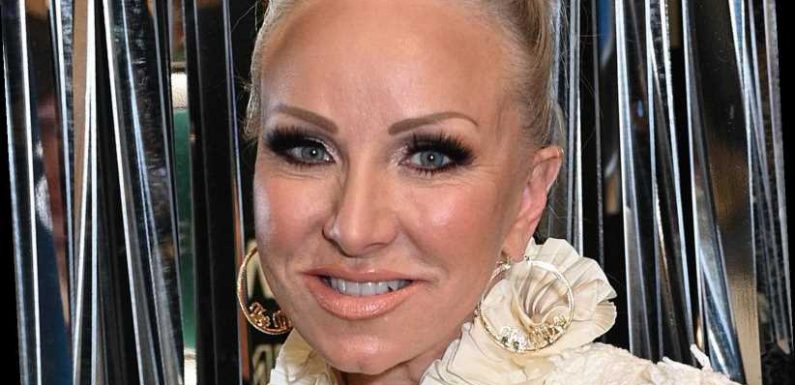 Any fan of The Real Housewives of New Jersey knows that Margaret Josephs brings the drama, either by cat-fighting with fellow housewife Danielle Staub (claws seriously come out!) or sharing all the juicy details on how she met her current husband Joe Benigno. Making her presence known since her arrival on the show in season 8, Josephs is known for her tell-it-like-it-is behavior. But her realness can be a bit too much to handle — like when she and her husband pushed Danielle's husband Marty into the pool as a slight revenge scheme, causing shots to fire (via People). But classic RHONJ moments like those are what we live for, so we're sure not complaining. 
It's no secret that Josephs loves the high life, and her long-running career as a fashion designer has allowed her a super-luxe lifestyle. Often flaunting her wealth on the show, her backstory is nothing like we would've expected. Keep reading to know the whole untold truth of Margaret Josephs, no holds barred.
Although Josephs has a successful brand, she's faced financial strife
Margaret Josephs is loud and proud about her brand Macbeth Collection, which has made her a multi-millionaire and upped her net worth to around $50 million. While at that range she's certainly doing just fine now, Josephs has nonetheless endured recent financial issues. Page Six reported that the Real Housewives star was forced to foreclose her $1.125 million home at the end of 2017, and her brand was sued by Vineyard Vines for trademark infringement. Forced to pay a penalty of $800,000, she was also sued by Capital One Bank for not paying her credit card, leading her to file bankruptcy (via All About the Tea). 
Although things got tough for Josephs, her determination and strength has always shown through. On an episode of RHONJ, she said she is "coming off a rough couple of years," explaining she "had a horrible lawsuit with Vineyard Vines" and "settled for around $300,000 because [she] could not afford to go to trial." Tearing up, she said she was "getting more in a hole," but it's safe to say that her financial woes are behind her (via Distractify).
Her marriage to Joe Benigno started off as an affair
Although Margaret Josephs' marriage to Joe Benigno seems picture-perfect today after their wedding in 2013, things got off to a rocky start. Per Nicki Swift, the relationship started off as an affair while Josephs was still married to her ex-husband Jan Josephs. Benigno was actually the couple's contract plumber, but the two ended up falling head over heels for each other. The RHONJ fave and Benigno snuck around behind her husband's back, and she even said on Bravo's Housewife to Housewife that they would stay in The Bowery hotel while they "were having [their] torrid love affair." Whew!
Josephs said on the show that she knew Benigno was the one during a snowstorm one night. She said, "it was puddles, puddles, puddles, and we had to get in a taxi… of course I had my high heels on, and he didn't want me to step in the puddle. So he stepped in it with his boots on so I could step on his foot to get into the cab. I was like, I'm totally marrying this guy." A lover of deeply romantic gestures, Josephs bet on her new relationship and decided to divorce her then-husband. Now, her former stepchildren have cut ties with her, and Josephs said on RHONJ that "there's always that piece missing."
Josephs is the daughter of Hungarian immigrants
Although Josephs was born and raised in New Jersey (where else!), she is actually Hungarian by blood. According to NJ.com, her parents were Hungarian immigrants and she only spoke Hungarian until she was five years old. Although people might confuse her for being Italian, maybe because of the way she brawls with Danielle and relates to pals like Melissa Gorga, that couldn't be further from the truth.
According to the Out in the Wild podcast, Margaret Josephs grew up with a "reckless and wild single mom" (aka Marge Sr.) and that greatly impacted the way she sees life today. Josephs has described her upbringing as unconventional, saying on an episode of RHONJ that her mother "taught [her] love, compassion and the need for fabulous hair pieces and little dogs as accessories! Couldn't live without her!" (via The Daily Dish). Although her biological father seems to be out of the picture, she has posted several times about her stepfather on social media, describing him as extremely influential on her life as well.
Josephs' success is due to 20 years of hard work
Although Margaret Josephs is technically a housewife, at least within the franchise, she is a hard working business woman who earned success much before her stint on RHONJ. According to her website Margaret Josephs, the TV personality graduated from the Fashion Institute of Technology in NYC with a degree in fashion design, and worked at the New York Garment Center right after as a dress designer. 
Josephs told CNN that she started off making decorative metal buckets in 1998, simply by buying plain metal buckets and painting them herself. After supplying 20 buckets to a local shop, they sold out in two days, motivating Josephs to take things a step further. Soon enough, she was making all kinds of home accessories, recruiting neighborhood pals to help her, and by 1999, she launched her brand Macbeth Collection.
Today, Macbeth Collection generates about $30 million from licensing and direct sales, and has evolved into being a major lifestyle brand. "The Powerhouse in Pigtails" has created a line that encompasses tech, home, clothing, and fashion accessories, but still says life can be a bit difficult. She told CNN that "it's been hard to juggle being a mom and an entrepreneur" but that thankfully "women are amazing multitaskers." Plus, her son calls her the "Rock & Roll Martha Stewart," so that has to count for something!
She deeply cares about women's empowerment and LGBTQ+ rights
With mantras like "caviar dreams, tuna fish budget," Margaret Josephs is all about helping others achieve their dreams, even when they don't have many opportunities to succeed. Josephs writes on her website that "everyone deserves a little fabulosity in life" and has a mission to bring her fans products embodying "luxury for less." But apart from her affordable line, Josephs shows she truly cares about empowerment by regularly speaking at seminars and on podcasts, working to inspire entrepreneurs from all walks of life. 
Josephs also uses her fame to help important causes like LGBTQ+ rights, even receiving the keys to the City of Englewood at a 2019 Pride celebration, and riding in the Bravo Pride float in the 50th annual Pride Parade. She also supports Live Out Loud, and we are kind of obsessed with how Josephs utilizes her notoriety to help everyone get ahead in life, just like she did.
Source: Read Full Article