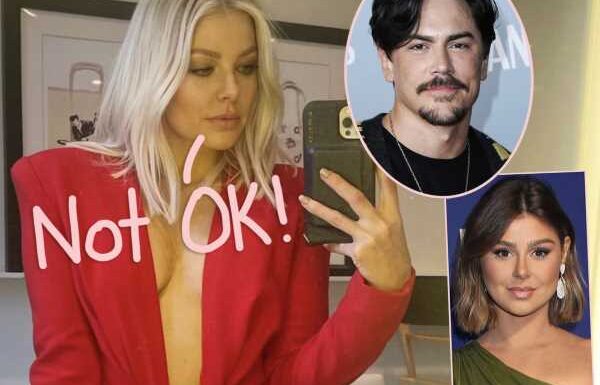 Ariana Madix is truly making the most out of a bad situation… and making money from it, too! Get that bag, girl!
So, unless you've been living under a rock for the past few months, you've been counting down the days to Wednesday night. That was when the final installment of the Vanderpump Rules reunion special popped off, and a LOT of s**t went down during the jaw-dropping Bravo show!
Among the many crazy happenings was one moment in particular where Tom Sandoval managed to get on the ENTIRE cast's bad side! (Like, even more than he already is…)
Obviously, he was asked about his cheating scandal with Raquel Leviss, and their months-long infidelity behind then-girlfriend Ariana Madix's back. At one point, host Andy Cohen asked the cover band frontman if he'd slept with any other women besides Raquel since that affair began. Tom said he had not been intimate with anybody else, and he denied rumors he'd hooked up with a woman in Chicago last year.
But upon his denial, Ariana piped up with a telling comment:
"Well, you know who he did sleep with after he and Raquel started sleeping together? Me."
To which Sandoval shot back this unbelievably sarcastic and cutting response:
"She kept her T-shirt on. It was really hot."
What. The. F**K?!?!
No, like, literally, what the f**k?? Who says that?! That's so cold! And Tom has no right to be upset — he's the one who was cheating!!!
After a moment of shocked silence following Tom's cruel remark, other VPR cast members went in on the embattled Scandoval star! Lala Kent went first, saying this to Tom:
"You're such a f**king d**k!"
Then James Kennedy added his own comment:
"What the f**k dude? You're f**king disgusting."
Even Sandoval's longtime (uh, now former?) best pal Tom Schwartz was left to quietly mutter this to his bro:
"Don't say that, dude. Don't say that."
Then, the Give Them Lala podcast host turned to Raquel and half-sympathetically said:
"This is your future, Raquel. He's gonna talk to you like this too."
She's not lying…
In response to all that criticism, Tom gave a very short, very unconvincing three-word follow-up:
"OK, I'm sorry."
Yeah, that's not going to fly. And it didn't!!!
Vanderpump Rules executive producer Alex Baskin spoke to Variety about the whole deal on Wednesday, as well. The EP explained how Tom made a "really regrettable" comment regarding the t-shirt:
"Tom made the comment that he did about Ariana being intimate, but, you know, her wearing a T-shirt and how that wasn't hot — I think he was exhausted at that point. I think he felt like he'd taken a lot of incoming fire. And I think he made a really regrettable, stupid comment that was bad at the time and then actually has played even worse than I remember it, which is saying something, because we all, like, you know, gasped when we saw it."
Baskin added:
"He kind of amplified everything that everyone thought anyway, and I think instead of people feeling bad for him in some way even though he, you know, put himself in this situation, I think that made him seem like an asshole."
Yeah, no kidding…
In that same Variety interview, longtime Bravo exec Cohen echoed that sentiment, too:
"This was a redemptionless situation for him, I think really. In terms of how he did … Not great. He was a shell of himself, really. He was shaking. I've never seen him in that shape. And that was a bad line."
That was a bad line. But Ariana wasn't going to let it hold her down! The 37-year-old star was "poised" and "pretty amazing" on the show, per Cohen. And after the show, she dipped her toes into the merch waters in a BIG way! The Florida-born star has a new sandwich shop called Something About Her in the works. Partnering with VPR vet Katie Maloney, Madix is getting ready to debut that much-anticipated restaurant that will no doubt have fans flocking. So, she used Tom's nasty t-shirt talk to tease it with — you guessed it — a sandwich-themed t-shirt!!!
Ariana (and Katie) are now selling a shirt that reads "F**k Me In This Shirt" on their sandwich shop website. It's got a cartoon version of the reality star pulling apart a grilled cheese sandwich with those jaw-dropping words scrawled all around it.
And for $34.99, you can own one for yourself right now!! Ch-ch-check out the t-shirt design HERE.
Truly making the best of a bad situation, y'all.
She can't control Tom's nasty commentary, so why not at least make a little bit of money off it?!
Related Posts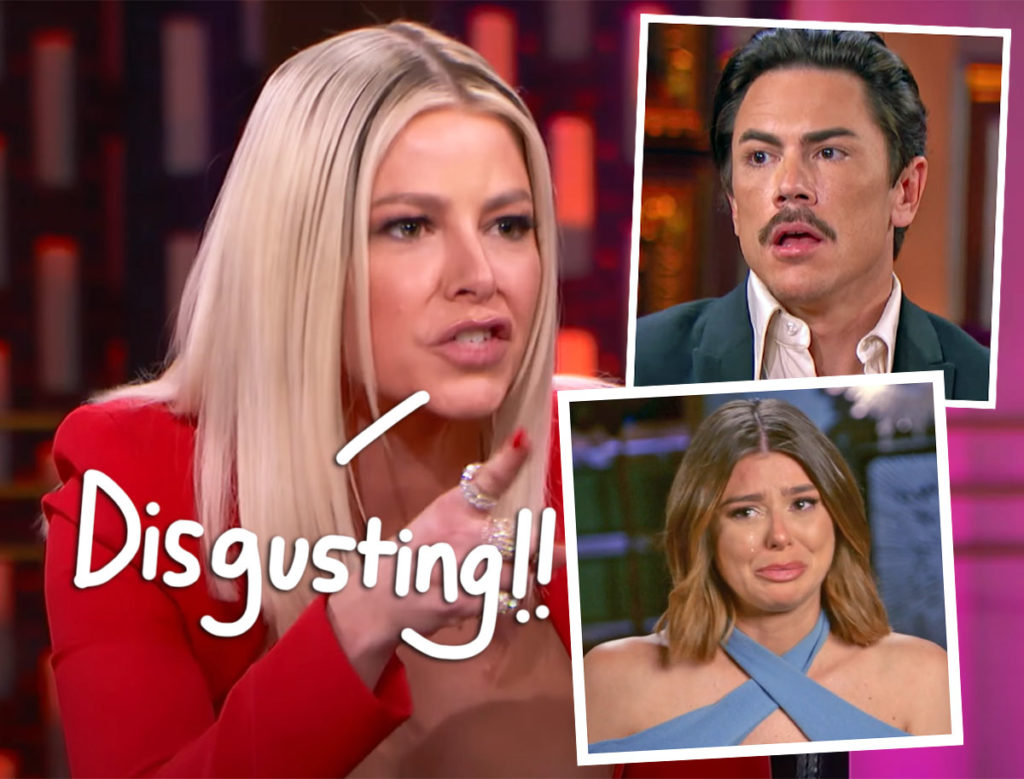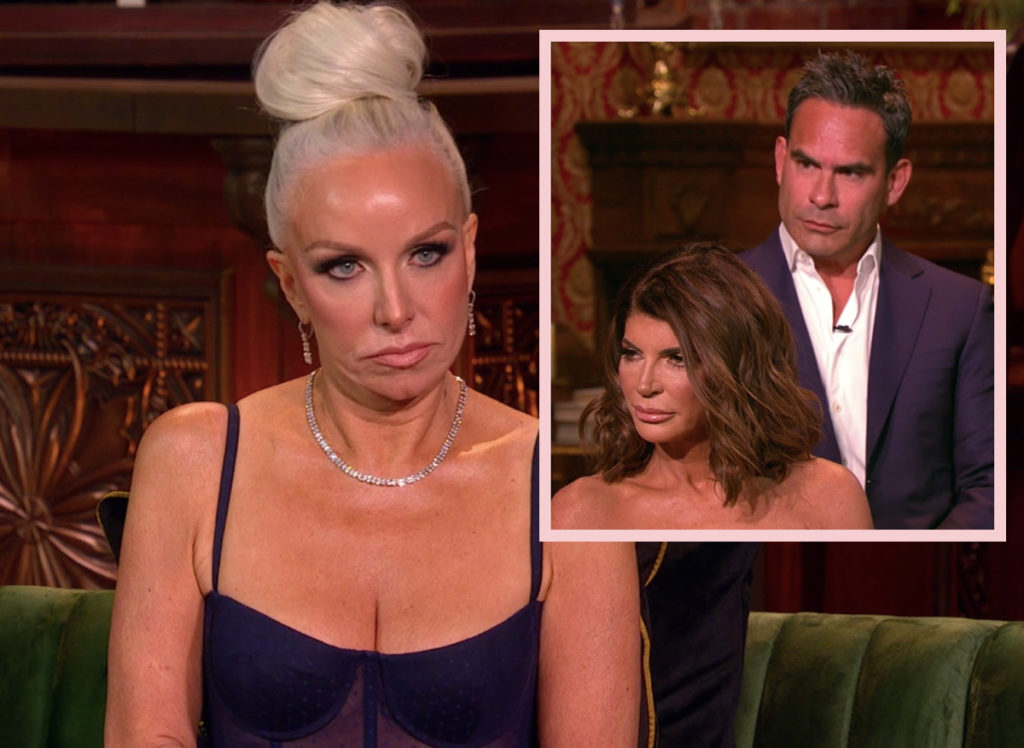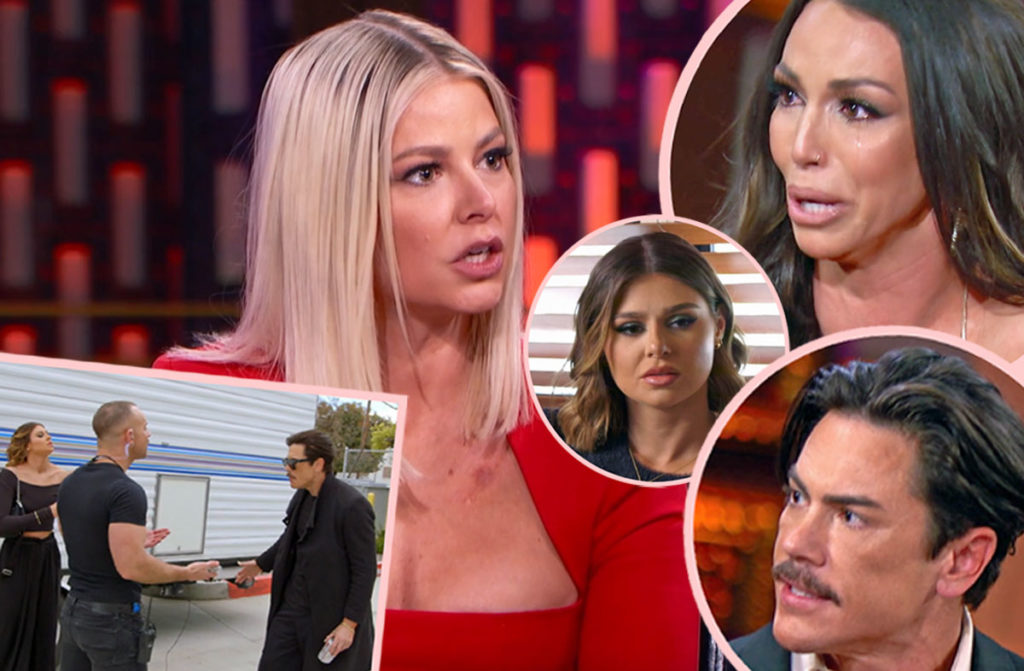 Source: Read Full Article