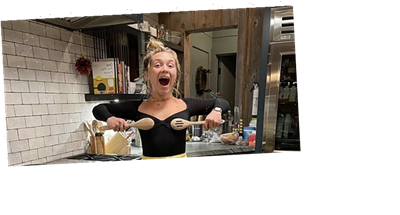 Florence Pugh can now add becoming a cooking video star to her very long list accomplishments. The Little Women actress took to her Instagram story Sunday to give her two million followers a little lesson in cooking.
"It's cooking with Flo bitches," she opened the series of videos. "I have decided to do a very quick, very small recipe, and it includes chickpeas. So get your can of chickpeas out. Let's use them."
The Oscar-nominated actress showed off her cooking skills as she chefed it up in her kitchen, making a chickpea salad — or as she called it, a "beany-fart salad." She tossed ingredients from her kitchen into the mix, deciding some on the fly, and cracked jokes as she went. The finished product looked delicious.
RELATED: Zach Braff Finally Opened Up About His Relationship With Florence Pugh
And her cooking wasn't the only thing on par. Her outfit for the festivities was also chef's kiss. Pugh donned a black tight, square neck shirt, paired with black leather shorts, black boots, and layered necklaces. She topped it off with a yellow ruffled personalized apron that she said costume designer Arianne Phillips made for her.
Twitter absolutely loved her cooking tutorial. It didn't take long for the star to be trending on the platform. Fans of Pugh tweeted that her cooking and vibrant personality had put a smile on her face, calling her "the cutest." Some may even say it was "healing."
Source: Read Full Article