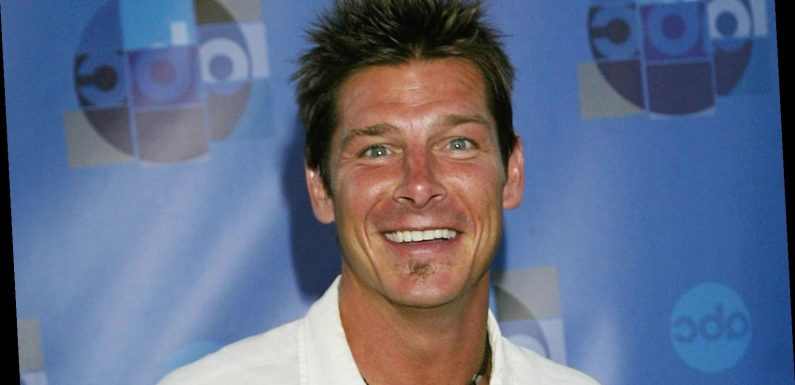 If you read the title of this article and thought,"Whatever happened to Ty Pennington?", you certainly wouldn't be alone. The carpenter and TV host rose to fame on shows like TLC's Trading Spaces and ABC's Extreme Makeover: Home Edition, but in recent years, he's stepped away from the limelight. In 2012, Extreme Makeover: Home Edition was cancelled, giving the now-56-year-old an opportunity to rest and spend time with his family. 
In an interview with Parade that same year, Pennington said while he was sad to see the show go, he was embracing the lifestyle change. "I actually have a chance to try to get some of the things in my life in order," he told the outlet. "So I'm trying to reconnect with my own family and breaking ground on a sustainable home I'm building for myself in northern Florida."
Now, Pennington is returning to television with a brand new show on HGTV, called Ty Breaker. The eight-part series premiered on January 11 and "will follow Pennington as he helps desperate families decide whether to overhaul their current property or renovate a new one to better meet their needs,"  HGTV News reports. Before you dive into all the home renovation goodness, let's take a look back at Pennington's transformation over the years. 
Ty Pennington is not his real name
First things first. Did you know that Ty Pennington is not his actual name? As revealed in Pennington's 2019 memoir, Life to the Extreme: How a Chaotic Kid Became America's Favorite Carpenter, he was born Gary Tygert Burton Jr., sharing a name with his father, with whom he had a tumultuous relationship. In the book, Pennington speaks about how his father was not a very present figure in his life. He characterizes his father as "a dreamer, but he isn't a great parent or a great financier."
When he was three years old, Pennington's parents separated and his mother, Yvonne Vickery, remarried to a man named Nick Pennington. Because Ty considers this man to be his real father, he decided to take Pennington as his last name. His chosen first name, Ty, is a shortened version of his middle name, Tygert. 
The TV host and his biological father had a memorable meeting when Ty was 15 years old. In his memoir, Ty details the experience of building a sailboat together — which sank as soon as they put it in the water. Not only does this serve as foreshadowing for Pennington's future career, but, according to him, it encapsulates their relationship. "Someone's telling me, 'Uh, yeah, Ty? That ship has literally already sailed, and just in case you're wondering, well, there you go,'" he writes (via People). 
Pennington's first career was as a model
On Pennington's website, he opens up about getting his start as a model in a post titled "My First Career." He says that he was scouted after graduating, which he calls a "crazy turn in my career at the time." According to Notable Biographies, Pennington landed campaigns for massive companies such as J. Crew, Swatch, Body Glove, Macy's, and Land's End, and appeared in TV commercials for Diet Coke and Levi's.
Although his modeling career wasn't long-lived, Pennington says that he's grateful for the opportunities it gave him. "Looking back though, I have to say that my modeling career gave me the travel bug and opened up a ton of new worlds and possibilities in my life," he says. "All of a sudden I was traveling everywhere and seeing everything including things like art, furniture, and architecture in a completely different way. Because of this, I lend a lot of my inspiration for design to the places I've visited and/or lived in."
Pennington has turned rejection into opportunity
Some fans were surprised that Pennington wasn't asked to host the 2019 reboot of Extreme Makeover: Home Edition, though he did return as a guest for one episode (via TV Insider). There have been other projects keeping him busy, however. In 2018, Pennington served as a co-host on Season 3 of Deluxe Corporation's series Small Business Revolution: Main Street (you can watch the trailer on YouTube).
He also spends his time traveling the country meeting fans and appearing on various home and garden shows. In an interview with the Atlanta Journal Constitution, Pennington spoke about how much he enjoys this kind of work. "It's almost like doing stand up," he said. "I share stories. It's pretty entertaining. I like that interaction between myself and the audience." He also admits that without the TV grind, he's been getting some much-needed sleep. "I would imagine I look a lot better than when I was on the show," he said.
The TV host has been able to focus on his personal life, including his own home renovation projects. On social media, he frequently shares photos of his gorgeous property in Flagler County, Florida, and adventures in the surrounding region, known as "The Hammock." "We wanted to pay homage to what was here before — the old-school Florida design," Pennington said in an interview with the Palm Coast Observer. "My house is on the footprint as the previous one. It's a really special lot."
Source: Read Full Article