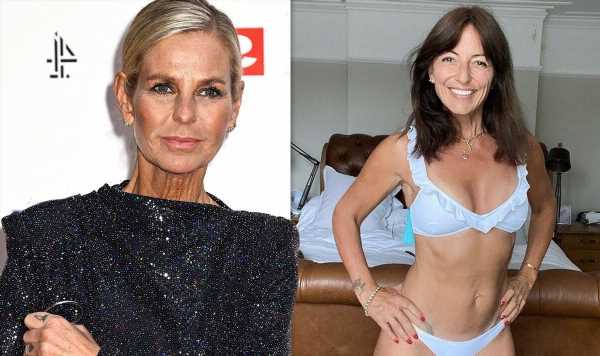 We use your sign-up to provide content in ways you've consented to and to improve our understanding of you. This may include adverts from us and 3rd parties based on our understanding. You can unsubscribe at any time. More info
Ulrika Jonsson, 55, has insisted she should "take full credit" for ITV's new show, which will be a "middle aged version" of Love Island. The series, named The Romance Retreat, will see older, single parents meet in a luxury retreat in order to find new romantic connections later on in life.
However, reports have suggested former Big Brother presenter Davina McCall, 55, is set to be signed up as its host.
This week, it was announced that The Romance Retreat would be going ahead, giving middle aged parents the chance to have the Love Island experience.
In her latest column, Ulrika described how she had written about the concept "more than once over the past few years".
Speaking about how important it was for the presenter to "get" what the contestants will go through in ITV's new over-50s show, she put herself forward as the perfect candidate.
"Davina McCall may have her eye on the job, but I would argue she hasn't got the hands-on experience a certain Swedish TV presenter has of the dating app wilderness," she wrote in reference to herself.
"I've long been on a mission to shine a light on those of us who are over 50 and often feel overlooked by society.
"We're not dead yet and our love lives are not over by a long shot," she continued. "With more marriages and relationships ending and with us living longer, we owe it to this group of men and women to explore their experiences of dating.
"ITV: Have passport. Will travel. Can present," she added cheekily in her article for The Sun.
Sources from ITV recently told The Mail on Sunday that Davina is on the verge of agreeing to present the programme.
The paper reported that it was The Masked Singer judge who pitched the idea, and that she was their number one choice after becoming an unofficial spokesperson for middle-aged women.
"Davina is the perfect fit, she is bubbly, fun and has also endured her own relationship problems," said the inside source.
"Until she met her boyfriend she was a single mother too."
Pamela Anderson admits Hugh Hefner was only man to give her respect [NEWS]
Jeremy Clarkson fears Charles' Coronation will be the last for England [UPDATE]
Priscilla Presley challenges Riley on amendment to Lisa Marie's trust [INSIGHT]
Express.co.uk has contacted Davina and ITV for comment.
Davina discussed her idea for the show earlier this month with Steven Bartlett on his podcast, The Diary of a CEO.
"I could fill a villa in Love Island with middle-aged people with the best backstories you have ever heard in your life," she said at the time.
"They've lived a life – they're widows, they're people who have been through horrific divorces.
"They are people who have split up with somebody and decided they want to try going out with somebody the same sex as them. They're like interesting people. I'd watch that show."
Mother-of-three Davina has been married twice; she was first married to Andrew Leggett in 1997 but they split after just a few months.
She then married presenter Matthew Robertson in 2000, but the couple also later divorced in 2017.
Now, Davina is all loved up with hairdresser Michael Douglas, whom she is currently living with.
Source: Read Full Article