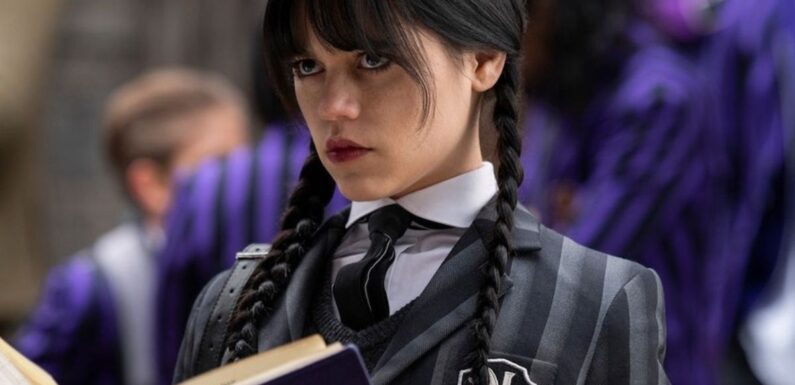 When the news broke back in January that Netflix had given the greenlight for a second series of the smash hit Wednesday, we could not contain our excitement.
The show first dropped back in November last year, and starred Jenna Ortega as the iconic Wednesday Addams, who was sent to the classic Nevermore Academy by her parents after being expelled from her previous school.
Following the success of the show – which was also Jenna's breakthrough role – the 20 year old actor earned nominations for prestigious awards, including a Golden Globe and Screen Actors Guild.
Alongside Jenna, the show also featured Catherine Zeta Jones as Morticia Addams, Emma Myers as Enid Sinclair, Hunter Doohan as Tyler Gaplin, Joy Sunday as Bianca Barclay, and of course, the 90s version of Wednesday – Christina Ricci as Marilyn Thornhill.
Recently, the youngest cast members – Jenna, Emma, Hunter and Bianca – joined forces to chat all things season two in a new Netflix video, including fan theories about the new episodes.
One speculation from fans was read out by Emma, whose character Enid played Wednesday's excitable and optimistic roommate, who ended up becoming her best friend.
"This theory speculates that season two will introduce a new member of the Addams family," the 21 year old revealed.
Alongside Emma, Tyler and Joy confirmed this rumour, with them all saying "this is true" at the same time, before adding that they don't actually know who it could be.
Following this, each of the cast members then speculated who might be joining the next season, with Jenna enthusiastically saying she'd love to see Cousin Itt make an appearance.
For some context, Cousin Itt is a small four foot tall creature who is literally covered head to toe in blonde hair and wears a pair of shades and a bowler hat.
Emma, Tyler and Joy then added that they'd be up for Grandmama joining the cast – Wednesday and her brother Puglsey's grandmother.
In previous Addams family franchises, she's portrayed as an aged witch who concocts and sells potions and spells. Plus, casually dabbles in fortune telling and knife throwing.
While it's unclear as to when we'll find out who the newest Addams family member will be, it would be interesting to see both of the characters for different reasons.
In terms of Grandmama, we can totally imagine her and Wednesday bonding over a knife throwing session together. And as for Cousin Itt, it would just be cool to see him enter Nevermore Academy through the chimney and get up to mischief with Wednesday.
But for now, we'll just have to wait and see…
Top baby name predictions for 2023 including Jude and Wednesday
Jenna Ortega says she'll be in the writers' room for Wednesday earlier next season
Source: Read Full Article