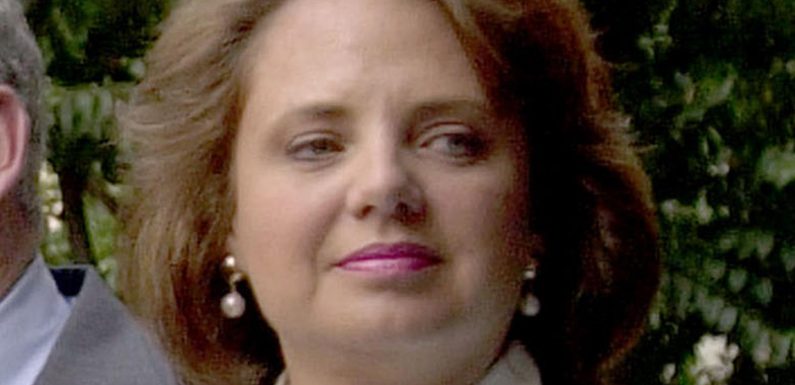 When headlines first surfaced in 1996 about the mysterious death of a Colorado child pageant star, JonBenét Ramsey, it immediately drew global attention. First being reported missing by her parents John and Patsy Ramsey, JonBenét was eventually found dead in the basement of the family home. Despite the strange circumstantial evidence that stacked up against JonBenét's family, including a peculiar homemade ransom note, they were ruled out as suspects in 2004 after advancements in DNA testing suggested they were innocent, according to CBS News.
In the decades following JonBenét's unsolved case, her mother, Patsy Ramsey, held frequent media appearances with the hope of finding out what happened to her daughter. There have been several potential suspects, but nothing has ever been officially confirmed in the 25 years since that night. Although her husband, John, and son, Burke, are still searching for the truth, Patsy won't get to find out. Here's what happened to JonBenét Ramsey's mother, Patsy Ramsey.
JonBenet Ramsey's mother, Patsy, died in 2006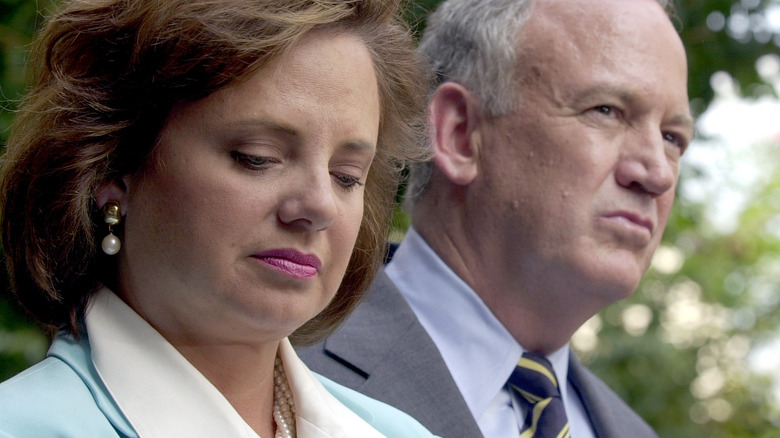 JonBenét Ramsey's mother, Patsy Ramsey, died in 2006 due to complications from ovarian cancer. According to the Denver Post, Patsy had been fighting a stage 4 diagnosis for 13 years, even through grappling with public suspicion in her daughter's death. In January, JonBenét's half brother, John Andrew Ramsey, spoke with ABC News about overcoming familial grief.
"Our family has gone through a lot of adversity. Patsy was a stage 4 cancer survivor. We had lost my oldest sister Beth in an awful car accident. [After JonBenét], it was a lot of emotions coming back from losing my oldest sister, Beth," he explained. "You kind of think you're immune from that happening again. When it happens a second time, it's an unthinkable tragedy. We lost our sister and our daughter, a family member. We were victims, and the very people that we thought were gonna come in and protect us and help us were pointing the finger at us."
So, who was Patsy Ramsey? Apparently, her daughter was just like her. 
JonBenet Ramsey's mother, Patsy Ramsey, was also a pageant queen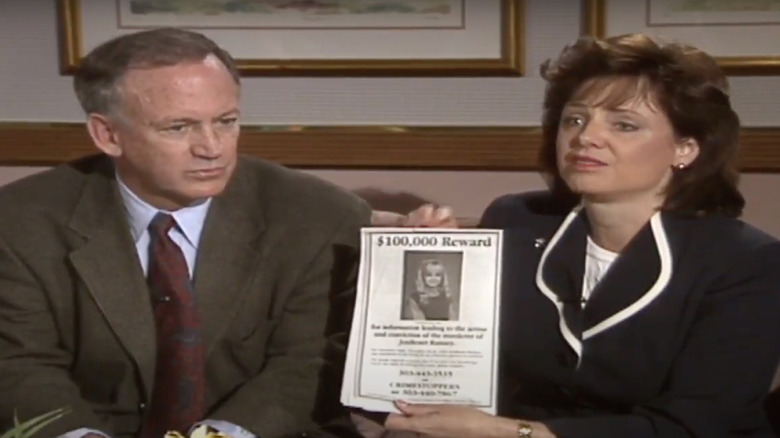 JonBenét Ramsey is forever frozen in time as a child pageant queen, and it was her mother, Patsy Ramsey, who encouraged the lifestyle. Patsy, according to Bustle, won the crown for Miss West Virginia in the 1970s. Patsy's sister, Pamela, also participated in pageants, and once won Miss South Charleston. According to Bustle, Patsy also competed in an Atlantic City competition for Miss America, but didn't win. During an ABC interview with Barbara Walters, Patsy acknowledged that JonBenét's pageantry was fun for herself, too. "It was the most wonderful time of my life," Patsy recalled.
However, Patsy's husband, John, spoke out against pageantry and "Toddlers & Tiaras" culture in a 2012 interview with ABC News. "Patsy had her sitting atop a friend's convertible in the Christmas parade waving at the people lining the streets," he said. "Patsy's mother later told me that a strange man approached the car during the parade and it made her uncomfortable. I think about these things now and it makes me cringe. We were so naive. I now believe with all my heart that it's not a good idea to put your child on public display."
Hopefully, the family can find some peace with the thought of JonBenét and her mother being reunited again. 
Source: Read Full Article