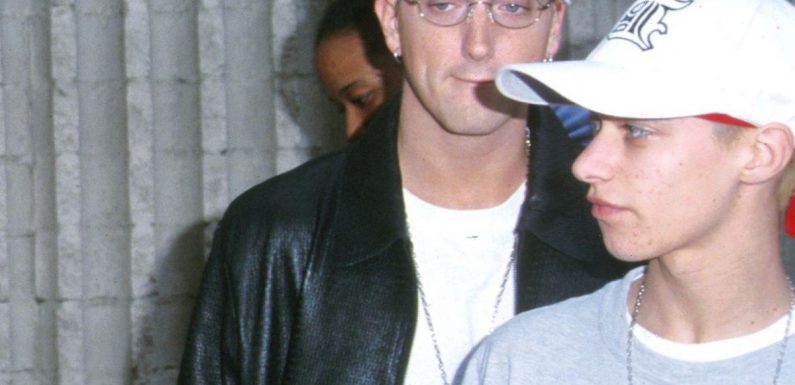 If you're a fan of Eminem's music then you've heard him rap about his family. Slim Shady has plenty of lines in his music directed at his mother, Debbie Nelson-Mathers, and entire songs about his past issues with his ex-wife, Kimberly Scott, as well as tracks devoted to their daughter Hailie. Another person you may remember the hip-hop artist mention is his younger brother, Nathan.
Here's more on Em's half-sibling including what he's up to these days and what his relationship is like with his big brother now.
Who is the rapper's half brother Nathan Kane Samara?
Nathan is 14 years younger than Eminem and was born on Feb. 3, 1986. He and his brother share the same mother but have different fathers. According to what Em has said in his music and during interviews about their mom, the rapper and Nathan didn't have the greatest childhood.
Many fans recall hearing Nathan's name in Marshall Mathers' hit song "Cleaning Out My Closet." While addressing his mother Em raps: "You're getting older now and it's cold when you're lonely and Nathan's growing up so quick he's gonna know that you're phony."
Just like Eminem's father, Nathan's dad also left shortly after Debbie gave birth to him. Therefore, Em became like a father figure to his little brother. There were reports that things were so bad for Nathan growing up under Debbie's care that social services removed him from the home. By the time he was 16, Nathan began living with the "Stan" hitmaker who gained legal custody of him.
What Nathan's up to today?
Nathan is an inspiring rapper having toured with his brother and popped up in a couple of his music videos. In addition, he released the singles "Slide on Over" and "Shadow of a Celebrity." He has also tried his hand at acting. IMDb noted that he was featured in the low-budget horror film Devil's Night: Dawn of the Nain Rouge in 2020. Today, Nathan works full-time as a personal trainer.
In 2018, he married his longtime girlfriend Ashley and they have three children together, one daughter and two sons.
These days, the family lives in Michigan and Nathan seems to be enjoying married life calling his wife the best woman he's ever known.
What his relationship is like with Eminem
https://www.instagram.com/p/B6i–WRhsaq/
While things between Eminem and his mother have gotten better over the years, Nathan's feelings toward her are quite different. He does not have a relationship with her now and has called her "mad." He also stated that his brother was more of a parent to him than his mom ever was.
He has a very good relationship with his sibling though and has legally changed his name to Nathan Mathers. He has a great relationship with his niece, Hailie Jade, as well and fans have even seen him comment on some of her social media posts.
Source: Read Full Article