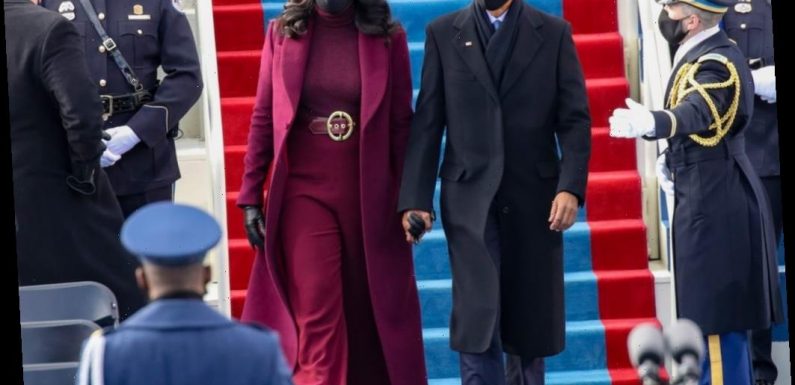 President Joe Biden's inauguration ceremony on January 20th was a historic event, watched by thousands of people all over the world. As America turned a new page in history, many eyes were drawn to the fabulous fashion on display.
From Jill Biden, the new First Lady, rocking a baby blue dress and coat combination, to Lady Gaga's sleek overcoat and dove pin, fans loved the variety of outfits worn by the celebrities and politicians alike. Still, one woman's appearance really turned heads. When former First Lady Michelle Obama showed up to the inauguration in a stunning plum-colored outfit, everyone was floored. 
Joe Biden's inauguration ceremony was full of great moments
Presidential inauguration ceremonies are traditionally joyous occasions, where all Americans, regardless of their political affiliation or preference, can gather together to celebrate the turning of a page and the honoring of the Democratic process. Such was the case with Biden's inauguration on January 20th, 2021. The ceremony signaled the end to a very contentious election season, providing a welcome relief to many people who were suffering from political burnout.
With appearances and performances from major celebrities like Lady Gaga, Jennifer Lopez, and Garth Brooks, the inauguration proved to be an incredibly star-studded affair. For the millions of Americans who tuned in to watch Biden and Kamala Harris be sworn into the White House, while it was entertaining to see the entertainers, it was the fashion that really managed to steal the show — in particular, Obama's classic, stylish look, featuring stunning gold and black accessories. 
Michelle Obama is known as a fashion icon
As the former First Lady of the United States, Obama made waves on many occasions, as much for her progressive work with schools and children's programs as for her beauty and accomplished background. She quickly received acclaim as a fashion icon early on in the Obama administration, with Mrs. Obama's propensity for sleeveless gowns and classic colors noted by fashion critics. 
She never shied away from bold colors as First Lady and was often seen wearing brightly-colored pantsuits and fashionable yet functional wrap dresses. Obama never let her clothes define her era in the White House, yet wherever she went, her style always attracted attention.
Since leaving the White House, Obama has lived a lower-key life, making few public appearances — still, when she showed up to the inauguration, she proved that she never lost her brilliant sense of style. 
Who designed Michelle Obama's stylish plum outfit?
All eyes were on Michelle Obama when she stepped out to the inauguration of Biden, on the arm of her husband, former President Barack Obama.
The former First Lady wore a plum pantsuit with flared trousers and a bold, oversized Sergio Hudson gold belt. She matched the pantsuit with a matching turtleneck and a long matching plum coat and accessorized with a black face mask and black leather gloves. She sported suede Stuart Weitzman boots. Her perfectly coiffed curls were a fabulous accompaniment to her overall look.
According to People Magazine, her hair was styled by Yene Damtew, while her outfit was by the renowned American designer Sergio Hudson. Obama is known for her tendency to choose designers who are women or minorities, and this fabulous look was no exception. 
Source: Read Full Article