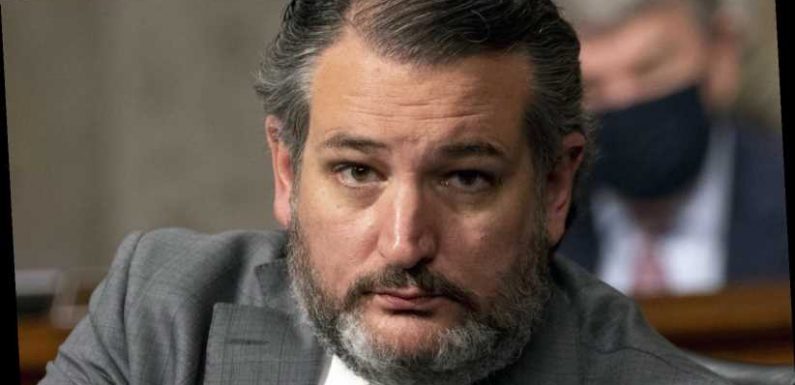 For some politicians, making speeches on stage is performative art. To get their point across, sometimes they have to make their voices heard in the form of a battle cry. Texas Senator Ted Cruz did just that when he addressed supporters at the Conservative Political Action Conference on Feb. 26, 2021. Cruz, who has been mocked relentlessly on social media for abandoning his constituents in favor of a trip to Cancun earlier in the month, played to the crowd during the conference in Orlando, Florida.
"Orlando is awesome. It's not as nice as Cancun, but it's nice," Cruz joked on stage. He also touched on various topics such as mask-wearing, socialism, Black Lives Matter, and comedians (via Business Insider). "You know, Jerry Seinfeld doesn't tell comedy anymore because then he jokes that funny is canceled," Cruz said. "You know, SNL is unwatchable. The late-night comedy, they stand up and say, 'We hate Donald Trump.' Yeah, no kidding. We didn't get that the last 9,000 times you said that."
Comedic-hate aside, Cruz earned the biggest reaction on Twitter when he channeled Howard Dean, the former Governor of Vermont, in his speech. Keep scrolling to find out what Cruz did and how Twitter reacted.
Ted Cruz was mocked by Twitter (again) for screaming into his mic
During his CPAC speech, Ted Cruz went for all the theatrics, including intermittently screaming into the microphone and making weird gestures, according to Mother Jones. At one point, Cruz screamed "FREEDOM!" into the microphone while pointing his finger at someone. The clip quickly went viral on Twitter with many users comparing him to Howard Dean, who infamously screamed into his microphone during his Iowa Caucus speech in 2004, where he finished third, per Politico.
"We're going to Washington, D.C. to take back the White House! YEEEEEAAAGH!" Dean said on stage at the Iowa Caucus. The clip played on news and late-night shows after it was broadcasted in the United States and was labeled as the "Dean Scream" by outlets, as per NBC News. The loud outburst caused a media storm that subsequently ended Dean's run for the White House, ABC News reported.
Twitter's reaction to Cruz's own scream was unfavorable with users mocking his conduct. "When Howard Dean sounded like this they said he could never be president," one user tweeted. Another wrote, "The Ted Cruz speech ended with somewhere between a Howard Dean and a Kimberly Guilfoyle."
This isn't the first time Cruz has been compared to Dean. In 2016, former President Donald Trump mocked Cruz for rambling during his Iowa speech and likened it to a "Howard Dean moment," Politico noted.
Source: Read Full Article