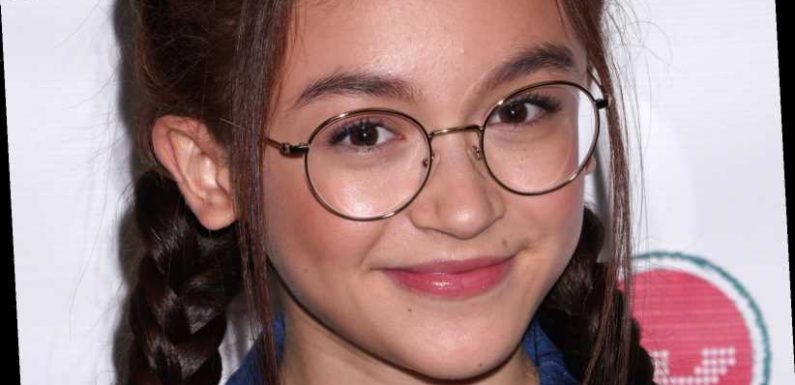 To All the Boys I've Loved Before and its sequels may focus on the adventures of Lara Jean Covey's love life, but fans also have a lot of love for her little sister, Kitty. Kitty is the youngest of the Covey sisters in the films and is not only adorable but also a pretty pivotal part of the plot. We won't spoil To All the Boys, but it's safe to say that, while Lara Jean is the protagonist, nothing would have happened in the films without Kitty there to set things in motion.
Kitty is played by Anna Cathcart, a young actress whose star is on the rise. If you watch the Disney channel you've probably seen her before, although you might have had trouble placing her. Cathcart's resume isn't too extensive yet, but it's definitely growing, and there are quite a few things you may have spotted her in before — here's why she looks so familiar.
To All the Boys' Kitty got her start in commercials
Like many actresses, Anna Cathcart got her start in commercials. Her biography at the Academy of Canadian Cinema and Television notes that she landed her first gigs at the tender age of eight. The ad campaigns she appeared in were for some pretty big brands — Crayola and Campbell's Soup — so it's possible that you caught her in one of those early television appearances. If not, you can still check out the 2014 Crayola commercial, as it's been uploaded to YouTube.
While some child stars dream of entering the industry for years, Cathcart was initially reluctant to embark on an acting career. She revealed in a YouTube video for Famous Birthdays that as a young girl she watched her older sister act and didn't think it was something she'd want to do as she "was always really really shy." Some of that shyness wore off as she grew older, though, and she decided to give acting a shot. "[I] did some commercials and I thought it was so cool," she said.
Before To All the Boys, the actress who plays Kitty got her break on this show
After appearing in commercials when she was eight, Cathcart didn't act for a few years, telling Famous Birthdays that she "took a little bit of a break." Her career really took off when she was 12, however, when she landed her first starring role on the PBS show Odd Squad portraying Agent Olympia.
Cathcart was thrilled to join the cast of the educational show, which teaches kids about math, but she was also super nervous about it. She explained to Glitter that she "was freaking out" because she had to move from her home in Vancouver to where the show was shot in Toronto. Her dad encouraged her to "seize the day," and Cathcart took his words to heart. "I'm so, so glad that I took his advice and went for it because it was an amazing experience and it changed my life forever!" she said.
Cathcart appeared on the show from 2016 to 2017 and also played Olympia in Odd Squad: The Movie, Odd Squad: World Turned Odd, and OddTube.
Kitty from To All the Boys starred in this mega-hit Disney franchise
Outside of her role in the To All the Boys franchise, Anna Cathcart's best-known role is probably that of Dizzy Tremaine in Disney's Descendants franchise. Cathcart joined the franchise for its second film, 2017's Descendants 2, the year before she starred in To All the Boys I've Loved Before. She reprised the role of Dizzy in Descendants 3 in 2019.
Cathcart was really able to show off her skills in the franchise, and her singing and dancing talents in the films proved that she's a triple threat. "Working on this project was an absolute dream!" she told Glitter.
That's not to say that it was easy — Cathcart told Tiger Beat that all the actors had to attend a dance boot camp, and it was intense. Her co-stars had her back, though, and helped make things go smoothly for her. Particularly helpful were Sofia Carson and China Anne McClain. "They're great role models," said the young actress. "I look up to them both so much, and they're so talented, so warm, and so great to be with on set."
To All the Boys' Kitty guest-starred on this hit show
In 2017 and 2018, Cathcart appeared in two episodes of Once Upon a Time playing the tween version of Drizella, aka one of Cinderella's wicked stepsisters. Her role on the show wasn't particularly large, but it would prove to be a significant one because she played the role of Dizzy Tremaine in Descendants. As luck — or fate — would have it, her Descendants role tied into her role on Once Upon a Time, as Dizzy Tremaine is the daughter of Drizella, making her Cinderella's step-niece.
Once Upon a Time, for the uninitiated, is similar to the Descendants films in that it takes a lot of Disney characters we know and love and puts them all into the same universe. While Once Upon a Time and Descendants don't seem to be officially connected, Cathcart's roles in both of them makes for a pretty interesting bridge between the two universes.
After To All the Boys, the actress who plays Kitty landed the lead on this show
You may also have seen Anna Cathcart on the show Zoe Valentine. Cathcart landed the lead role on the show in 2019, the year after To All the Boys I've Loved Before was released. Per EW, the series comes from the studio Brat, which is also the network behind Chicken Girls.
Starring on Zoe Valentine allowed Cathcart to explore a more mature character. While in To All the Boys I've Loved Before, she portrays the loveable but pesky younger sister, Zoe Valentine is focused on her character. "It tackles some major life topics but also lower scale teenage problems that many people can relate to," Cathcart told the Brat website of the series.
Starring in Zoe Valentine wasn't Cathcart's only role with the network. The same year the show debuted, she starred in Spring Breakaway, a film that is set in the same universe as Zoe Valentine, in which she also plays the character of Zoe.
To All the Boys' Kitty is a Disney star through and through
Anna Cathcart got her first big role with PBS and rose to fame on Netflix, but she is, perhaps, most closely associated with Disney. Aside from her role in the Descendants franchise, she's also been on Disney's Fast Layne, a mini series about a girl who finds a talking car. Cathcart played Anna in four of the show's eight episodes.
Late in 2020, it was announced that Cathcart would appear in the 2021 Disney Channel movie Spin, which, as noted by Just Jared Jr., "follows an Indian American teen who discovers her artistic side through the unique world of DJ culture and learns she has a passion for creating mixes that blend the textures of her Indian heritage and the world around her."
Cathcart is proud to be a Disney kid, calling starring on the channel a "childhood dream come true" in a 2020 Instagram post.
Anna Cathcart played Kitty in two more To All the Boys films
The role of Kitty will always be near and dear to Anna Cathcart's heart. She was excited to reprise the role in 2020's To All the Boys: P.S. I Still Love You and 2021's To All the Boys: Always and Forever. "I can guarantee this movie is a 10," she wrote on Instagram in the caption of a trailer for the film series' third — and final — installment.
The films aren't just special to Cathcart because they helped make her a star, but also because of the bond she formed with her on-screen sisters, Lana Condor and Janel Parrish. "We became like real-life sisters and would always hang out on and off set," she told Vulture, adding, "I love them so much."
Cathcart also loves the character she played in To All the Boys. "I'm so lucky and grateful to have had the opportunity to portray such a strong and smart and loveable character," she told Glitter.
Source: Read Full Article