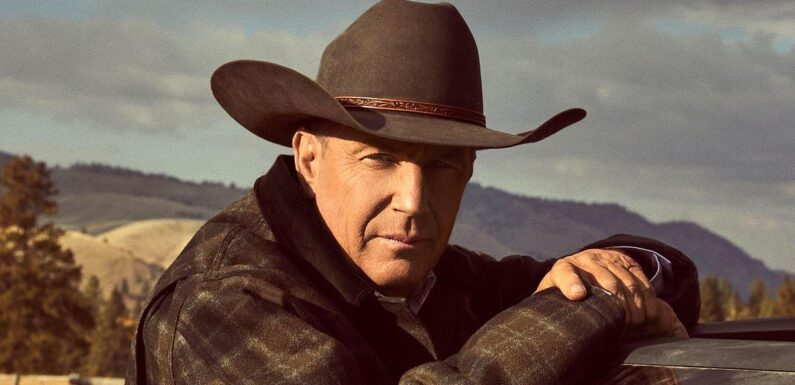 Yellowstone CHANGES! Kevin Costner series gets a major new network television makeover after making its debut on CBS
Yellowstone has aired its first four-and-a-half seasons on Paramount Network
The cable channel has much looser censorship requirements
Broadcast television channels like CBS need to edit out offensive content 
Yellowstone was introduced to a larger audience than ever when it made its network television debut on Sunday.
The hit Western melodrama aired its series premiere on CBS on September 17 — just days before star Kevin Costner settled his bitter divorce — after previously airing on Paramount Network.
But the move from a cable channel to one of the big three broadcast networks means that the series will need to undergo some significant changes.
According to Country Living, Yellowstone is now airing in an edited version that cuts out some of the more extreme or offensive moments that originally signaled that the show's edgy style.
The show originally earned a TV-MA rating for nudity, profanity and violence, requiring a toned-down version of the show to get past censors.
New version: Yellowstone is airing in an edited, censored version after it began reairing on CBS on September 17, Country Living reports; Kevin Costner seen on Yellowstone
Despite the massive popularity of Yellowstone, CBS claims a whopping 80 percent of its viewers still have not seen the show, via Variety.
As broadcast television has a significantly larger audience than niche cable channels, that means that many more viewers may ultimately see the neutered version of the show than its original uncensored edit.
In addition to worry about standard issues around offensive language, nudity and violence, broadcast standards also limit how drug and alcohol use can be portrayed on television.
A CBS representative confirmed to Country Living that Yellowstone had undergone edits in order to be acceptable to air on CBS.
However, they claimed that the cuts were only 'minor' and would not jeopardize the 'integrity' of the original show, which is largely written and directed by showrunner and creator Taylor Sheridan.
Films and TV shows that have to censor curse words and other offensive terms often undergo Automated Dialogue Replacement, or ADR.
Confusingly, the process is not automated, and requires an actor — ideally the original star — to go into a sound booth to rerecord dialogue that can be dubbed over the lines that need to be jettisoned.
Instead of that common technique, CBS will merely be muting inappropriate words rather than dubbing over them, though it's unclear if that decision was a stylistic choice, or if the original actors were unavailable to fix their dialogue (or if the network didn't want to pay them to return).
Cleaning it up: The show originally earned a TV-MA rating for nudity, profanity and violence when it aired on the cable channel Paramount Network, requiring a toned-down version of the show to get past censors
A CBS representative confirmed to Country Living that Yellowstone had undergone edits in order to be acceptable to air on CBS. Foul language will be muted but not rerecorded
Toned donw: Instances of graphic violence, sexual content and even nudity will also be edited out, but the CBS rep claimed the show's 'integrity' would not be harmed
In addition to the easy-to-miss muted words, CBS will also requiring some visual changes, as moments of extreme on-screen violence.
Overly sexual scenes will also need to be toned down. Because it originally airs on cable, Yellowstone features occasionally nudity as well, which will need to be excised completely to pass the broadcast standards.
Despite the changes, the hit show will still likely be too adult for many younger viewers, and it now has a TV-14 DSLV rating for its CBS broadcasts, indicating that it has suggestive dialogue, foul language, sexual situations or actions and intense violence.
The Yellowstone series premiere on Sunday will give fans and curious viewers a glimpse of how much the series has been edited, and subsequent episodes are set to air on Sunday nights at 8:30 p.m. EST on CBS.
However, the network will skip airing the show on Sunday nights featuring an NFL doubleheader, and it notes that the time may also to work around football broadcasts.
Shortly before Yellowstone began its new run on CBS, it was reported that its star Kevin Costner — who will not be returning for the second half of season five — and his representatives spent much of his downtime over the summer amid the ongoing WGA and SAG-AFTRA strikes in negotiation with Paramount and showrunner Taylor Sheridan to get him back on the show.
According to Puck News, the 68-year-old actor — who has been engaged in a brutal divorce from Christine Baumgartner in recent months — even wanted to stick around on the show for a potential sixth and seventh season if Sheridan, who has written every episode of the show since season three, was willing to give him another chance.
But Costner's whirlwind negotiations reportedly came to nothing after he made a series of demands on a disastrous phone call with Sheridan.
The deal-breaking request was allegedly that he be given veto power over Sheridan's scripts, something the showrunner couldn't abide by, though Costner also reportedly has a 'moral death' clause in his Yellowstone contract that severely limits the way his character John Dutton could be killed off.
Fatal error: Kevin Costner, 68, negotiated to get back on Yellowstone for its season 5B amid the ongoing Hollywood strikes, but his request for veto power over scripts ended any chance of him returning, Puck News reported last week; still from Yellowstone
Not giving in: Showrunner, writer and director Taylor Sheridan butted heads with Costner and refused to turn over the creative control he had accrued over the years from the successful series; seen in 2021 in Las Vegas
Earlier this year, Costner had been negotiating with Paramount over his requests to reduce his work schedule for Yellowstone season 5B, as he was set to direct the first installment of his four-part Western film series Horizon around the same time.
Costner, who has now finished principal production on that film, had also requested more control over scripts, particularly in regards to his character's arc.
However, 101 Studios, which produces Yellowstone, and Paramount, it's distributor, ended the negotiations in May of this year and simply announced that Costner would not be returning for season 5B.
Instead, the series will reportedly transition to a newly titled continuation, with Matthew McConaughey joining the fold in a new lead role.
After Costner was shut out of the second half of season five, his producing partner Rod Lake got in touch with Paramount Media Networks and MTV Entertainment Studios COO Keyes Hill-Edgar to request an urgent meeting in New York, according to two sources.
Lake made it clear that Costner desperately wanted to finish his original run on the series and to give fans what they were clamoring for, though he reportedly also saw his return to Yellowstone as a way to promote his Horizon films, which he made for Warner Bros.
Lake apparently made some progress with Hill-Edgar and convinced him to get Sheridan on the phone with Costner to iron out their differences.
Sheridan had already written scripts for season 5B that wrote out Costner's character, but he was game to rewrite them after the strike if he and the star could work out an arrangement.
The two reportedly chatted on the phone in early July, but the call soured their already strained relations.
Costner — who was described as 'speaking in a friendly tone' — reportedly asked for more money and less shooting time.
However, it was his demand to see Sheridan's scripts in advance and to either approve or potentially veto them that got the writer and director's blood boiling.
Negotiations: Costner's producing partner reportedly set up a meeting with Paramount in NYC over the summer to get Sheridan and Costner on the phone to work out a deal; still from Yellowstone
Pushed too hard: But Costner told Sheridan he wanted more money, less time on set, and veto power over his scripts. Paramount backed Sheridan and backed out of negotiations; seen in November 2022 in Fort Worth, Texas
That's all she wrote: The last straw was reportedly Costner's claim that he might sue for season 5B wages during a hearing in his divorce battle with estranged wife Christine Baumgartner; seen in March 2022
Although Sheridan has been criticized for allegedly spreading himself too thin with multiple shows for Paramount and Paramount+ that he largely writes, directs and showruns himself, he wasn't willing to cede that creative control to his star.
Paramount reportedly sided with Sheridan and ended the discussions shortly after the counterproductive phone call.
However, sources claimed that Paramount Media Networks CEO Chris McCarthy was still open to finding a way for Costner to return, and he hoped that as the writers and actors strikes drag on they would be able to come to an agreement.
However, Costner lost any goodwill at the network when he in court during a divorce hearing on September 1 that he might sue for wages he had expected for season 5B.
But sources claimed that he had already been paid for both halves of season 5, and that he may have been referring to two more potential seasons that he had hoped to film afterward.
Costner reportedly believed that Paramount was in breach for offering him a package to stick around for seasons 6 and 7 backing out, though a source close to the production claimed that the studio had 'officially' ended its offer.
Costner's team now apparently believes that Sheridan's plans to kill off his character may violate his 'moral death' contract provision.
The clause states that his character John Dutton cannot be killed off in any way that brings shame to his character's family, which would presumably also embarrass the JFK star.
However, sources close to the show disputed that Sheridan would run afoul of the clause, and they said that Costner had never read any details on how the showrunner planned to dispatch Dutton.
Although the 'moral death' clause was described as being an outlier by Paramount, other film stars have previously tried to ensure that their characters are seen in the most positive light possible.
Sticking point: Costner has a clause in his contract saying John Dutton can't be killed off in any way that would shame or embarrass his character (or himself), and he feared Sheridan might breach it; still from Yellowstone
Back and forth: But sources claimed that Sheridan wasn't in violation of it with Dutton-free scripts for season 5B, and they said Costner had never read how his character would be written off; Sheridan seen in February in Austin, Texas
Back in 2019, the Wall Street Journal reported that Fast & Furious series stars Vin Diesel, Dwayne Johnson and Jason Statham all have clauses in their contracts requiring that any on-screen fights they have not be too lopsided in favor of the villain, and filmmakers aren't allowed to show the actors being severely injured, presumably for fear of hurting their pride and macho image.
Despite its desire to keep Costner in the fold, Paramount has seemingly gotten used to the idea of a John Dutton–free series. Viewer studies the network conducted throughout the shows run reportedly showed that Costner and his character were big topics of discussion on social media, but they had considerably shrunk by later seasons, which also coincided with more secondary characters being added to the ensemble melodrama.
Another obstacle to Costner returning is that Matthew McConaughey is reportedly ready to join the fold, even though he has not signed an official contract for the new show.
Sheridan already has a batch of season 5B scripts without John Dutton, so the show could quickly go into production as soon as the writers and actors strikes against the AMPTP have been resolved.
Source: Read Full Article