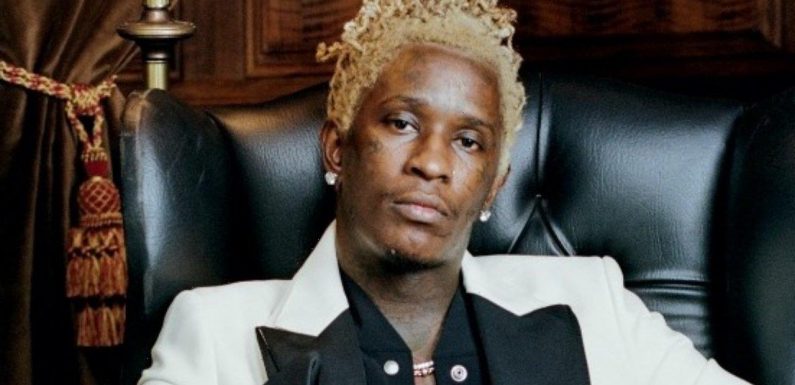 Brian Steel, an attorney for the 'Stoner' rapper, files an emergency motion for an immediate bond hearing after he's booked into Fulton County Jail on RICO charges.
AceShowbiz –Young Thug's lawyers are complaining about his housing conditions. Brian Steel, an attorney for the YSL Records founder, is calling for his client to be released immediately from prison as he likens the jail cell to "dungeon."
On Friday, May 13, Steel filed an emergency motion for a bond hearing in hopes of getting Thug released sooner than later or "more humane/non-torturous in-custody housing." The attorney claims the Atlanta native is being held in total isolation in a windowless cement compartment with only a bed and a toilet, according to TMZ.
Steel describes the cell as having an overhead light that remains on 24 hours a day, preventing Thug from getting any sleep. Moreover, the attorney says Thug has no access to media or opportunity to exercise, shave or have any human contact. He also takes issue with the menu, claiming that the food given to the 30-year-old star was "inedible."
While the description sounds like a stereotypical jail cell, Steel argues that the conditions violate Thug's Constitutional rights, in particular the 8th and 14th Amendments, barring states from inflicting cruel and unusual punishment.
Thug was arrested on Monday, May 8 at a Buckhead mansion after the home where he was at was raided. The Grammy Award-winning artist was booked into Fulton County Jail on multiple charges in a RICO case. When making his first court appearance on Tuesday, he was told that his lawyer could argue for him to receive a bond at the next hearing, which is yet to be scheduled.
Fellow rapper Gunna, who is among one of the 28 men charged in the 56-count Racketeer Influenced and Corrupt Organizations Act (RICO) indictment, turned himself in on Wednesday, May 11.
Source: Read Full Article