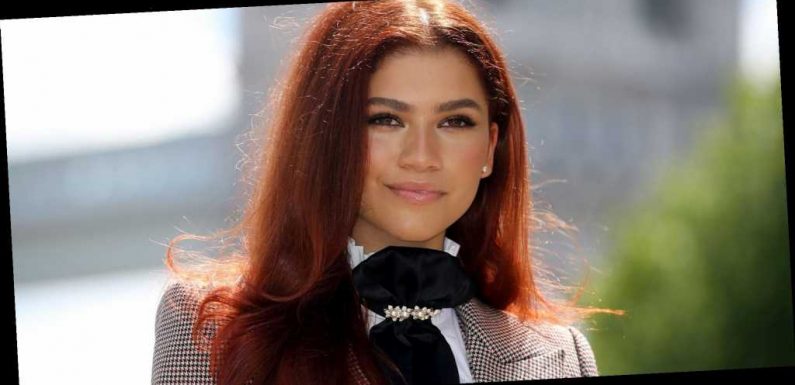 It's a known fact that permanent dye can have damaging effects on natural hair, so I guess we can consider it a love-hate relationship.
The process of coloring natural hair requires dye to penetrate beneath the hair cuticles. Once the cuticles have been raised, the curl pattern of the hair tends to change and there is an increase in porosity, which means the hair has difficulty retaining moisture. As a result, the hair can become frizzy, and more prone to breakage.
That said, there are a number of ways you can get color — without dyeing your natural hair.
"Extensions are a great way to keep the integrity of your hair but still switch up your look," says Kiyah Wright, a celebrity hairstylist and owner of Muze Hair. "I like to use wigs, extensions and clip-in pieces to quickly switch up my hair color without having to damage my natural hair."
Wright has worked with a number celebrities to create custom colored wigs, including the baby pink style Ciara has been sporting recently, and the sultry gray bob Laverne Cox wore to last year's Emmys. When asked why she chose baby pink for Ciara, Wright says she wanted something that was on trend.
"First we went with a blue turquoise and remixed it from there," she says. "We kept the darker roots, and stayed in the pastel family. Most colors work on all skin tones, if you put the right root on it, the root gives it that grown-out dimensional look." 
Below, we share a few suggestions on how you can color your natural hair — without dye.
Wigs
Wigs are probably the easiest and quickest way to change your color — and you'll be spoiled for choice with the large variety of styles to choose from. "I love wigs because they are so versatile," says Wright. "I call them hair hats because you can really give off a different vibe every day." Wigs are also great if you are looking to give your natural hair a rest or grow out a chemically processed style.
To shop:
Muze Hair Lavender Dream Wig: $275, muzehair.com
RPGShow Dust-Red Blunt Bob Human Hair Lace Wig: $380, rpgshow.com
UNice Hair Bettyou Series: $195, amazon.com
Braids
Braids can take a long time to do, depending on the style you decide to go with, but trust me, the results are worth it. Box braids and mid-sized plaits can take between four to six hours, while Ghana braids take up to two hours. If maintained well, braids can last up to five weeks. To refresh the ends of your braids, Wright suggests dipping them in a semi-permanent color, like Adore, to add more vibrancy to the ends.
To shop:
Pre-Stretched Braiding Hair: $23, amazon.com
Sonnet Ombre Braiding Hair: $12, amazon.com
Sensationnel Synthetic African Collection X-pression Braiding Hair: $4, ebonyline.com
VIDEO: The 5 Natural Hairstyles That Will Dominate 2021
Faux Locs
The great thing about faux locs are that they require very little maintenance. Meagan Good, Ciara, and Eve Marcile are all fans of this hairstyle, which involves crocheting faux locs into cornrowed hair or wrapping kinky hair around a single braid. For this style, you'll need faux loc crochet or kanekalon hair, which can be found in a variation of colors, from ombre purple to platinum blonde. The coarse texture of the hair has a coily finish. So, the older the locs get, the better they look. The popular hairstyle is all over YouTube where you can find DIY videos of hair influencers walking you through how to get the look.
To shop:
24-Inch Blonde New Faux Locs Crochet Braids: $40, amazon.com
Eliza Wavy Gypsy Locs Ombre Crochet Hair: $38, amazon.com 
RW01 24-Inch New Faux Locs Crochet Hair 3-Tone Ombre Nu Soft Locs Braiding: $40, amazon.com
Crochet Braids
Crochet braiding is a popular D.I.Y style that is relatively quick to do. The method involves cornrowing your hair and looping extension through the braids, using a crochet hook. "Colored braids allow you to change up your look more frequently," says Wright. "Overall, they are easier on your hair and give you really good versatility." There are a few different hair extensions you can use for crochet braids, including flexi rod set, Havana twists and spring twists. All of them come in a variety of colors and have a natural looking texture; chances are you've probably mistaken someone's crochet braids for their natural hair.
To shop:
Passion Twist Hair 18 Inch Bohemian Crochet Braids: $30, amazon.com
Marlybob Crochet Hair: $18, amazon.com
Ringlet Jamaican Crochet Collection: $22, amazon.com
Clip-In Extensions
If you don't want an all over color but feel like a little change, clip-ins are a great way to add highlights to your natural hair, without the use of harsh chemicals. They come in a variety of colors and textures, to complement different hair types. To maintain your colored clip-ins, Wright suggests using a color shampoo or a color protective shampoo to preserve the clip-ins and keep the color looking vibrant.  
"When washing your clip-ins, be sure to use a paddle brush to brush the shampoo through the hair thoroughly. To dry, either let the clip-ins air dry or set them gently under the dryer," she says.
To shop:
Glam Seamless Clip-Ins: $230, glamseamless.com
Kim Kimble Hairdrobe Temple Wavy Clip-Ins: $272, shopkimkimble.com
Amazing Beauty Kinky Curl Clip-Ins: $86, amazingbeautyhair.com
This is All Natural. From the kinkiest coils to loose waves, we're celebrating natural hair in its many forms by sharing expert tips for styling, maintenance, and haircare.
Source: Read Full Article