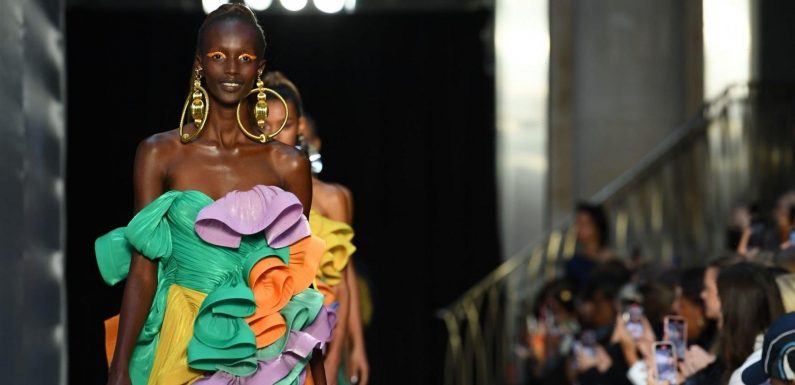 Written by Naomi May
From sombre minute-long silences in honour of Queen Elizabeth II to a parade of all things Barbie, London Fashion Week proved that not even the most unprecedented of times can rain on its parade.
It was meant to be a celebration. London Fashion Week's first fully in-person fashion week since the hiatus the pandemic forced it into was designed to reassert the capital's place on the international fashion stage. Big names, Burberry and Raf Simons, affirmed their affiliation with the capital by agreeing to return to the schedule, as other household names revved themselves up to unveil their spring/summer 2023 collections.
Inevitably, in the era of unprecedented times, these plans were curtailed following the death of Queen Elizabeth II earlier this month. Burberry and Raf Simons were the first to announce the cancellations of their shows, with the former, which is a royal warrant holder, unveiling a rescheduled date in October to showcase its collection. Other smaller brands clamoured to pivot their shows as a mark of respect to the late monarch.
The result was a fashion week that felt ever-so-slightly flat, despite the best efforts of labels to transport guests and attendees to a time filled with all of the frivolity that fashion is famed for. Music choices felt more considered, and the collections, despite being designed months before the Queen's passing, felt ominously conservative. There were standout moments though from brands both established and burgeoning, a sign that the best is still yet to come for the best of British fashion.   
Tributes galore for Queen Elizabeth II 
Daniel w. Fletcher marked the passing of Queen Elizabeth II with an all-black morning suit, which opened his spring/summer 2023 show.
Opening the official London Fashion Week proceedings was Next In Fashion runner-up Daniel w. Fletcher, whose show began with a minute-long silence in honour of the Queen and a first look of an all-black morning suit rendered in British wool. Fletcher was just one of many brands to mark the passing of the monarch. Bora Aksu's show similarly began with a minute-long silence, while attendees' seats were adorned with single black bow badges as a subtle nod to the National Period of Mourning. Paul & Joe and Christopher Kane's spring/summer 2023 shows also marked the Queen's death with a minute-long silence before their shows began. 
Harris Reed's walking catwalk debut 
Harris Reed's catwalk debut asserted his status as a name to watch.
Everybody's favourite demi-couture designer made his walking catwalk debut at the start of fashion week with an ode to the Queen in the form of a performance from Queen frontman Adam Lambert, who sang a poignant rendition of the British band's classic, Who Wants To Live Forever? In true outré Reed style, ensembles were corseted, embellished and entirely show-stopping, which only further cemented his place among the who's who designers of the industry. With Beyonce, Harry Styles and Lil Nas X among his cadre of fans, the question on everybody's lips was a simple: to what heights will he inevitably go to next?
JW Anderson goes digital
JW Anderson challenged our virtual existences in its spring/summer 2023 show.
Riffing on our collective dependence on digital devices, Northern Irish designer JW Anderson hosted his spring/summer 2023 show next door to his flagship store – at the Las Vegas arcade, a late-night Soho institution. As attendees took their seats around the periphery of the game-packed room, models sauntered through in ensembles that were intended to challenge our increasingly virtual existences. Dresses were adorned with computer keys, a futuristic metallic orb, reminiscent of a digital component, was fashioned as a dress and shirts boasted screensaver-inspired images. The line between what's real and what's not was the only thing missing. 
Halpern's in a Barbie world 
Halpern's collection was inspired by and in honour of Barbie.
As an ode to the 60th anniversary of the Barbie Dreamhouse, a statement of Michael Halpern's childhood in Upstate New York, the label joined forces with Mattel to create a fun, feel-good and frothy riff on the more-is-more DNA of the cult doll. Mattel granted Halpern access to Barbie's wardrobes throughout the ages while designing the collection, which helped him in crafting eight looks dedicated solely to Barbie. The result was a collection of looks that stayed true to the exuberance of Halpern's DNA, while also nodding to the solemnity of the times.
"This year, I will be receiving British citizenship," Halpern noted of the collection. "I came here for my education at Central Saint Martins in 2017. Ever since, I have called this country home. For my spring/summer 2023 show, I would like to take the opportunity to thank the United Kingdom and honour the Queen. The blue look that opens the show in silence is a tribute to Her Late Majesty, engulfed in the hues and silhouette that, for me, evoke a reign that promoted creativity, openness and a widespread support for creative freedom. This singular look is a way for me to show my gratitude to the Queen for encouraging designers like myself to express in the only way we know how: through the power of fashion and optimism. It has always been my ethos that, in times of darkness, I look to the fantasy of fashion for its optimism and strength." 
Ukrainian designer Masha Popova makes her mark
Masha Popova's London Fashion Week debut was hailed a total success.
Arguably one of the most buzzed-about shows came by way of Ukrainian-born and London-based designer Masha Popova, whose catwalk debut was inspired by the idea of an imagined muse driving rapidly at night to forget the woes of the world. It's with this very notion in mind that the collection can be understood: oil spill-inspired graphics and tyre marks, reminiscent of the effects of a car drifting, pepper Popova's collection, all while remaining subversive and provocative. There's a reason hers was on the tip of the industry's tongue for the four-day event.
Images: courtesy of Marc Hibbert, Chris Yates, brands and Getty
Source: Read Full Article