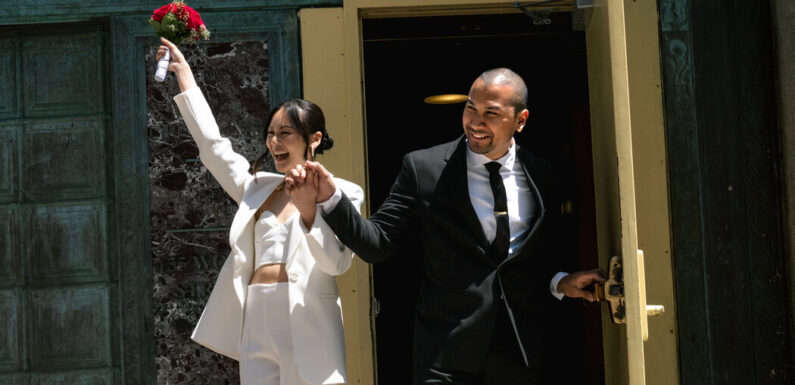 Erics Kun was fighting yawns the first few times he and Sahra Nguyen got together in the fall of 2016. This was no reflection on her. After staying up all night in his bartending job, he couldn't pass up the chance to see her for early morning coffee.
"I would get off my shift at 6 a.m.," Mr. Kun said, "and Sahra would text me at 7 or 8 to say, 'Wanna go get coffee?' Before I put my head down to rest I'd go see her." The caffeine he relied on to stay alert those mornings, at Little Skips in Bushwick, Brooklyn, would become a running theme in their relationship.
Ms. Nguyen, whose family is from Vietnam, is the founder and chief executive of Nguyen Coffee Supply, which combines her appreciation for a bold cup of joe with her culture. Cafes in cities including New York and San Francisco use the company's beans for their Vietnamese iced coffee. Home brewers buy it at Whole Foods and other stores.
Inspiration for the brand, which started taking shape in 2016 before becoming official in 2018, arrived courtesy of the Brooklyn coffee shops Ms. Nguyen once hung out in as an independent documentary producer, writer and director.
An awareness that Mr. Kun might become more than a friend started percolating at those coffee shops, too.
Ms. Nguyen, 36, and Mr. Kun, 35, first saw each other in the summer of 2016, when Mr. Kun was serving drinks at the now-closed Trophy Bar in South Williamsburg, Brooklyn. Jane Nguyen, Ms. Nguyen's cousin and roommate in Bushwick, introduced them.
Mr. Kun knew Jane from his frequent visits to Dotory, the now-closed Korean restaurant next door where she worked as a server. One night, Jane brought a group of friends, including Ms. Nguyen, to Trophy Bar for a drink. "They sat at the bar, and I was very much intrigued by the girl who just so happened to be Sahra," he said. "I was shocked by her beauty." Mr. Kun had asked before to be set up with one of Jane's "hot friends," Jane Nguyen said. But this time was different. "When he saw Sahra it was her and only her," Jane Nguyen said. "She was the special one."
Romance would take a while. Though he had asked about Ms. Nguyen, he wouldn't see her again until weeks later, when he ran into the Nguyen cousins at the Little Skips coffee shop. "That's when I made my move," he said. "I asked for her number."
Although it wasn't the smoothest ask, he said, "from that point on, we started meeting up for our coffee mornings." After months of friendly meetups, he began to question whether she would ever want to kiss him.
Ms. Nguyen was born in Boston, where her mother, Ni Vo, and father, Anh Nguyen, Vietnamese refugees who fled the country after the war ended in 1975, raised her and her sisters, one older and one younger. By the early 1990s, Ms. Vo had bought a laundromat and dry cleaning business and Mr. Nguyen had started a house painting company. Her parents now own Lee Cleaners in Brookline, Mass., and Floor Sanding of Mass in Boston.
In high school, Ms. Nguyen became an advocate for underrepresented communities through the Coalition for Asian Pacific American Youth. The group, she said, "gave me the tools to understand what I was feeling for so long." She had long been embarrassed about her parents' accents and the Vietnamese food her mother packed her for lunch, she said.
In college at U.C.L.A., she double majored in Asian American studies and world arts and cultures, graduating with a bachelor's degree in each in 2009. After, she returned to Boston for a year to work with Artists for Humanity, a youth arts organization. She later bounced back to Los Angeles for a job as the director of U.C.L.A.'s Writing Success Program. Her move to Manhattan in 2013 was to escape the traditional workweek and explore her creative side. "Nine-to-five was not for me," she said. "I wanted to be free."
Binge more Vows columns here and read all our wedding, relationship and divorce coverage here.
Mr. Kun knew the feeling. Like Ms. Nguyen, his parents are refugees; they immigrated to the United States from Cambodia to escape the Khmer Rouge genocide. When he was 7, his parents split up. His mother, San Sen, worked multiple minimum wage jobs to make ends meet in San Diego, where she raised him and his older brother, and younger sister and brother.
Student loans that he is still repaying allowed him to attend the San Diego Art Institute, where he earned a bachelor's degree in video game art and design in 2010. The next year, he moved to Manhattan with few belongings and $500 in his pocket. He stayed with friends and worked at clothing stores to earn a paycheck while he looked for work in the video game industry.
Financially, "retail wasn't sustainable," he said. Bartending at the Trophy Bar — he called it "an amazing queer bar" — was different. "That was sustainable. It allowed me to live." To thrive, even. For years, he set his 3-D art ambitions on the back burner.
By the fall of 2016, when a bleary-eyed Mr. Kun was trying to figure Ms. Nguyen out over cups of coffee in Bushwick, she was in her business incubation phase. At cafes around New York, "I had started noticing that Vietnamese coffee was becoming trendy, but they were never using Vietnamese coffee beans," she said. "They'd use their house blend." Sourcing coffee from the country her parents escaped from was never a role she saw herself occupying. But on a trip to Cambodia to shoot a documentary that year, she visited Vietnam and asked her aunts in Hanoi if they knew somebody who had a coffee farm. They did.
Piecing together the company while she was still deep in her freelance hustle left little time for her to consider getting to know Mr. Kun in a barista-free setting. Also, "I was like, he's cute and he's a bartender," she said. "He probably gets mad girls."
But he was only interested in her. Still, "after a while I was like, am I being friend zoned right now?" he said. Ms. Nguyen wasn't entirely sure herself. "I was the one initiating the coffees, so I clearly wanted to be around him," she said. But becoming his girlfriend wasn't much of a priority until he planned a trip to Cambodia to see family in March 2017.
Around the same time, "I got this sense he was tired of trying, that he was pulling away," she said. When he returned from Cambodia, "we had this deep conversation about, Hey, where do we go from here?" They had kissed for the first time only a few months before, over the 2016 holidays. But after that talk, they were a couple.
They have been partners in life and in business since. In 2018, when Ms. Nguyen was learning how to roast the robusta beans she sourced from Vietnam, he lugged bins of beans to a rented roastery space in Red Hook, and later to the one in Bushwick they still use. "Whatever Sahra needed, I wanted to help," he said. "The business stirred up a well of passion for her. It was great to see her light up."
In the fall of 2017, Mr. Kun moved into the cousins' apartment in Bushwick. At the start of Covid, he quit bartending to work with Ms. Nguyen full time. He is now the brand's senior designer. More than a year before he proposed on a vacation to Paris, on Oct. 29, 2021, he had asked her father's permission. "I wanted to be open with him, to show him respect," he said. Both father and daughter didn't hesitate to give him answers he wanted to hear.
Ms. Nguyen and Mr. Kun, who moved to an apartment of their own in Bushwick last year, celebrated the merging of their lives in marriage three times this spring. On May 20, at the home of Ms. Nguyen's parents in Boston, they celebrated their Asian culture with 40 friends and family members, including Mr. Kun's mother, at a traditional le an hoi, or Vietnamese engagement ceremony.
On May 26, they were legally married by Madeline Plasencia, an officiant with the New York City Clerk's office, at the Manhattan Marriage Bureau. The newly married couple and a small gathering of family members and friends celebrated with lunch at Il Buco Alimentari & Vineria. And on June 17, they hosted a wedding celebration for 80 guests at a private venue in Villefranche-sur-Mer, overlooking the French Riviera. Jason Talbot, Ms. Nguyen's long-ago mentor at Artists for Humanity, led the ceremony. The bride and groom exchanged what they called "freestyle vows," passing a microphone back and forth to meditate openly about falling in love and their commitment to each other.
When it was over, they danced in the clouds. After a sunny outdoor ceremony, "we watched the clouds roll through until we were literally dancing in them," Ms. Nguyen said. "That moment was magical and unexpected, like we were in our own little universe. It was sublime."
On This Day
When May 26, 2023
Where The Manhattan Marriage Bureau
Decked Out At the quick ceremony in Manhattan, Ms. Nguyen wore an ivory pantsuit and heels and Mr. Kun a black suit and loafers. For the larger wedding in France, he wore an ivory dinner jacket and tuxedo pants tailored by Black Lapel, and Ms. Nguyen wore the Jane gown by Katherine Tash, a long slip dress of satin and silk with spaghetti straps. The couple exchanged wedding bands from Holden, an Asian-owned, sustainably made jewelry company.
From the Heart Mr. Kun wasn't fighting nerves before the Brooklyn ceremony. But in France, "I felt very nervous going into the ceremony," he said. When he passed off his phone to freestyle his vows, they subsided. "I had the words I wanted to say in my heart. I focused on my wife, and I think my love was evident."
Gratitude "Erics and I talk a lot about our parents' journey and how much they've sacrificed for us to grow up in the U.S.," Ms. Nguyen said. "We are here because of our parents' resilience, hard work and love. They were so happy and proud at the wedding."
Source: Read Full Article