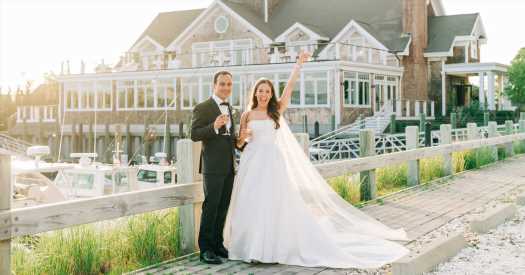 Mosheh David Oinounou and Alexandra Lauren Sall were shushed a few times as they whispered nonstop during a hefty lineup of talks on pastrami, knishes and other Jewish foods on their first date in October 2018. It took place at an annual event sponsored by the Jewish Food Society at the Angel Orensanz Center on Manhattan's Lower East Side.
"She had an effervescent personality and we connected on so many levels, said Mr. Oinounou (pronounced Wah-nu-nu), who dashed downtown after he wrapped up the "CBS Evening News," of which he was the executive producer until 2019.
Mr. Oinounou, 39, who now runs Mo Digital, a media consulting firm in New York, graduated from George Washington University, from which he also received a master's degree in security policy and international relations.
The couple connected a few weeks earlier on the League dating app, and a week before their actual date he reached out with last-minute tickets to the event that he got through a friend.
"If anything I'll enjoy meeting this guy, we had a lot in common," said Ms. Sall, 32, who was free since her earlier plans with a friend fell through.
Like Mr. Oinounou, she was accustomed to fast-paced pivots and crazy schedules as a producer of arena productions at Madison Square Garden, and she now also runs Alsall Studio, a social media and web design firm she created during the pandemic.
His ties to journalism also intrigued her since she graduated cum laude with a journalism degree from Syracuse University, and was a summer intern at CBS News two years before he arrived.
After they noshed on pastrami sandwiches and smoked salmon on rye at the event, they went to Beauty & Essex, a nearby restaurant, for drinks.
"Food is the way to my heart," said Ms. Sall, who loves to cook. Soon she realized that one of the many ways to his heart included her Dutch pancakes, waffles and omelets for breakfast.
In a quiet booth that evening they had their first kiss, and talked until closing, around 2 a.m. Before they left — they lived five blocks from each other uptown in Manhattan's NoMad neighborhood — they set up another date, and saw each other three more times that week. In a few weeks she was comfortable enough to chat with his mother on the phone.
"Everything moved much quicker than ever before," Mr. Oinounou said. "It felt very natural."
At the end of November, Ms. Sall joined him for a weekend in New Orleans for a colleague's wedding, and then planned to accompany him the next evening to the CBS Kennedy Center Honors in Washington.
"News follows Mosh," Ms. Sall said, and when news broke that President George H.W. Bush had died that weekend, he began pulling together coverage in New Orleans. The next evening she spent a couple of hours on her own at ease with his colleagues at the Kennedy Center before he joined them after work.
In July 2019 they got an apartment together in TriBeCa.
He proposed June 10, 2020 on a rock by the Ladies Pavilion in Central Park, as family and friends hid across the lake, and he gave her a necklace with a hamsa, a good luck symbol, that once belonged to his maternal grandmother. A violinist then played "I've Got You Babe" and "To Be With You."
They followed strict parameters, which grew more lax, as they planned their wedding over the pandemic. As the day drew near, so did Hurricane Elsa.
"Elsa finished her business on Friday and left us alone," he said, and they enjoyed a Shabbat rehearsal dinner outdoors with Mediterranean dishes at a vineyard in Southold, N.Y.
On July 10, Rabbi Jonah Zinn, a college friend of the groom, officiated at the Peconic Bay Yacht Club in Southold, before 80 guests, who received copies of "The Oinounews," published by the bride, including a crossword puzzle with the couple as its theme.
Source: Read Full Article