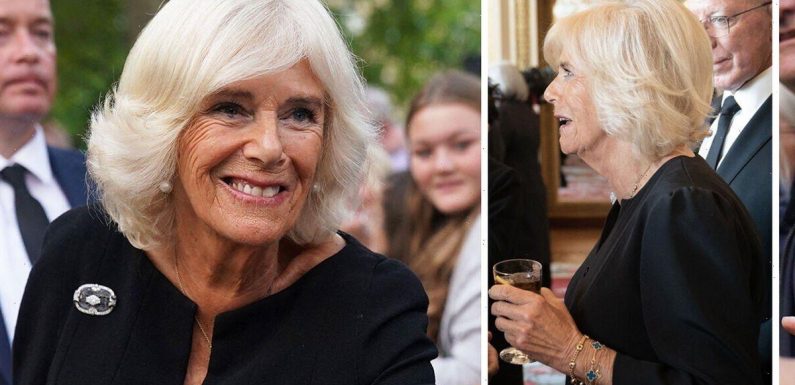 Camilla's tribute to the Queen: I will always remember her smile
We use your sign-up to provide content in ways you've consented to and to improve our understanding of you. This may include adverts from us and 3rd parties based on our understanding. You can unsubscribe at any time. More info
Camilla, Queen Consort has worn her hair in almost the exact same style for her entire adult life. In recent days, it appears the royal has switched up her usual hairstyle in favour of a shorter cut.
Camilla's signature icy blonde hair, soft fringe and feathered bob first appeared in the 1970s when she was still in her 20s.
Since then, it has remained almost untouched.
The approach to keep one's hairstyle the same is favoured by other royal including Princess Anne and the late Queen Elizabeth.
Most recently, however, it seems the new Queen Consort has switched her hairstyle to what some royal fans are calling an "angled bob".
Yesterday, Camilla was pictured alongside Kate, Princess of Wales. They were just two of many to attend the Reception for Lying in State of Queen Elizabeth II.
Camilla's hair seemed to be slightly different from that on Friday and earlier in the week.
The new style still features lots of feathering, but it is framed more around the face, which adds texture and volume.
It also appears to be shorter and lighter in colour, more of an ash blonde with warmer highlights – different to her longer, slightly darker bob photographed at the beginning of the week.
Instagram account @royalhairchatter, who is a "hairstylist from USA who loves royals and wants to discuss the many hairstyles of royals from around the world" noticed a change in Camilla's hair.
User @mydocuments_ wrote: "This is a very flattering cut and colour. Really takes years off Queen Cam and makes her look much more modern."
User @annpomphrey said: "I really think that this is a wonderful cut and colour for queen Camilla!"
User @ladyaerowen commented: "She had a little self care done probably at her house….she deserves it …to look her best."
User @annieh_923 said: "I love it! Much more chic."
Camilla is said to be loyal to her London hairdresser Jo Hansford, but it has not been said whether Jo created the Queen Consort's latest look.
Jo wouldn't admit to it either as she previously revealed she had signed a confidentiality agreement to style and colour Camilla's hair for the past 25 years.
Speaking to The Times, Jo said: "Whatever happens in the salon is confidential.
"I had to sign a confidentiality agreement from Clarence House, but we'd never disclose anything about any of our clients. You have to be diplomatic."
In 2013 she told The Telegraph that Camilla "has a fantastic sense of humour" and spoke about how close they were.
"You're not best friends, but you build a rapport and you know their hair. When the texture changes, you know how to alter the colour."
Source: Read Full Article