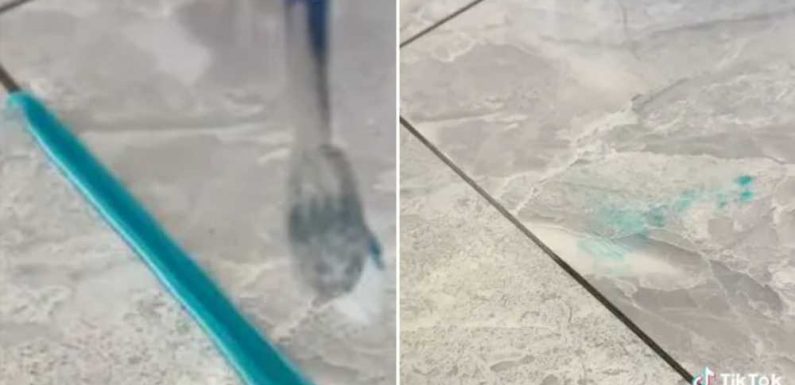 A CLEANING fan has shared a simple hack to cleaning to get grout sparkling but his method has left people less than impressed. 
The cleaning fan who goes by @the_gooch online shared his hack in a TikTok video. 
He said: "You are gonna thank me for this budget friendly grout cleaning trick."
The cleaning fan said he uses toothpaste to scrub the dirt out of his grout. 
"Take a tube of toothpaste and spread the toothpaste along the grout line."
Then the cleaning fan uses a toothbrush to scrub the grout line. 
Read more cleaning tips
Cleaning fan shares unique way to clean a toilet seat & people are horrified
Cleaning fan shares how she gets her bath spotless without breaking her back
He says: "Grab a toothbrush and just scrub it aggressively into the grout line."
After some aggressive scrubbing the cleaning fan uses a cloth to wipe away the toothpaste.
"Then take a damp cloth and wipe it away."
"Once the grout is dry it will be as good as new."
Most read in Fabulous
Princess Kate and Prince William share family photos to mark Mother's Day
Our kids wanted their own space so we came up with a way to divide their room
Woman nabs cheap boots but then gets home & realises what had actually happened
Meghan Markle and Prince Harry suffer blow over King Charles' Coronation
The cleaning fan uses tape to cover one side of the grout to show viewers a clear before and after. 
The grout cleaning hack went viral with over 4.7 million views.
FABULOUS BINGO: Get a £20 bonus & 30 free spins when you spend £10 today
Many viewers pointed out they thought the hack was the opposite of budget-friendly and would end up costing a fortune. 
One user said: "How many tubes would you need? That's so wasteful."
Another said: "Seems a bit excessive."
A third viewer said: "Yeah everyone don't do this unless you want to spend a fortune."
One user said they thought using a toothbrush was ridiculous. 
They said: "Grab who's toothbrush? Mine? Don't think so…"
Many viewers pointed out using bleach would have been more effective and cheaper. 
Read More on The Sun
Molly-Mae reveals unseen labour snaps as she celebrates first Mother's Day
Savvy woman shares £3 IKEA product that makes moving home so much easier
One user said: "Toilet bowl cleaner with bleach the best."
Another said: "Bleach – cheaper."
Cleaning hacks and tips
Here are some tips to help you clean your home like a pro:
How to clean your washing machine in a few easy steps
Keep on top of cleaning your oven regularly
 Clean your shower to ensure it's always sparkling
How to clean your microwave using cheap household items

Here's how to get rid of that nasty

limescale in your kettle
You're cleaning your carpet all wrong – here's how to get it spotless again in no time
Unblock a toilet without a plunger
Clean your fabric or leather sofa in a few easy steps
If you haven't cleaned your mattress in ages, here's how
Steps to cleaning your dishwasher to leave it looking brand new
This is how to clean mirrors and windows without streaking
Keep your toilet clean in four easy steps
Give your TV screen a once-over
Did you know your Venetian, Roman, vertical, or roller blinds also need cleaning?
Deep-clean your fridge in five simple steps
Source: Read Full Article