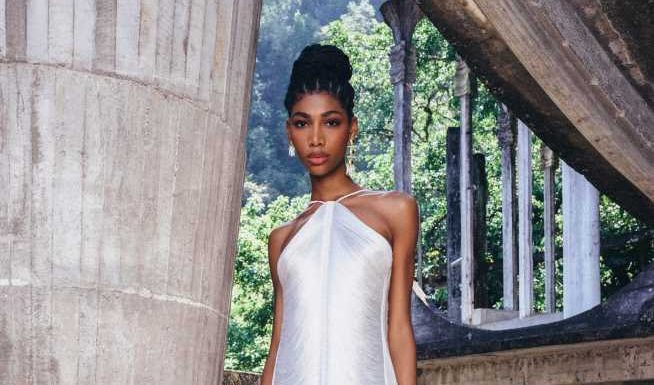 Resort isn't just a season, it's a state of mind for Cult Gaia designer Jasmin Larian, who brought her latest collection to life through a short film and images shot at the dreamy, Surrealist Las Pozas sculpture garden in Xilitla, Mexico, created by British architect Edward James in 1962.
It's hard to believe that 2022 marks 10 years in business for the Los Angeles-based Larian, who started with turbans and flower crowns before getting serious about handbags, and hitting a home run with the priced-right bamboo Ark bag.
The accessories line has since expanded to include ready-to-wear, knit sets, swimwear and shoes that pack a lot of punch for the price.
Cult Gaia Resort 2022
49 Photos
"We used to be known primarily as an accessories brand, but it's amazing how it's shifted. I knew I couldn't rely on a hit bag or shoe," Larian said. Clothing now represents 60 percent of the business.
The look: Tropical wanderlust meets marabou-trimmed Hollywood glamour.
Quote of note: "It was about returning to our roots but also coming out like 'Great Gatsby,'" she said of the hedonistic mood for the collection.
Standout pieces: Hand crochet dresses with 3D flower details; cutout ribbed knit wrap sweater and pants sets; jewel-tone fringed silk tunic and pants sets; silk jumpsuits with chain halter details; ostrich feather boleros; ombre sequin skirt; flower cutout swimwear "for the best tan line ever." The designer also introduced her first weekender and more everyday tote bag styles with raffia accents, alongside clogs.
Takeaway: Designing deeper into categories, with more of an emphasis on lifestyle dressing for all ages, Larian is steadily growing her influence and her universe.
Source: Read Full Article