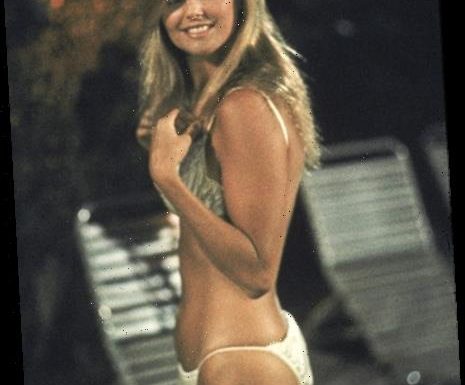 COVER-WORTHY CALIFORNIA GIRL
The Los Angeles native burst onto the modeling scene in the early 1970s after being discovered by a photographer. Beginning in 1979, the beauty covered the iconic Sports Illustrated Swimsuit Issue three consecutive times. Then in 1983, Brinkley showed off her incredible figure in her first film role as "the girl in the red Ferrari" in National Lampoon's Vacation.
1

of

23
GLITZ AND GLAMOUR
Always at the hottest events, Brinkley glowed in a silver dress and enormous earrings at the taping of 1982's The Face of the '80s television special.
2

of

23
MILLON DOLLAR SMILE
The fashions of 1984 may not have aged well, but Brinkley's contagious smile is still as flawless as ever.
3

of

23
ALWAYS ELEGANT
Just as radiant more than a decade later, Brinkley looked gorgeous at the 1996 opening night of Rent on Broadway.
4

of

23
LOTS OF 'HART'
In 2012, Brinkley herself stepped into the spotlight on Broadway: at 57 years old she nabbed the sultry role of Roxie Hart in Chicago.
5

of

23
UNFORGETTABLE AT ANY AGE
"Women are not to be brushed under the carpet because they're a certain age," Brinkley told PEOPLE in her January 2014 cover story. "When I started out, I remember very clearly a group of successful models saying, 'You will be burned up and thrown away by the time you're 30.' "
6

of

23
THE DEFINITION OF BOMBSHELL
At the Sports Illustrated Swimsuit Issue 50th anniversary celebration in 2014, the supermodel proved she's only gotten more beautiful in the three decades since she graced the cover.
7

of

23
THE BEST GENES AROUND
During a 2015 trip to the beach, Brinkley and daughter Alexa Ray Joel looked more like sisters than mother and daughter.
8

of

23
BOAT BOD
Stunning at any size, Brinkley admits her weight yo-yos like everyone else's. "I will gain weight. My closet is proof," she revealed to PEOPLE. "I have jeans in sizes from 24, when I danced on Broadway in Chicago, to size 28. Sometimes I eat a lot of pasta." 
9

of

23
FLAWLESS FASHION
Coral looked so cool on Brinkley at Book Expo America in May 2015, but then again, does any color not look amazing on the star?
10

of

23
EVERY SEASON IS BIKINI SEASON
Brinkley, who released her aptly named book Timeless Beauty in November 2015, uncovered her eternal bikini body on the beach that month. "The word 'involved' has a lot to do with feeling young," she told PEOPLE. "I would be remiss when talking about beauty secrets to not say that one of the best is to care about the world around you. That's what really matters. Even when I'll be sitting here with gray hair and Georgia O'Keeffe wrinkles, people are going to say, 'There is just something youthful about her.' "
11

of

23
DENIM DARLING
Brinkley was still racking up modeling gigs at 63 years old, and her 2016 campaign for NYDJ reminded the world that she can rock a pair of jeans with the best of 'em. Speaking to PeopleStyle on the set of her NYDJ shoot, Brinkley shared the advice she would give to less-seasoned models. "Most importantly, always know how lucky you are and have a good time. We're not doing brain surgery here! So, come with a good attitude, make it fun for everyone around you and then go home … and do brain surgery," she joked.
12

of

23
LEGGY-ACY 
Nearly four decades after she first landed the iconic cover, Brinkley made her glorious return to the Sports Illustrated Swimsuit Issue flanked by gorgeous daughters Alexa Ray Joel and Sailor Brinkley Cook. "My first thought was, 'At my age? No way!'" she told PEOPLE about her 2017 comeback. "When I turned 30, I was like, 'This is the last time I'm posing in a bathing suit!' When this issue comes out, I'll be 63. I thought, 'Those days are over.' But to get to do it with my girls, I thought, 'One last go!' " 
13

of

23
GLAM IN GLITTER
Even as she gets older, the model fearlessly as fun with fashion trends, like when she wore high-shine booties to the 2019 FN Achievement Awards in N.Y.C. 
14

of

23
FUN IN THE SUN
If Brinkley could spend every day in a bikini, she most definitely would. "I always put a bikini on and say, 'Oh, it is just to wear around the house. I am not going to go anywhere in it. I just want to get a little color while I am gardening,'" the star told PEOPLE in 2017. 
15

of

23
ALL SMILES
Brinkley didn't let the injury stop her from beaming backstage where she supported her daughter Sailor, who took her place on Dancing with the Stars after the model broke her arm during rehearsals. 
16

of

23
BIG APPLE BOMBSHELL
The model looked her best as she embarked on a fun stint as the ringmaster of the Big Apple Circus. "I'll be your Ringmaster and it's going to be a lot of fun! 🍎🎩🎪🎶🥂🍾🎉🩱🧑🏾‍🦽🐱🕺🏻💥🥨🍟👯‍♀️," she said. 
17

of

23
AGELESS BEAUTY
The star got candid about dabbling in fillers, laser treatments and skin-tightening devices in an interview with PEOPLE in 2017. "I wondered if people would think I'm phony and fake But it's better to be honest and say, 'Yeah, this is what I do," Brinkley said of using the injectable Xeomin for her frown lines and the skin-lifting Ultherapy for her neck and décolletage.
18

of

23
PRETTY IN POLKA DOTS
Putting a modern twist on retro polka dots and bell sleeves at a 2019 DWTS event, Brinkley proved she has serious style chops in this playful mini. 
19

of

23
HER MAJOR RETURN
Seven years after making her debut in Chicago, Brinkley reminded us that she still has her moves when she made her comeback as Roxie Hart on the big stage. 
20

of

23
CHEERS
Looking like a Grecian goddess as she posed at sunset on the beach, Brinkley celebrated with her go-to drink: a glass of her own bubbly, Bellissimia.
21

of

23
TAKING ACTION
https://www.instagram.com/p/CJwujKRH7NA/
https://www.instagram.com/p/CJwujKRH7NA/https://www.instagram.com/p/CJwujKRH7NA/
In early 2021, the model and actress shared a powerful statement about climate change alongside a series of glamorous photos from her beach vacation. "Tide pools, coral reefs, sea life, coastal Flora facing extinction like the local Thatch Palms here, threatened by rising tides …all things we can help save now by rejoining the Paris Accord," she said of the international climate change treaty (which the U.S. formally withdrew from in 2017).
Brinkley continued: "These things are all an integral part of a strong economy as they provide livelihoods from tourism to fishing. Everything's connected. I hope a part of our healing as a Nation is healing our planet too. 💙💚🌎🌺🌸 #heartshapedtidepool."
22

of

23
SIXTY-SEVEN AND STILL SERVING
Days before her 67th birthday in 2021, Brinkley reminded us all why she remains iconic, joking in her caption that she's "turning 50 for the 17th time!" The mom of three showed off her hard-earned abs and toned legs in a mirror selfie wearing a matching teal workout crop top and leggings set.
While Brinkley said she "pretty much" has always ignored her age because "I never felt as old as the number anyway," that started to change last year. "After my very nasty break of my right arm and the frozen shoulder it gave me I couldn't do downward dogs, planks, push ups and at the other end my hip was getting worse with each passing year and long bike rides left me limping…I started to feel limited! Restricted! Dare I say… old!" the star wrote in the caption.
She said: "I must add I felt overwhelmed by the number of injuries I was dealing with ( I've been very adventurous! Ouch!) but I realized I just needed to start with one thing and keep moving forward…So I took action , fixed my hip, got the total replacement and I am overjoyed to be able to move my body again."
Now that Brinkley's back to her fitness regimen, she feels herself "getting stronger everyday."
"I like [to] think I'm ready for anything…a hike, swim dive, paddle, ride, ski, and even a big piece of birthday cake! Hey I can work it off! ⛹️‍♀️🤾‍♀️🧘🏼‍♀️🏄🏼‍♀️🚣🚴🏼‍♀️⛷🛼⛸🏓🛷🎂," she added.
23

of

23

Source: Read Full Article