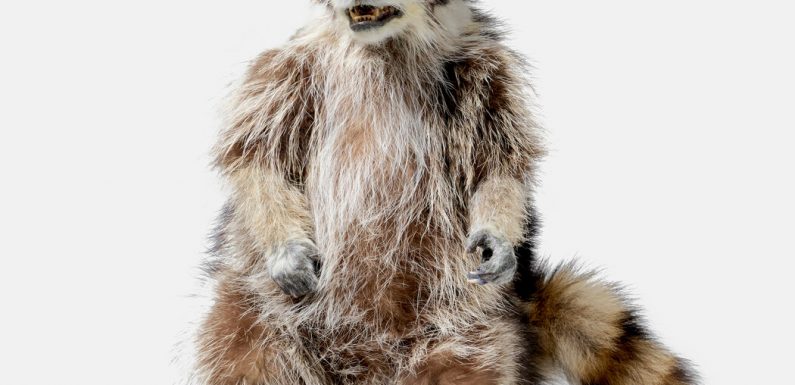 The free market has assessed the value of the prosthetic hot dog hands that appeared in "Everything Everywhere All at Once" as $55,000 — or $5,500 per sausagey finger.
That price was determined in a weeklong auction that ended Thursday, in which the independent film studio A24 sold 43 lots of props and costumes from the movie. The reality- and genre-bending film, which is nominated for 11 Oscars, stars Michelle Yeoh as Evelyn Wang, a Chinese American immigrant and laundromat owner trying to save a dizzying multiverse from ruin.
Bidders claimed the Elvis costume worn by the stylish villain Jobu Tupaki (Stephanie Hsu) and the lip balm that Evelyn's husband, Waymond (Ke Huy Quan), uses to zip between universes. Bidding peaked at $60,000 for an suggestively shaped "auditor of the month" trophy that first appears on the desk of an I.R.S. bureaucrat (Jamie Lee Curtis) but winds up somewhere else altogether. The Wang family's laundry-delivery R.V. sold for $11,000 to a buyer who should not expect to drive it anytime soon.
"This needs new transmission, engine, tires and serious T.L.C. on the interior," the lot's description warned. "The R.V. is currently not street legal."
No memento proved more desirable than a raccoon puppet nicknamed Raccacoonie that, at $90,000, was the auction's highest-selling item. The puppet figures in a recurring gag about Disney and Pixar's "Ratatouille," one of several eclectic cinematic references dotted throughout by the film's directors, Daniel Scheinert and Daniel Kwan.
Proceeds from the auction, which totaled $555,725, will be donated to three organizations: the Asian Mental Health Project, which aims to make mental health care more accessible in Asian American communities; the Transgender Law Center, which champions the rights and safety of transgender and gender-nonconforming people; and the Laundry Workers Center, which works to improve conditions for laundry, warehouse and food service workers. A24 declined to release the names of the winning bidders.
The Run-Up to the 2023 Oscars
The 95th Academy Awards will be presented on March 12 in Los Angeles.
Jason Kisvarday, the film's production designer, said in an interview on Wednesday that he was surprised to see so many of the items going for thousands of dollars. "There's usually not a lot of demand or interest in these types of things after the movie comes out," he said.
Clockwise from top left, Jobu Tupaki's Elvis-inspired ensemble, her "temple verse" costume, the I.R.S. auditor Deirdre's costume and wig, and a chef uniform.Credit…A24

The galaxy-brain nature of the film's plot demanded equally absurd props and costumes, which have resonated with fans. The multiverse was made chic by the costume designer Shirley Kurata, while Mr. Kisvarday oversaw the department that bought or created most of the other items for sale in the auction.

Some were easier to procure than others. A pair of gloves for the hot dog hands were cut from a sweater and hot-glued together by Allison Trautman, the art department coordinator. An umbrella covered in doughnuts was secured by Joshua Bramer, the prop master. The hot dog hands themselves, along with Raccacoonie, were created by the special effects and makeup artist Jason Hamer.

Mr. Kisvarday took other projects into his own, non-hot-dog-shaped hands. He visited a stone supplier in Pasadena, Calif., with the film's directors to select about 10 rocks that at one point replace the human characters. They were looking for "neat and interesting" rocks that could be thrown down a hill, he said.

One of them, accessorized with googly eyes that Mr. Kisvarday ordered from Amazon, sold on Thursday for $13,200. "It's not because it's a rock," he said, "it's because of how many people saw the rock, are excited about this rock, and it means something to them."

In addition to its charitable goals, the auction also advances A24's efforts to build a recognizable brand with cultural cachet. Since the studio was founded in 2012, it has been responsible not just for hits ("Euphoria," "Lady Bird") but also for a growing offering of beanies and hoodies meant to appeal to the Letterboxd and Criterion Collection crowd. The studio has previously auctioned off items from "Midsommar" and "Uncut Gems," including, yes, an "iced out" Furby pendant.

"Everything Everywhere All at Once" has made more than $100 million worldwide since its release in March, making it A24's highest-grossing title.

The auction generated buzz for the film during an awards season in which it has become an unexpected heavyweight. The film picked up honors at the Golden Globes and the Screen Actors Guild Awards, and leads the pack with 11 Oscar nominations, including for best picture, best director, best actress (Ms. Yeoh), best supporting actress (Ms. Hsu and Ms. Curtis) and best supporting actor (Mr. Quan).

Awards season has been "absolutely bonker-pants," Mr. Kisvarday said.

Although Mr. Kisvarday expected many of the items in the auction to be sold to private collectors, he said he hoped that some, like the family R.V., would land somewhere publicly accessible like a museum.

"I think it's fun when mementos like this wind up in places where many people can see and enjoy them," he said.

Source: Read Full Article